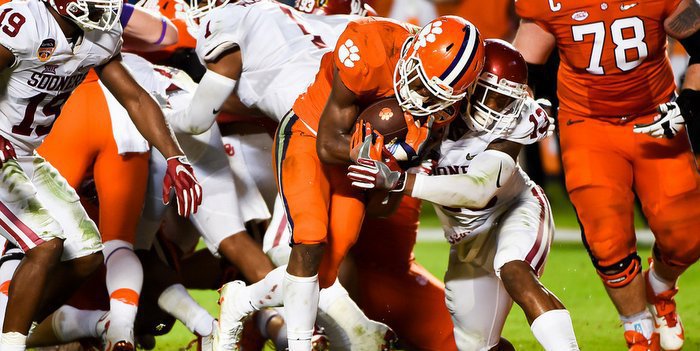 | | |
| --- | --- |
| Scrimmage notes: Deon Cain, Christian Wilkins and Wayne Gallman are the talk | |
---
CLEMSON – Another scrimmage is in the books, and the stars are beginning to shine.
Wayne Gallman had a long touchdown run and Christian Wilkins continues to impress at defensive end, while wide receiver Deon Cain is doing everything he can to get back in the good graces of head coach Dabo Swinney.
The Tigers practiced inside of Memorial Stadium for two hours Wednesday – doing everything from special teams to red zone to two-minute drills – and Gallman broke off a 45-plus yard run to lead what we heard was a fairly dominant effort for the first team offensive line.
However, let's start with Cain, who was suspended from the team back in December and hasn't been allowed to practice with the team. Cain has been at every practice, and Swinney said the Florida native is doing everything he can to rejoin his team.
"Deon has been great. He really has. I'm proud of Deon. I'm proud of where he is and what he's doing," Swinney said. "I have not given him any leeway, so he's had a great attitude every day. He understands where he's at, and he's taken ownership of it. He put himself in this situation, and he's doing what he's got to do to get back with this team. He's been mentally very, very engaged every day. As I've told him, football will take care of itself with Deon. Make sure that he's committed. He's doing a really good job. I'm proud of him."
Swinney said he fully expects Cain to be ready to go in August.
"Next time we're on the field will be in August, so my time table is August. He's working out," Swinney said, "It's not like he's not with the team. We're not letting him practice, and we're not going to let him practice until he's satisfied his obligation to me and this program and his team. That's what he's doing. I'm really proud of him. If he continues to do what he's doing – we've got a long summer ahead, and he'll have to make good decisions – then when we crank it up in August he'll be back out there ready to go."
OTHER NOTES
Gallman had over 100 yards on just eight carries and was able to run the ball on the goal line effectively. Tyshon Dye was another name we heard. One offensive lineman said that the Tigers were able to run the ball even in the two-minute drill and that Gallman is like a man among boys right now. We've heard comparisons to some really good backs, but Gallman is out to make a household name of Wayne Gallman.
Center Jay Guillermo told us that 1,700 yards – the number of yards Gallman needs to break the Clemson career rushing record – is well within reach and that he would be more proud of Gallman reaching that goal than maybe even Gallman himself.
Offensive coordinator Tony Elliott told us that he wants to make Gallman more of a complete back – being able to run with finesse as well as power – and he's seen that this spring.
McCloud had two fumbles today, but Swinney said McCloud recovered and did some good things. However, Swinney said the ball control issues are concerning, and he needs to see more out of McCloud this spring.
Joseph told me he's 100 percent, and he's enjoying the challenge of holding off Tre Lamar and Chad Smith. Joseph said he's working on being more of a leader and just taking in everything defensive coordinator Brent Venables teaches.
Offensive line
It appears the coaches are closer to settling on a starting five on the offensive line – for now. According to Elliott, he has nine players he can count on, and that includes Mitch Hyatt (LT), Taylor Hearn (LG), Guillermo (C), Tyrone Crowder (RG) and Jake Fruhmorgen (RT). Elliott said Fruhmorgen has gained strength is improving each and every day.
DEFENSE
Venables said he was pleased with the defense today, but busted coverages led to a few big plays. Joseph had two sacks from his middle linebacker spot, and Jadar Johnson recovered a fumble that he forced. From everything we've heard, Johnson has stepped up in camp and is turning into a force at safety.
Meanwhile, Wilkins said he has been splitting time between tackle and end. Wilkins said he started working more at end after the team got back from spring break, and one observer said Wilkins was a one-man wrecking crew during the scrimmage.
We'll have more on Wilkins later, but Swinney said Wilkins is proving he can play on the edge has been a highlight in camp.
"He can do it, and I've told y'all that. To me, that is probably the best thing coming out of spring practice, for me as a coach because I have not seen it. Seeing him mentally being able to do it because Dan Brooks was a little worried coming into spring because we knew we were going to challenge him in that regard and you don't want to lessen what he is really good at," Swinney said. "But you got to find out and mentally he just has a great understanding. Some people just say 'Oh. Just bump him out there.' But it is really not that simple. There is just a lot of scheme. There is a lot of calls. There is a lot to process, and you got to be able to do it. We don't want just to line a guy out there. We need someone who is going to be effective. He has demonstrated that he can be very effective. That bodes well for us, because I really like the guys we at end.
"I think the competition is going to be good. I think all those guys are going to be able to help us in some form or fashion. Then we will get Xavier (Kelly) in here and see where he is. But just having the peace of mind that I know we got an answer and not just with a guy but a guy that can be very effective and a guy that has some experience in playing. I think that has been real positive coming out of this spring for us coaches. Just to give us another guy that brings a little bit of a veteran flavor. I mean when Austin Bryant is your veteran. I mean he is the veteran in the room. He and Richard have not played a whole lot, but that's our veterans. So just having another guy makes us feel better."

Upgrade Your Account
Unlock premium boards and exclusive features (e.g. ad-free) by upgrading your account today.
Upgrade Now

Tags: Clemson Football
,
Jay Guillermo
,
Tyshon Dye
,
Wayne Gallman
,
Tyrone Crowder
,
Jadar Johnson
,
Taylor Hearn
,
Kendall Joseph
,
Mitch Hyatt
,
Ray-Ray McCloud
,
Deon Cain
,
Chad Smith
,
Jake Fruhmorgen
,
Christian Wilkins
,
Brent Venables
,
Tony Elliott