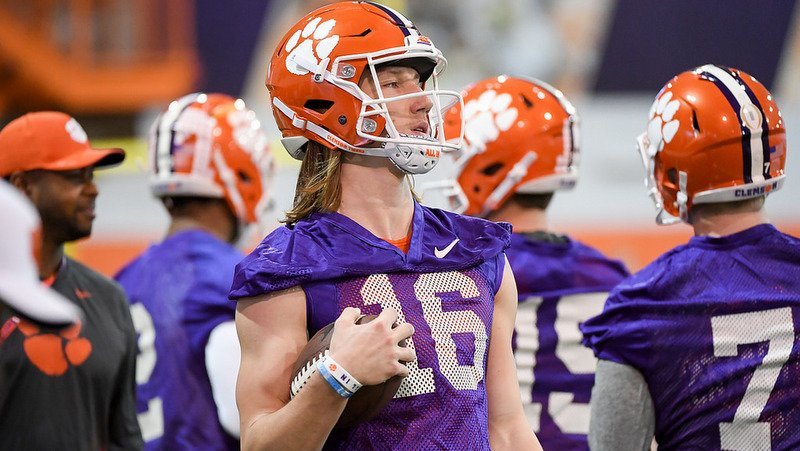 | | |
| --- | --- |
| Scott says on Trevor Lawrence: "He doesn't look like a true freshman" | |
---
CLEMSON – A player hasn't walked on Clemson's campus with as much fanfare as Trevor Lawrence since a skinny kid named Deshaun Watson made his way up from Gainesville, Georgia, in 2014.
Lawrence has all of the physical tools to be a great quarterback – he can run, he has arm strength, and he has touch when he has to have it. Add in a tall frame that can add weight, and the sky is the limit for the Cartersville (Georgia) native.
However, there are a lot of quarterbacks that possess all of the physical attributes to be a great quarterback. What they lack is poise, the ability to make decisions and the mental aspect of the game that eludes so many young players.
I made a trip to Gainesville during Watson's senior year and was stunned to learn that many times the coaches would turn Watson loose on the football field – he was so good at reading defenses he was allowed to change plays at the line of scrimmage. In the heat of the moment, he actually called his own plays if there wasn't time to get in a play from the sidelines.
Those abilities served Watson well during his three-year tenure at Clemson, and co-offensive coordinator Jeff Scott was asked Monday about Lawrence's decision-making pre-snap and post-snap.
Scott said that defenses have changed their gameplan when it comes to RPOs (run-pass options) the last three or four years, and those changes have created havoc with the quarterbacks.
"In that last four or five years, that's where defenses have changed the most. It used to be where they just kind of lined up pre-snap, and as the ball was snapped they moved," Scott said. "Now they're lining up, they're moving before the snap and as the ball is snapped they're moving back to something else. And as the RPO world and those things have gone on, you're looking at some things pre-snap and as soon as the ball is snapped your eyes go somewhere else.
"And it is also tied in with the fronts. When it's an odd front, it's a different guy than when they're playing a four-down front. So it's really not as easy as separating (pre- and post-snap). When you're base teaching the quarterbacks, you do start with pre-snap reads and then you work into the different post-snap reads."
How is Lawrence picking up the college game? Scott's answer was both enlightening and encouraging.
"But all four of those guys -- Trevor is a guy that picks things up very quickly, which is not surprising to us coming from Cartersville and playing four years in an offense very similar to what we're doing," Scott said. "But all those guys are at least at the second level if you will. I don't feel like we have any of those guys that are starting from the ground level."
Scott was asked if Lawrence reminds him of Watson in the ability to grasp the complexities of the college game, and his answer left little doubt to this thoughts.
"Yes. He's picking things up very quickly," Scott said. "He doesn't look like a true freshman who showed up in January. He's one of those guys who as soon as he learns it one time he knows it and can regurgitate it, and is doing really good in meetings."
Scott said a few weeks ago that Lawrence is having to learn that arm strength isn't always the answer on the collegiate level, comparing to a two-year-old who has to learn the oven is hot. Those lessons are being learned and applied.
"It's one thing knowing what side of the field to go to," Scott said. "That's the first thing, once the ball is snapped, is figuring out based on the safety structure am I working the field concept or am I working the boundary concept? Some of those times when he's trying to fit that ball in there it's not a situation where he's working the boundary and should have worked the field. It's where he knows he's in the boundary but he thinks he can make that throw.
"And obviously the speed is a little bit different at the college level. And again, we're not going to have to wait until the fall to be able to go against a fast secondary or linebacker group. We get to see it right here. So that's a huge benefit that we have. But he's definitely tested some throws, and he's made some too. So it's been fun to watch. That is kind of the process with the young players as they continue to learn.

Upgrade Your Account
Unlock premium boards and exclusive features (e.g. ad-free) by upgrading your account today.
Upgrade Now