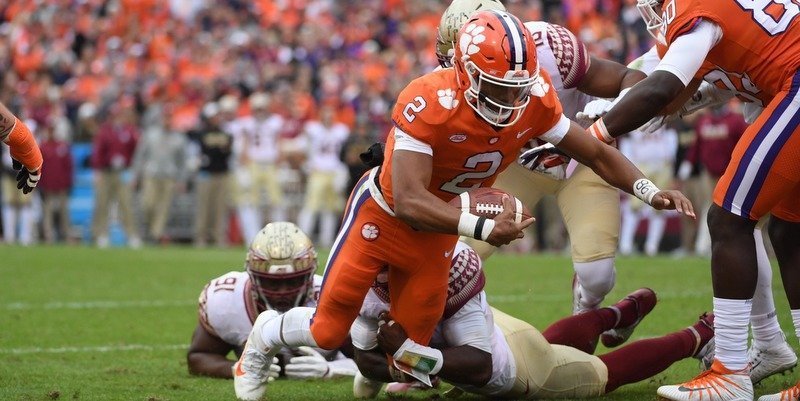 | | |
| --- | --- |
| Scott says coaching staff has confidence in Kelly Bryant | |
---
CLEMSON – Clemson quarterback Kelly Bryant hasn't been sharp the last few weeks, but while many might call for a different look behind center, co-offensive coordinator Jeff Scott gave Bryant a vote of confidence.
Bryant has had two of his three lowest quarterback ratings of the season in the last two weeks, completing 40-of-68 passes for 342 total yards, one touchdown, and one interception. His accuracy has been an issue, but Scott said the coaches have confidence in Bryant.
"Obviously when that happens it's very glaring but there are other guys that make mistakes that maybe the other average eye wouldn't see," Scott said. "Kelly's not been perfect but man, how impressive is that for him to be 9-1 and win the division in his first year starting with all the pressure and everything on him. He's only going to get better because that's the type of person he is, how hard he works and I know there's nobody that's going to work on that to get improved and also it goes both ways.
"We had opportunities with the deep ball that could've put the game away and we didn't make the plays. That's kind of who we've been a little bit over the past few weeks but we'll get that corrected and I have no doubt that we've got a lot of trust and faith in Kelly. We've had great quarterbacks in the past that were kind of off at times and he's no different than that but I think he's going to continue to get better here as we go."
Scott said he still has confidence in the offense.
"Sometimes you go through a season where you feel like, maybe four or five years ago we were there when things aren't quite going well it just goes downhill, I don't sense that," he said. "I think obviously we had some series back to back where we missed some opportunities and missed some plays but I never got the sense it was because Kelly was down on himself or really didn't snap out of it. When you play good teams and a good defense, that group over there is a good defense, when you play a good defense they magnify those errors and make you have to throw the ball correctly or it really shows. Obviously, there's more of those than we want but I really don't feel that there's a point offensively that the guys are down and really just kind of kept carrying over."
The Tigers rushed for 227 yards against a stout Florida St. defense.
"It was great to get the win. We didn't make it easy, we had opportunities there in the second quarter, third quarter to really put it away. I tell you what, give those guys credit right there with a three-point game, that's when it challenges a new group of starters and a lot of pressure on the line and we did what we had to do to get the win and really proud of the guys for that," Scott said. "I think we're 70-2 when taking a lead in the fourth quarter, you've got to give the guys a lot of credit. Joey Batson and the strength staff, that's an impressive stat. That's a lot of players over a lot of years to physically be able to finish a game in the fourth quarter says a lot. Also proud of the offensive line and those running backs, 227 yards against that defensive front. They haven't been giving up a whole lot of rushing yards so that obviously was the difference in the game."
Scott said a young offense is trying to find a groove.
"Yeah, there's no doubt. Our goal is to play four quarters consistently and the plays, first of all, you've got to give Florida State credit," he said. "You look at their record and all that and I don't think it really tells the story of their defense. Their defense held Alabama to their lowest number, second lowest, all those types of things. Really when we go back and watch this video, there's a lot of just basic things. The handoff, the mesh with the quarterback-running back, catching the basic, easy routes.
"It's not anything complicated, that's the biggest thing for our guys to understand. Just stay focused and mentally stay in the moment and be able to execute and I think we will, I've seen us do that in practice. You don't want to continue to have these, but there are some valuable lessons to learn from it and now the next step is to put four quarters together so we can play our best down the stretch here in the championship season."

Upgrade Your Account
Unlock premium boards and exclusive features (e.g. ad-free) by upgrading your account today.
Upgrade Now