| | |
| --- | --- |
| Scott says Irish will present a challenge | |
---
| | |
| --- | --- |
| Saturday, September 26, 2015 11:54 AM | |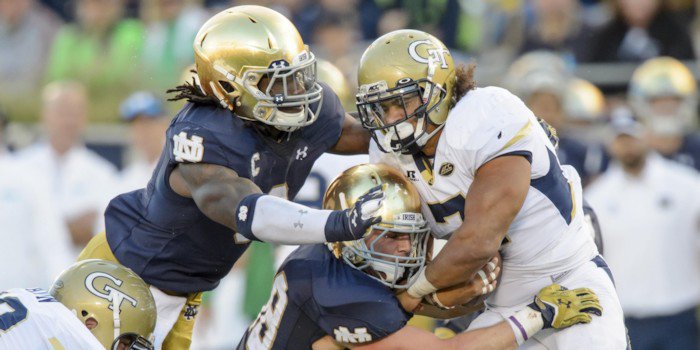 Jeff Scott

Jeff Scott
Co-Offensive Coordinator / WR
View Full Profile said it was a great road win that showed the potential for 2015.

Scott, Clemson's co-offensive coordinator, met with the media Monday in the WestZone and talked about the upcoming contest against Notre Dame, and he said he was pleased with the Tigers' win over Louisville.

"I thought it was a great road win. I've been around Clemson for a long time, and I've been in those games," Scott said. "Each year is a new offense, and this was this offense's first opportunity in that situation (road game) and I thought the guys did well. Even whenever we went down, they came back and responded. Overall, the biggest positive is running for 202 yards. Last year I think we rushed for 72 yards against them, and when we went out there for the first play those five offensive linemen were different than the five against Louisville the year before.

"Their front seven is very talented, and we knew that we would have to run the ball to win the game, and we are very pleased about that. We are very pleased with the offensive line in how they did in rushing, and they only gave up one sack versus some talented guys up there."

Center Jay Guillermo

Jay Guillermo
RS Jr. Center
#57 6-3, 324
Maryville, TN
View Full Profile got his first start of the season and led an offensive line that paved the way for running back Wayne Gallman

Wayne Gallman
RS So. Running Back
#9 6-1, 210
Loganville, GA
View Full Profile .
"I am really pleased with Jay Guillermo, in his first start of the season, on the road in that environment. I thought Jay did a really good job snapping the ball and in the run game leading that group," Scott said. "Wayne Gallman did what we have been seeing in practice, and he will get better and better as the season goes. It was good to see Deshaun getting involved in the running game. He made a difference. When we spread them all out, and you have a lot of weapons, your quarterback can make a difference. Deshaun really brought something to our running game. They were going to stay back and force us to be patient and run the football.
"Their game plan was to see if we could run the ball well enough to run it all the way down or be patient. We had two really big plays that kept us from getting points - the drop by Wayne Gallman in the red zone and Deshaun missing Jordan Leggett

Jordan Leggett
Jr. Tight End
#16 6-5, 252
Navarre, FL
View Full Profile late in the game. The biggest thing on third down is our execution. We don't expect to be playing our best ball in game three, but there is a lot to improve on and it's at every position. We are really pleased with the poise the guys had and responding to adversity. We think that is going to help us down the road."
Scott said that Gallman is a player that is just now coming into his own.
"Wayne is a guy that continues to get more confident in his game. Sometimes as a coach you might be more confident in a guy's game than he is," Scott said. "You kind of know as a coach and you see his progress in practice. You've seen guys in the past, and you know this guy is going to be a special player, but he has to see that and feel that and go through those experiences himself. He is going to continue to get better. But you can tell he has worked hard in the offseason and gotten bigger and stronger. He had a lot of second-effort runs. It turned out to be a deal where Wayne had the hot hand, and we stuck with him. But we have some other guys in that room that can add some things that we are going to count on as we go throughout the year. It just happened to be one of those things where Wayne was hot, and we wanted to keep him out there as long as we could."
Next up for the Tigers are the sixth-ranked Fighting Irish of Notre Dame, and Scott said the Irish defense will present a challenge to his offense.
"They are very fast and very athletic. They are going to get in your face and challenge you," he said. "They have a lot of depth and play a lot of guys. It will be a big challenge. We know that. When you play those quality teams you are going to get a good defense. After watching film for two days? They don't have a weakness. All 11 guys can play. They are very athletic and very fast, and we have two weeks to get our guys ready and have a plan."
With the extra week to prepare for Notre Dame, Scott said the time will be spent not only working on the Irish but in using the game tape from the first three games to correct mistakes.
"I think the big thing this week is we need to work on our execution and really correct our mistakes and teach and use this opportunity," Scott said. "It's not often that you get an open week early in the year. In fall camp, you are coaching and teaching, but there is nothing like that game experience. And so now you've had three games to get that experience and you have a lot of stuff on tape that you can correct, and now you get to kind of call timeout for a minute and coach the fundamentals and clean those things up. But at the same time we are going to be working on the plays we feel like will help us against Notre Dame. But you can spend your meeting time coaching and correcting those fundamentals. Whereas sometimes you get into game week you are a little bit shorter on time. We will use that to our benefit this week."