| | |
| --- | --- |
| Scott, offense not going to panic about turnovers | |
---
| | |
| --- | --- |
| Wednesday, December 2, 2015 3:58 PM | |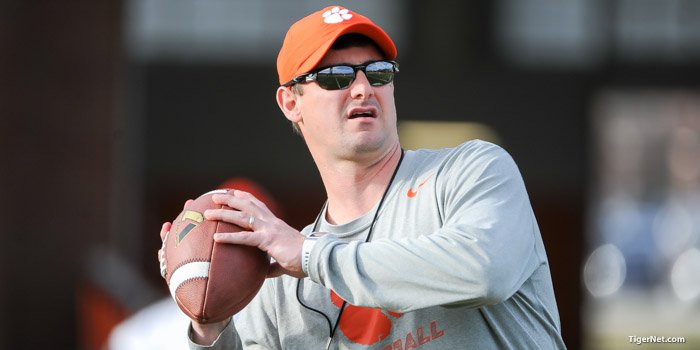 Turnovers have been a concern recently for the Clemson offense, and turnover margin has been a strength for North Carolina throughout this season.
But Clemson co-offensive coordinator Jeff Scott said the Tigers aren't going to panic about their recent struggles with turnovers, not with the ACC championship game – and a chance to earn a spot in the College Football Playoff – up next.
"Really, just coach it whenever you see it, talk about it," Scott said. "These guys will learn from it, and it hasn't been something that's been a major problem all year. We've just been fortunate that we've been able to overcome the ones that we've had so far. I think the worst thing that you can do is to go panic and start going crazy and all that because then you get guys who start playing timid and playing scared and afraid to make mistakes, and that's not who we are. Obviously, we want to be well-coached and play fundamentally sound, but we're going to go out and play with a lot of confidence and put it all out there.
"There will be a fine line this week. We're going to coach it, and we're going to learn from it, and then we're going to move on and keep doing what we're doing."
North Carolina is plus-nine in turnover margin and has forced 24 in its 11-1 season. The Tigers are 12-0 even though they are minus-three in turnover margin and have lost ten turnovers in November.
"Obviously the biggest disappointment was the fumbles, three turnovers, something that we talk about all the time," Scott said of the problems in last week's win over South Carolina. "(Head coach Dabo) Swinney talks about the turnover margin being a critical piece to winning games. We drill it in practice, and we'll continue to do that. I think the biggest thing is not to panic. We're not going to panic with our guys and get our guys playing tight and worrying about those type of things. We've just got to go back to the details and fundamentals and improve on that this week and protect the ball."
If the Tigers can do that, they should be able to have some success against North Carolina's defense, although the Tar Heels have been improved this season under first-year defensive coordinator Gene Chizik.
North Carolina is fourth in the ACC in scoring defense (20.8 points per game) and fifth in passing defense (186.7 yards per game), but it has struggled against the run, allowing 208.2 rushing yards per game (13th in the ACC).
The Tar Heels are 11th in total defense in the conference, allowing 394.9 yards per game.
"They're doing a good job of keeping people out of the end zone. They've done a very good job against the pass," Scott said. "Very athletic, they run well. Linebackers are very athletic guys, cover a lot of ground, along with the secondary. It will be a big test for our offense. It seems like this year we've had to earn everything we've gotten on the offensive side of the ball. Defensively, they're playing together. There are not a lot of missed assignments. When you look at the big play cut-up, they haven't given up a lot of big plays. Their philosophy, what it looks like to me is they want to keep it in front of them on defense and not give up the big play, and then they want to outscore you on offense. That formula has worked really well for them this year. That's what our challenge is, find a way to get some explosive plays with the scheme that they run.
"They require you to drive the whole length of the field. They have given up some yards, but the scoring, they're 19th in the country in scoring. They're doing a really good job of not letting you get in the end zone. It'll definitely be a good challenge."
Clemson quarterback Deshaun Watson was up to that challenge last year, throwing for 435 yards and six touchdowns in the Tigers' 50-35 win over the Tar Heels.
This season, Watson has thrown for 3,223 yards and 27 touchdowns and rushed for 756 yards and nine touchdowns, and he was named the ACC Player of the Year on Wednesday. The Tigers also have run for 2,569 yards, led by Wayne Gallman with 1,145 yards and nine touchdowns, while five Clemson players have more than 300 receiving yards.
Still, Scott said there is more out there for the Tigers' offense.
"Our goal is to go out and play our best game," Scott said. "We've had a lot of success and have done a lot of good things this year on offense, but I don't think we've played our best game yet on offense and our most complete game yet, and I think we're getting close."
Daniel Shirley is the sports editor of The Telegraph in Macon, Ga., and co-host of The Morning Show on FoxSports 1670 AM. Follow him on Twitter at @DM_Shirley and read his blog at macon.com/peachsports.