| | |
| --- | --- |
| Scott looking for progress as Tigers return to Death Valley today | |
---
| | |
| --- | --- |
| Wednesday, April 1, 2015 8:17 AM | |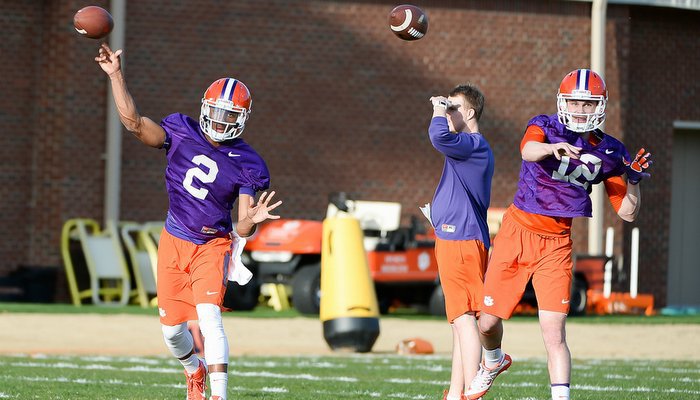 CLEMSON – The Clemson football team will hold its second full-scale scrimmage of the spring in Death Valley today, and offensive coordinator Jeff Scott

Jeff Scott
Co-Offensive Coordinator / WR
View Full Profile just wants to see progress.
Scott and fellow offensive coordinator Tony Elliott

Tony Elliott
Co-OC / Running Backs
View Full Profile are overseeing several position battles this spring, but Scott says all the coaches want to see out of the second scrimmage is that progress has been made. That extends to practice sessions, where the warmer weather has caused a few issues.
"I think overall the thing we are trying to get is to see progress each day," Scott said after Monday's practice. "It's gotten a little bit warmer and got over 70 degrees and some of them had a little trouble there at the end with the tempo and what we want and expect. But that's good for them - to get some experience with that and learn how to push through. Overall, it was a good day and it's good to see some of the younger guys making plays out on the perimeter and making that progress."
One of the position battles Scott is watching is at quarterback, where veteran Nick Schuessler

Nick Schuessler
RS Jr. Quarterback
#12 6-3, 195
Grayson, GA
View Full Profile is battling against freshmen Tucker Israel

Tucker Israel
Fr. Quarterback
#10 5-11, 190
Orlando, FL
View Full Profile and Kelly Bryant

Kelly Bryant
Fr. Quarterback
#2 6-4, 205
Calhoun Falls, SC
View Full Profile . Scott said the two youngsters have been better since they came back from spring break.
"I think a lot of that is because you have two young quarterbacks and they feel more comfortable," he said. "Before spring break it was hard for them to snap the ball and keep our tempo up because they were trying to think of what protection to call and what to say to the offensive line and those things. The more comfortable they feel the better our tempo will be with the second and third groups. It's not where we want it to be yet, but it's definitely faster than we were the first two weeks. It will be interesting Wednesday - with it being our second scrimmage - we would like to get in more plays and see the tempo pick up as compared to where it was the first scrimmage."
What other things will he be watching in the scrimmage?
"Something as easy as the center-quarterback exchange. Especially with the second and third group," Scott said. "The first group has been pretty good but in the last scrimmage we had the ball on the ground too many times. Part of that comes from the guys that haven't snapped the ball and part of it is you have true freshmen quarterbacks and their eyes are a lot of different places instead of just catching the ball. That would be number one. Then it would be eliminating negative plays and getting rid of the ball on time. Sometimes at practice you can get in a routine - especially in pass skeletons - and think you have more time than you do.
"Then you get out there in a scrimmage situation and those defensive ends are getting there a little bit quicker. You have to make quicker decisions and take care of the ball. Those are really the biggest things. And on the outside, the difference between a good day and a great day is about two or three plays. I felt like we left two or three plays out there last scrimmage. Some of the guys had opportunities to make big plays down the field and that really changed the view of the entire scrimmage. If they are put in those same situations tomorrow I would like to see progress made."