| | |
| --- | --- |
| Scott impressed with Ray-Ray McCloud and Deon Cain | |
---
| | |
| --- | --- |
| Friday, September 25, 2015 10:07 AM | |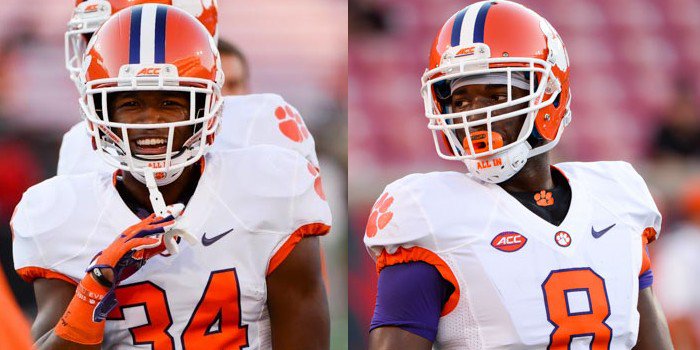 Deon Cain

Deon Cain
Fr. Wide Receiver
#8 6-1, 197
Tampa, FL
View Full Profile and Ray-Ray McCloud

Ray-Ray McCloud
Fr. Wide Receiver
#34 5-9, 181
Land O' Lakes, FL
View Full Profile came to Clemson as highly-touted playmakers out of the state of Florida, and both of the freshmen are doing their part in what Jeff Scott

Jeff Scott
Co-Offensive Coordinator / WR
View Full Profile thinks is the best group of receivers he has coached.
McCloud is second on the team with 13 receptions for 113 yards, while Cain has chipped in with six catches for 70 yards. During Clemson's 20-17 win at Louisville last Thursday, McCloud caught four passes for 29 yards while Cain caught two passes for 26 yards.
The duo managed to impress Scott – who doubles as the co-offensive coordinator and wide receivers coach – in executing the game plan while playing in their first collegiate road games. Scott even pointed out that Cain made a read worthy of a veteran.
"Two guys I am really pleased with are Deon Cain and Ray-Ray McCloud. Two true freshmen," Scott said Monday. "I am standing over there on the sidelines, and he [Cain] was in the game, and I knew it was going to be a big play. He was not the primary target, but I could tell watching Deshaun and watching his eyes that Deshaun was going to to go over there to him. It was one of those plays where Deon has a read where he can do an out cut, an in cut or stay vertical, and sure enough he did exactly what he was supposed to do and catch the ball. He gained some strong confidence in a game like that. And Ray-Ray McCloud went in and ran the ball hard. I think that was really good."
Scott said Louisville's defense was locked in on preventing the deep ball – a common refrain during the season's first three games – and his receiving group did the dirty work it was asked to do.
"I thought the receivers did a good job at what they were asked to do," he said. "We have a few things to get corrected. There are going to be games where we don't take a lot of shots down the field, and there will be games where guys are up in your face, and you can take some shots. What we asked of those guys - I thought they did a really good job of running hard."
Cain and McCloud are just a part of a receiving rotation that Scott feels like might be his best.
"I feel very comfortable with the seven guys that we have. Obviously, we've had some very talented guys and some receivers that are ultra-talented, but looking back I don't know that we have had seven guys that I can just roll throughout a game and not have a very big drop-off," he said. "We are going to need those guys as the year goes, and we are going to need them to do some different things. It just happened to be this game - we know going in that if they played us the way we expected, it would be a lot of the screen game. We had some smaller guys out there blocking the SAM backer in the screen game, and there isn't a lot that is fun about that. You just have to stick your nose in there and do it."