| | |
| --- | --- |
| Scott Pagano takes flight: "We wanted to be nasty" | |
---
| | |
| --- | --- |
| Sunday, September 6, 2015 1:55 PM | |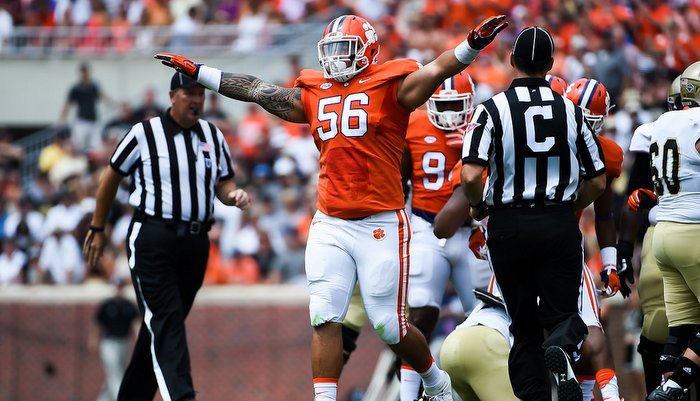 CLEMSON – Scott Pagano

Scott Pagano
RS So. Defensive Tackle
#56 6-3, 290
Honolulu, HI
View Full Profile 's stat line coming out of Saturday's 49-10 win over Wofford isn't impressive at first glance: two tackles and a tackle for loss in his first Clemson start. But the stats don't tell the entire story.
Pagano made his presence known early, stopping Wofford tailback Lorenzo Long for a one-yard loss on the Terriers' first third down play of the afternoon. Facing a 3rd-and-2 at their own 33-yard line, the Terriers opted for a shotgun look and Long took the ball from the quarterback's left hip. Pagano knocked the center two yards back into the backfield, and Pagano fell to both knees. He still managed to throw two arms around Long and trip him up enough for B.J. Goodson

B.J. Goodson
RS Sr. Linebacker
#44 6-0, 245
Lamar, SC
View Full Profile to come in and finish the play.
Pagano's effort won't go unnoticed by the coaches or his teammates in his film room – the defensive tackles do the dirty work so the linebackers and ends can make plays. They disrupt. It's what they do, and Pagano was a disruptive force Saturday.
The humble Pagano said after the game that he had fun, but he knows he still has work to do.
"It was pretty good. It was my first start, and I had some errors and I've got some things to clean up, obviously," Pagano told TigerNet. "Overall, I stepped in pretty good. The loss of D.J. (Reader) was tough, but we're all supporting him. They (the whole defense) play good, as well. The coaches put a great game plan together, and we just went out there and executed it."
Pagano said he applied the lessons he learned while rooming with another good defensive tackle last season – former Tiger and current Atlanta Falcon Grady Jarrett

Grady Jarrett
Defensive Tackle (2011 - 2014)
#50 6-0, 290
Conyers, GA
View Full Profile .
"Grady was a great player. Grady and I roomed together on the road trips last year, so I always picked his brain about everything," Pagano said. "I think Grady helped me to be the player I am right now for this season. I always picked his brain. We always text and call each other. It's really good to have Grady, DeShawn (Williams) and Josh (Watson). We always stay in contact in our little group message just to see how things are going and whatnot. Those guys helped me out when I first got here. I'm blessed to have those guys."
Pagano said he liked the effort out of all the defensive tackles.
"I thought we did pretty well," he said. "There are still some things we have to clean up whether it's outside or inside or dives. I think we did pretty good overall. We had some mental errors on the outside and inside. I think we'll be fine. I think today was a good tempo and a good set for our defense. People questioned our front four, and that's why no one really knew who was out there, so I think we showed what we can do, and we're just going to keep building off of that momentum and going to the top."
When the news broke that Reader would miss some time while dealing with personal issues, many expected the freshman Christian Wilkins

Christian Wilkins
Fr. Defensive Tackle
#42 6-5, 299
Longmeadow, MA
View Full Profile would earn the starting nod. That fueled Pagano's already strong drive.
"It did. Me and Christian (Wilkins) were both competing for that spot, and I just had a chip on my shoulder," he said. "I wanted to get that starting spot. I've been here for almost three years, and it's about time for me to get that starting spot. I'm just going to keep working hard and keep working hard and maintain it because I want that job for this year, next year and my last year here."
Pagano didn't know until late in the week that he would get the start.
"I found out Thursday. I was excited, anxious, nervous," he said. "I had all of that going on. I told my parents, and they started crying as usual. It was just a good feeling to have Coach (Dan) Brooks say, 'Hey, you and Carlos (Watkins) are going to start off the game for us.' It was a confidence booster for me."
Another change for Pagano? His parents are closer. Pagano's father is in the Navy and was stationed in Hawaii while Scott was in high school. Many people are under the impression that Pagano is Hawaiian or Samoan (he isn't – his dad is of Italian heritage). The elder Pagano is now stationed in Virginia, but the rest of the family lives in Central and his dad drives home on weekends.
"It's been awesome. The past two years with them just flying in from Hawaii to over here, it was just different," he said. "I didn't get to see them a lot, or I couldn't call them or text them or have a home cooked meal with them because they were six hours behind. Having them here is a blessing. It's worked out nice. I've seen them almost every day whether it's for dinner or just to hang out for 30 minutes. It's been a blessing, and it's been really good."
On the football field, Pagano has been one of the leaders of a group that doesn't want to see any letdown after last season.
"That was our mindset during camp. We wanted to be the group that never had a drop-off. We wanted to be nasty," he said. "We wanted to be physical and just punish opponents and not quit. If we have adversity, just get back up and fight harder. That's how we prepare ourselves. Ben (Boulware), Carlos (Watkins), (Kevin) Dodd and Shaq (Lawson) did a good job with us. We all just worked hard since August 3rd when camp started. We've just been working hard every day trying to be the best defense in the nation again."