| | |
| --- | --- |
| Schuessler ready to be the starter? | |
---
| | |
| --- | --- |
| Sunday, November 16, 2014, 12:15 PM | |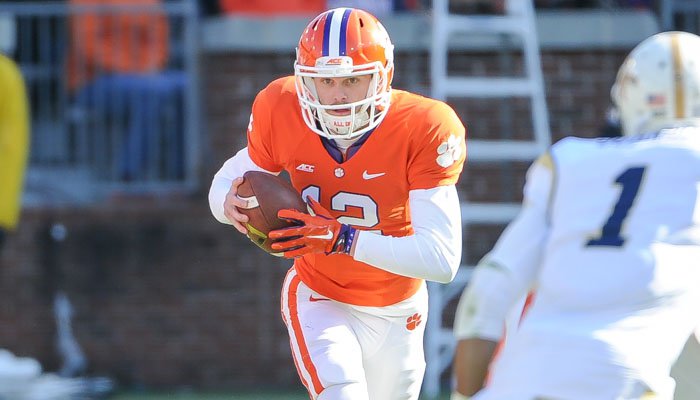 ATLANTA, GA – Throughout every football player's career, they are told that they are only one play away from having to enter a game, so whether they're second or third string they must prepare as if they'll play.
Despite having heard that old saying during his time at Clemson Nick Schuessler

Nick Schuessler
RS So. Quarterback
#12 6-3, 195
Grayson, GA
View Full Profile had no idea that his one play would happen on Saturday, but the Georgia native was ready when his name was called.
After Clemson quarterback Deshaun Watson

Deshaun Watson
Fr. Quarterback
#4 6-3, 204
Gainesville, GA
View Full Profile went down in the first quarter with what appears to be a torn ACL and senior Cole Stoudt

Cole Stoudt
Sr. Quarterback
#18 6-4, 231
Dublin, OH
View Full Profile threw three interceptions – two which were pick sixes – it was Schuessler's turn to see if he could provide a spark.
The redshirt sophomore heard his name come over the headset and he immediately went to prepare himself both mentally and physically but unfortunately no amount of preparation could have prepared him for what he and the Tigers faced in the 28-6 loss to Georgia Tech Saturday afternoon at Bobby Dodd Stadium.
"I hate to see Deshaun going down early and it's unfortunate what happened with Cole, but I'm just thankful for the opportunity that I was given to go out there," Schuessler told the media after Saturday's game. "I couldn't do too much to bring the team back which is disappointing. I'm really thankful for the opportunity I was given."
Schuessler's practice reps decreased this week with Watson trying to come back from a broken hand, but he said that he prepared the same as the previous four weeks and the only thing he regrets is not being able to do more for his team.
"It slowed down with the return of Deshaun compared to the last few weeks with him going through rehab," Schuessler said. "I knew that it would be a little less than normal. That's something we all take pride in is preparing like the starter every week. I did that and prepared myself mentally for the game. It sucks going out there and not having the outcome you want."
With three quarterbacks trying to prepare, Schuessler knows that he must make the most of every practice and every second of playing time.
"We all compete every week, so that's up to the coaches. Coach Swinney told me when I first got here from Mississippi State to not count your reps but make your reps count," he said. "That's something I take pride in. If I get 10 reps in practice or 100 reps in practice, it's not going to change. We all have a good, healthy competition and even when Deshaun was the starter we were all out there competing.
"Whether we get mop up duty at the end of the game or go in on the second play, we know we're only one play away from the next guy being up. Coach Swinney has done a great job getting that next guy ready so there's not a drop off in performance and put our team in the best position to win."
But with Watson likely out for the season and Stoudt struggling, Schuessler may be competing for more than just mop up duty – a chance to start Clemson's final two games of the season may be on the line.
"I'm extremely confident. We work all summer, all spring and all fall and at camp," he said. "I've prepared each week like I'm the starter, so with my knowledge I don't feel like there's a situation that I wouldn't feel comfortable doing when I'm playing."
And just like Saturday, if his number is called Schuessler said he'll be ready.
"Absolutely. I compete every day and make the most of each rep that they get," he said. "If that's what the coaches are looking for, then I'll be ready."