| | |
| --- | --- |
| Schuessler leads at the turn, but Swinney says best player will play | |
---
| | | |
| --- | --- | --- |
| Thursday, March 12, 2015, 7:51 AM | | |
CLEMSON – The first part of Clemson's spring practice is in the books, and veteran Nick Schuessler
Nick Schuessler
RS Jr. Quarterback
#12 6-3, 195
Grayson, GA
View Full Profile has answered most of the questions concerning the quarterback position.
With starter Deshaun Watson

Deshaun Watson
So. Quarterback
#4 6-2, 205
Gainesville, GA
View Full Profile on the shelf for the spring, the quarterback spot has been front and center as the coaches try and determine the best rotation as Schuessler battles two freshmen – Kelly Bryant

Kelly Bryant
Fr. Quarterback
#2 6-4, 205
Calhoun Falls, SC
View Full Profile and Tucker Israel

Tucker Israel
Fr. Quarterback
#10 5-11, 190
Orlando, FL
View Full Profile . The Tigers broke for spring break following Wednesday's practice, and Nick Schuessler leads at the turn.
Head coach Dabo Swinney

Dabo Swinney
Head Coach
View Full Profile told the media that Schuessler is ahead of the pack.
"I can't say enough good things about Nick Schuessler. This is one of those practices that you wish that everybody got to see," Swinney said. "It was pretty impressive. He has had six outstanding days of football practice. It's great to see the light come on for guys. He has done an outstanding job of leading. He's made some big time throws. Just playing with a sense of urgency that I have not seen from Nick Schuessler since he's been here. He's playing with a confidence that I have not seen since he's been here. As a result of that, he's playing faster and more decisive and accurate.
"Really encouraged with Nick. This has been great to see him just blossom like he's doing right now, and taking it and running with it. And those two young guys, they just keep getting better every day. Both of them, they're just doing good things. They're absorbing it well. This break will be good for them because both of them are the kind of guys that will go back and be further along when they get back. It's important to them. I'm pleased with both of them."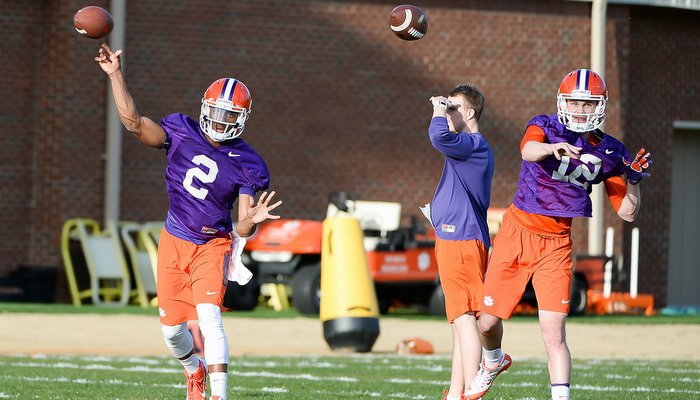 Offensive coordinator Tony Elliott

Tony Elliott
Assistant Coach / Running Backs
View Full Profile said that Bryant and Israel are just trying to learn the basics to this point in the camp.
"Obviously you have young quarterbacks that should be in high school and they chose to come in early and it is going to be beneficial for them in the long run," Elliott said. "Just trying to get those guys up to speed and keep everything as basic as possible and give them an opportunity to learn the system. And then you are going against a bunch of talent on defense so you have to come out every day and you have to compete. But that is going to make us better in the long run."
Elliott then went on to say that he likes the fact the young quarterbacks are getting experience and getting a chance to learn from Watson.
"I am going to take it from the perspective that it's a good thing just because they are getting experience. You are going to carry at most five quarterbacks on your depth chart," he said. "In our offense which has the zone read and you have the quarterback pulling the ball and running it, you run the risk of that guy taking a shot and you have to have the next guy ready to roll. Obviously for Deshaun, it's a big spring for him as well taking the mental reps. He has done a good job of being engaged in practice, taking those mental reps after he finishes his rehab. He is out there in the middle of the field and he's taking his mental reps and he's calling the protections. He is telling the quarterbacks if they miss a read where they need to go with the ball so that is big for him too."
While Watson takes his mental reps and the two freshmen try to learn the system, Schuessler is showing he's capable of being the guy behind Watson.
"He has taken advantage of his opportunity. We have always known he was capable, it was just being given an opportunity and maximizing his chance," Elliott said. "What you are seeing is he is starting to take that leadership role seriously and he is trying to make the guys around him better. He is preparing with purpose and you are starting to see that translate in his performance in practice."
Swinney was asked if it would be in the team's best interests if Schuessler won the job and allowed the freshmen to redshirt, and he said the coaches would play the best player regardless of experience.
"We're going to line them up and go with whoever gives us the best chance to win. Because whoever your back up is, he's one rolled ankle away from having to go in and win for you," Swinney said. "We know that we're expected to win. When the backup comes in, that doesn't turn the scoreboard off. We'll put them in the order that gives us the best chance to win and not really anything else. If that's a true freshman, a walk-on, whatever, it doesn't really matter. Right now, Nick is way out front. It's not even close right now. The guy is in his fourth year in the system. I was very curious to see how he was going to come to work this spring. He has really asserted himself as 'I am the leader and let's go.'
"And I really like that. And then those other guys, there should be clear separation day one, day two, three, four when you're talking about a guy that's a four year veteran and that's very prideful in his work. As far as what's best, what's best is however it shakes out as to whoever is the best one, two, three, four are. Last year after spring ball, we had clear separation and then you get through camp, and here's a little different deal. We got to the game and things changed. Guys keep getting better. We're not even close to making decisions or anything like that right now. We've got a lot of work to do. And a lot of guys are going to improve and close the gap I'm sure."