---
| | |
| --- | --- |
| Monday, July 7, 2014 2:41 PM | |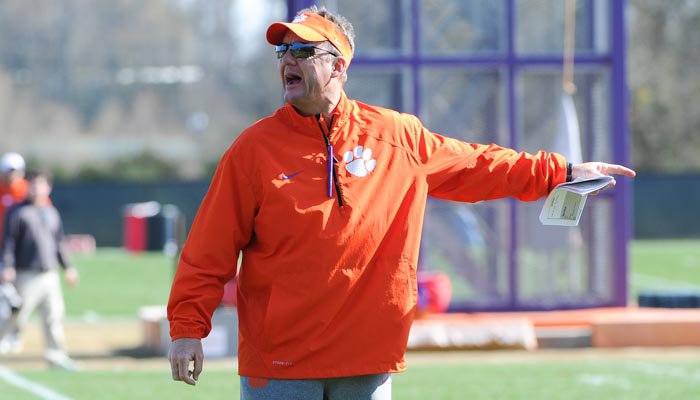 The term "Save the Date" is usually used in the context of weddings as potential brides and grooms sent out notices months in advance to let you know of their impending nuptials, hoping that you keep that date free so you can bring a gift to the wedding. I know, because my soon-to-be bride has scheduled our wedding for one of the Saturdays Clemson has off this season.
Despite the fact that it is the wedding season, we are also on the cusp of another college football season, and even though I have a wedding to help plan there are some key dates that Clemson fans need to be made aware of. Someone sent me a message the other day asking me how the team was looking – he was very disappointed when I told him that practice doesn't begin for another month.
As a result, here are some key dates regarding Clemson football and TigerNet's plans for the next month. Next time you see a board post asking when practice starts, copy and paste the link over to them. And definitely add the dates to your calendar.
Save the Date
Dabo Swinney

Dabo Swinney
Head Coach
View Full Profile 's Media Golf Outing
*July 15th – This is the official beginning of football season for the media, and it is just a little over a week away. If we follow the same form as in the past, Swinney will meet with the media for a quick interview session at noon, and we will have a recap of his thoughts a short time later. Once the actual golf portion of the day is over, the media gets a chance to sit down with the assistant coaches for in-depth interviews regarding positional battles, a potential depth chart and their thoughts heading into the season.
This might be my favorite interview day of the year – during fall camp and during the season, we are only allowed to speak to Swinney, offensive coordinator Chad Morris

Chad Morris
Offensive Coordinator / QBs
View Full Profile and defensive coordinator Brent Venables

Brent Venables
Defensive Coordinator / Linebackers
View Full Profile . This day is our only chance to sit down with the other assistant coaches and get their thoughts on the different players, and some of them are excellent interviews. Any day that you can sit down with guys like Jeff Scott

Jeff Scott
Asst. Coach (WR) / Recruiting Coord.
View Full Profile , Mike Reed

Mike Reed
Defensive Backs Coach
View Full Profile , Dan Brooks

Dan Brooks
Assistant Coach / Defensive Line
View Full Profile , Marion Hobby

Marion Hobby
Assistant Coach / Defensive Ends
View Full Profile , Robbie Caldwell

Robbie Caldwell
Assistant Coach / Offensive Line
View Full Profile , Tony Elliott

Tony Elliott
Assistant Coach / Running Backs
View Full Profile and Danny Pearman

Danny Pearman
Assistant Head Coach / Tight Ends
View Full Profile is a good day. We hope to have at least a ten minute video interview with each of the assistants, and over the next several days we will run in-depth stories with details from the interviews.
if you have specific (and legitimate) questions you would like to ask one of the staff, send them over to me.
ACC Kickoff
*July 20th and 21st - This is the date for the ACC Football Kickoff in Greensboro. This is a Sunday and Monday and is held in Greensboro. Each school sends their head coach and two player representatives (one for offense and one for defense). Sunday is the Commissioner's Forum with John Swofford, and then we have player interviews later in the day. I am not sure who will be representing Clemson, but an early guess would be quarterback Cole Stoudt

Cole Stoudt
Sr. Quarterback
#18 6-4, 205
Dublin, OH
View Full Profile for the offense and Vic Beasley

Vic Beasley
RS Sr. Defensive End
#3 6-3, 225
Adairsville, GA
View Full Profile , Grady Jarrett

Grady Jarrett
Sr. Defensive Tackle
#50 6-1, 290
Conyers, GA
View Full Profile , Stephone Anthony

Stephone Anthony
Sr. Linebacker
#42 6-2, 235
Polkton, NC
View Full Profile , Robert Smith

Robert Smith
Sr. Safety
#27 5-10, 210
St. George, SC
View Full Profile or Josh Watson

Josh Watson
RS Sr. Defensive Tackle
#91 6-4, 285
Wilmington, DE
View Full Profile on defense.
On Monday we get Doug Rhoads, the head of ACC officials. He goes over all of the new rules changes and how they affect game play, and for the first time TigerNet will try and get a portion of his press conference on video. Following that, we get all of the head coaches for interview sessions. The best aspect of that day? Seeing which media member gets Paul Johnson to snap off a snarly reply first.
Team Reports
July 31st - This is the date when all of the team reports back to campus and the weigh-ins are held. This date is actually a little misleading – most if not all of the players will have been on campus long before this date.
Fall Camp Begins
August 1st - This is the first practice of fall camp, and if we follow the schedule we have in the past the media will be allowed to watch the first part of practice. This is the date we get our first look at a lot of the freshmen and it's the first day we get a look at the numbers everybody will be wearing. We will have a photo gallery and an observations piece after the first portion of the practice, and we will have coach and players interviews following the practice.
Save the Dates, because football is almost here.

Tags:
Brent Venables
,
Chad Morris
,
Cole Stoudt
,
Dan Brooks
,
Danny Pearman
,
Grady Jarrett
,
Jeff Scott
,
Josh Watson
,
Marion Hobby
,
Mike Reed
,
Robbie Caldwell
,
Robert Smith
,
Stephone Anthony
,
Tony Elliott
,
Vic Beasley