| | |
| --- | --- |
| Saturday will be emotional for Mac Lain family | |
---
| | |
| --- | --- |
| Friday, November 21, 2014 7:01 AM | |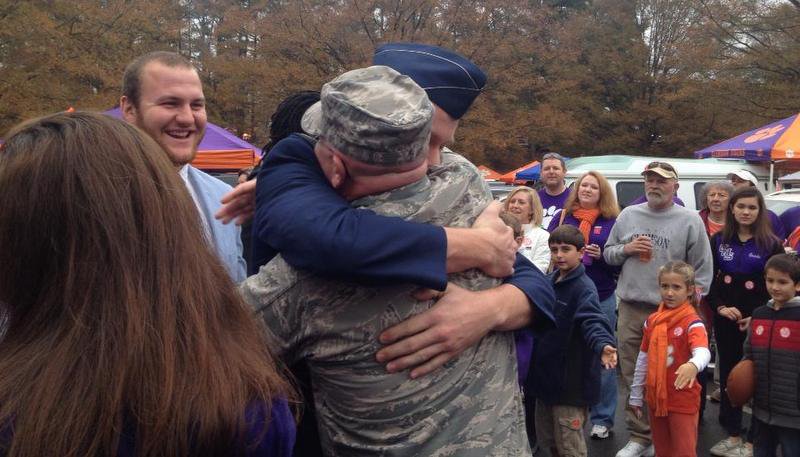 CLEMSON – Military Appreciation Day at Clemson is a chance for Clemson fans and the football program itself to show their love to the men and women in uniform.
For many, however, the game takes on special meaning because they have served or are still served. The sights and sounds create a tidal wave of emotion. Who can forget Dwayne Allen

Dwayne Allen
Tight End (2008 - 2011)
#83 6-3, 255
Fayetteville, NC
View Full Profile saluting the troops after a touchdown against Virginia in 2009, or Daniel Rodriguez

Daniel Rodriguez
RS Jr. Wide Receiver
#83 5-8, 175
Stafford, VA
View Full Profile waving the American Flag at the top of the hill against Virginia Tech in 2012?
For two Clemson football players, however, the day takes on an even more special meaning.
Brothers Eric and Sean Mac Lain

Sean Mac Lain
RS Fr. Tight End
#88 6-3, 200
Hope Mills, SC
View Full Profile will spend at least part of the day thinking about their father, Major Michael Mac Lain of the United States Air Force. Eric is a junior offensive lineman who will get the start Saturday, and Sean is a reserve freshman tight end who will spend much of the Friday before the game guarding Clemson's Scroll of Honor for the Clemson ROTC program.
Eric told TigerNet earlier this week that he wouldn't have wanted any other upbringing and that he puts his dad's discipline into practice every day of his life.
"I am very privileged to have had that opportunity. Just the things I have learned from him and the things he has taught me and Sean, I wouldn't have had it any other way," Eric said. "It's the responsibilities, the plan of action and the little details we have to have here at football every day, I have had that every day of my life with him being in the Air Force."
However, Eric wanted to make sure that not everybody thinks his dad is big and scary. Quite the opposite, in fact.
"He can be, but he is a big softy. He puts on a big front, but behind closed doors he is still my daddy and I love him to death," Eric said with a smile.
Michael Mac Lain served one stint in the Air Force and was not in the military when the tragedy of 9-11 shook the country to its core. He quickly re-enlisted and has continued to serve.
"I don't think he ever really wanted to get out, and when that happened he had such a drive and a passion to protect our country and give us what we have and not just freedom," Eric said. "It allows me to drive my car around, to date my girlfriend and to play football at Clemson. It's truly more than just about fighting for freedom and he truly understands that as a soldier."
Sean told TigerNet that he wants to follow in his father's footsteps, and that was the reasoning for being part of the ROTC. Once the cheers of football Saturday's have retreated into memory, he will trade the trademark orange helmet and uniform for drastically different helmets and uniforms.
"I have always wanted to serve. Since I was a little kid I have wanted to be in the military and Clemson with its great military heritage, I felt the best way to ensure a military career was the ROTC program here," Sean said. "He (his dad) was really excited about it. At least one of his kids wanted to serve and he got behind me and supported me about being in the ROTC program here. I am in the ROTC uniform three days a week, and then on Saturday I am in a uniform that everybody else gets to enjoy. It's a lot of discipline, especially time management. I don't have a lot of free time, per se, but I really do enjoy it. I definitely want to go active duty. The dream is to get a pilot's slot because I want to fly in the Air Force."
Eric said that Saturday's game will be special because of the start, but even more special because of who he has watching from the stands.
"It gives me goosegumps thinking about it – the people that have fought for us and the people that will fight for us. Like my brother, who is in the ROTC program here," Eric said. "It's my chance to fight for them on a football Saturday and really try and pay them back, that day that we have to play for them and fight for them is just amazing. It will be overwhelming with emotion and passion."
Sean said that while Saturday's game will be emotional, thinking about the military is something he does every time he puts on either uniform.
"A lot of people look at it as a way to pay them back for their service, which is impossible to do," Sean said. "But it's a way to recognize the men and women that have served and are serving overseas. To dedicate one of our Saturdays to them - it kind of depends on who you are and what you play for - but I play for them every Saturday. What we do is entertainment. When we step out on that field on Saturday, and to get a game where the entire atmosphere is about entertaining them, I just think it's great and it means a lot to me. "