| | |
| --- | --- |
| Saturday, all eyes will be on Stoudt and Kelly | |
---
| | |
| --- | --- |
| Wednesday, April 9, 2014 8:26 AM | |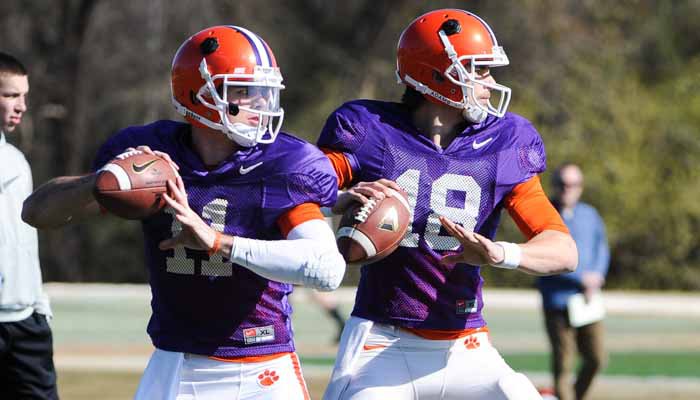 CLEMSON – Saturday's spring game will provide Clemson fans a chance to get back inside the friendly confines of Death Valley, perhaps tailgate before and after the game, and see friends they haven't seen since the end of football season. It will also be a chance for all the fans and even the media to get a first-hand look at the quarterback competition.
Cole Stoudt

Cole Stoudt
Sr. Quarterback
#18 6-4, 205
Dublin, OH
View Full Profile , Chad Kelly
Chad Kelly
RS So. Quarterback
#11 6-2, 210
Buffalo, NY
View Full Profile and Deshaun Watson

Deshaun Watson
Fr. Quarterback
#4 6-3, 190
Gainesville, GA
View Full Profile have spent the entire spring in competition, each one wanting to be named the starter for the season opener in Athens against the Georgia Bulldogs on national television.
That starter likely won't be named following Saturday's game, but we all might have a better idea of who the front-runner might be once the sun sets Saturday evening.
Watson, unfortunately, won't be a part of Saturday's competition – the freshman suffered a fractured collarbone during Monday's scrimmage and will be out for three weeks. That leaves Stoudt and Kelly with one final chance to impress the coaches.
Kelly told the media following Monday's scrimmage that while he feels like he has done enough to win a starting job, he knows it isn't his decision.
"That's up to the coaches. Like I've said before, they tell you one thing and then they tell another person another thing," Kelly said. "Right now, they are trying to test everybody to see how they react. Today, I was the third one to go out there. Last week, I was the first one. They are just trying to test everybody."
Stoudt said he feels like he also has an impressive body of work this spring.
"Everyone has their own idea of where they are," Stoudt said. "You have to come here every day and put the things that are bugging you behind you. But from day one, I have improved substantially. But I am happy with the way I've been performing."
Stoudt then said that he won't put any extra pressure on himself before Saturday's game, despite the stakes.
"It's just going to be like a normal practice," he said. "We are all going to go out there and we are going to compete and we are going to have fun. I feel good. I am happy with how I have been throwing. But you have to go out there and do it every single day. I've been working on my footwork, and you have to go out there and do it every single day."
Kelly's mind will certainly be on the competition Saturday, but part of his heart will be back in Buffalo with his uncle, Jim Kelly. The former quarterback of the Buffalo Bills and Pro Football Hall of Famer began chemo and radiation treatments Monday in an effort to treat his oral cancer.
Kelly, however, said he won't let that distract from his goal despite the fact it's been on his mind and has been a big part of his life recently.
"Yeah, you're thinking about it and every minute of the day you're getting texts about it from somebody saying, 'hey, how is he doing?' My grandmother has it, too," Kelly said. "So a lot of people in my family are dealing with it. I talk to Jim and Facetime him as much as I can."
No matter how much each player wants to know where they stand, and no matter how much the fans want to know, head coach Dabo Swinney

Dabo Swinney
Head Coach
View Full Profile said to not expect a winner to be named following Saturday's game.
"I don't see it," Swinney said Monday. "I just think it's up and down every day. I don't see us making that decision. It's just a very competitive group and I love that. Right now, though, there are just too many decisions to be made between now and the fall. There's leadership that has to be displayed."