| | |
| --- | --- |
| Russell Athletic Bowl Prediction | |
---
| | |
| --- | --- |
| Monday, December 29, 2014 10:32 AM | |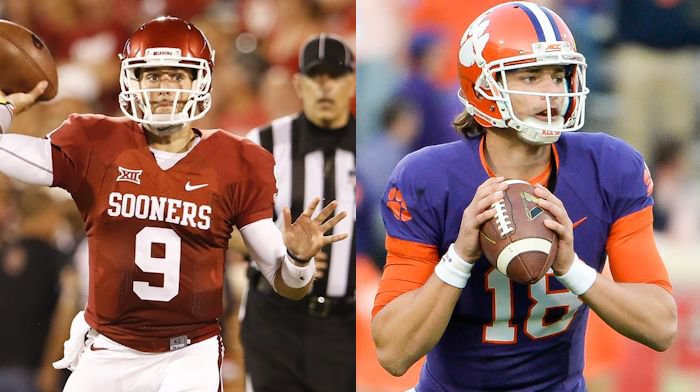 Deshaun Watson

Deshaun Watson
Fr. Quarterback
#4 6-3, 204
Gainesville, GA
View Full Profile was healthy the Tigers would more than likely be favored to knock off the Sooners, but Watson won't be ready until the summer and senior quarterback Cole Stoudt

Cole Stoudt
Sr. Quarterback
#18 6-4, 231
Dublin, OH
View Full Profile gets one final chance to make a success of his final season.

Can Clemson run the football effectively and loosen up the Sooner defense? Can the Tigers control the Sooner offensive line and keep the running game in check?

We'll have to wait until later Monday to find out, but it should be a fun matchup. Let's take a look.

WHAT: Clemson (9-3) vs. Oklahoma (8-4)

WHEN: 5:30 p.m., Monday

WHERE: Orlando, Fla.

TV: ESPN

SPREAD: Oklahoma by 3

LAST MEETING: Clemson 13, Oklahoma 6 in the 1988 Citrus Bowl on Jan. 2, 1988

WHY OKLAHOMA MIGHT WIN

*THEY ARE GETTING HEALTHY – Running back Samaje Perine looks like he is healthy after suffering an ankle injury, quarterback Trevor Knight is back after missing the final three regular season games and wide receiver Sterling Shepard says he is going to try and play. If that trio is on the field and Oklahoma's offense isn't one dimensional, it might be the most dangerous group Clemson's defense has faced this season. Perine might be the biggest key - Oklahoma averaged 299.8 rushing yards per game in its eight victories and 206.3 rushing yards per game in its four losses. Perine has 240 carries for 1,579 yards and 21 touchdowns, and he ranks eighth in the nation in rushing as a freshman. He's dangerous, but if the other two can take pressure off the running game this offense is explosive.

*ALEX ROSS IS A GAME-CHANGER – Ross has proven more than once this season that he has the ability to change games with his kick-return skills. Ross returned 40 percent of his kick returns at least 30 yards, averaged 32 yards per return. Ross' returns led to wins over West Virginia and Texas, and if Clemson's Bradley Pinion

Bradley Pinion
Jr. Punter
#92 6-6, 230
Concord, NC
View Full Profile is short on his kickoffs Ross could be the difference in what figures to be a tight game.
*THEIR OL IS PRETTY GOOD - LT Tyrus Thompson, LG Adam Shead and RT Daryl Williams were named First or Second Team All-Big 12 as part of an O-line that gave up only eight sacks all season. Defensive coordinator Brent Venables

Brent Venables
Def. Coordinator / Linebackers
View Full Profile told TigerNet earlier this week that this group will be the best one his defense has faced all season. They are not only talented – they are big.
WHY CLEMSON MIGHT WIN THE GAME
*BIG BOWL OPPONENT? NO PROBLEM – The Tigers have done pretty well for themselves the last two bowl seasons, knocking off traditional national powers LSU (Chick-fil-A Bowl) and Ohio St. (Orange Bowl) the last two years. This year it's Oklahoma, and head coach Dabo Swinney

Dabo Swinney
Head Coach
View Full Profile is a smart motivator who constantly drills into his team that they won't get any respect heading into the game. Defensive line coach Marion Hobby

Marion Hobby
Co-Defensive Coordinator / Defensive Ends
View Full Profile has yelled "Boomer Sooner" to his charges all week.
*HOW MUCH MORE CAN WE TALK ABOUT THE DEFENSE? – Clemson's defense ranks first nationally and it's a ranking they don't want to lose after this game. Sooner players and coaches have raved this week about the Tigers' defensive line. Can they keep up the success one more game? Clemson has recorded 245 tackles for loss in the past two years — 29 more than any other program in the country — and since a season-opening loss to Georgia, Clemson opponents have 381 carries for 844 yards, a grand total of 2.21 yards per attempt. Don't forget the secondary – Clemson is allowing just 162 yards per game through the air and just 5.5 yards per attempt.
*OKLAHOMA'S PASS DEFENSE IS SUSPECT – Like Clemson, the Sooner rush defense is solid, ranking 10th nationally and giving up just a little over 109 yards per game. Unlike Clemson, however, the Sooners have issues in the back end of their defense. Stoops' defense will sell out to stop the run, and that leaves them vulnerable to big pass plays. They rank 117th nationally (out of 128) teams, giving up 272.2 yards per game. If Stoudt can get Mike Williams

Mike Williams
So. Wide Receiver
#7 6-5, 208
Vance, SC
View Full Profile and Artavis Scott

Artavis Scott
Fr. Wide Receiver
#3 5-11, 190
Oldsmar, FL
View Full Profile involved early – and he can make plays down the field – it will take the pressure off of the running game. The Tigers had success using the short passing game against South Carolina, but that won't work as easy against a Sooner defense that likes to stack the line of scrimmage.
WHAT WILL HAPPEN
This one comes down to two things – turnovers and the play of Stoudt. Stoudt has thrown 10 interceptions vs. just six touchdowns this season, and even though he's had time to prepare and get healthy he hasn't played particularly well in a while. If he turns it over, Oklahoma wins easy. If he protects the football, the Tigers have a good chance and are 34-5 under Swinney when winning the turnover margin. The Sooners know this, and they will leave their corners isolated and pack the box and dare Stoudt to beat them with his arm.
Clemson's defense has proven it can hang with anybody in the country, and while Oklahoma can score points on anybody they won't come easy against this senior-laden group. Perine won't find as many running lanes as he did against the defensive also-rans in the Big 12. The Sooners will score – and will probably hit a big play or two in the running game – but sustained success will be hard to come by.
When it comes to the intangibles, we've gotten the feeling that the Sooners have been disinterested at best this week after making several BCS appearances recently and being picked by some to make a run at the College Football Playoff this season. How long will they be disinterested after the opening kick?
In the end, however, I think it comes down to this – the Sooners are getting their best quarterback on the field and Clemson's best quarterback won't be suiting up. Knight and the Sooners make enough plays to scratch out the win.
FINAL SCORE - OKLAHOMA 23, CLEMSON 16
---
GUEST PREDICTIONS
---
Mickey Plyler
- 6AM-9AM EST on WCCP 105.5FM -
20-17 Oklahoma

Nikki Steele - TigerNet Writer - 16-10 Clemson

Tony Crumpton - TigerNet's Associate Editor - 21-17 Oklahoma

Pigskin Prophet - 23-14 Clemson

Dutch Coleman - 9AM-12PM EST on WCCP 105.5FM - 17-14 Clemson

Lawton Swann - Clemson Sports Talk / TigerNet Talk - 28-24 Clemson