| | |
| --- | --- |
| Romeo Finley: All In is more than just a phrase | |
---
| | |
| --- | --- |
| Sunday, January 24, 2016 3:25 PM | |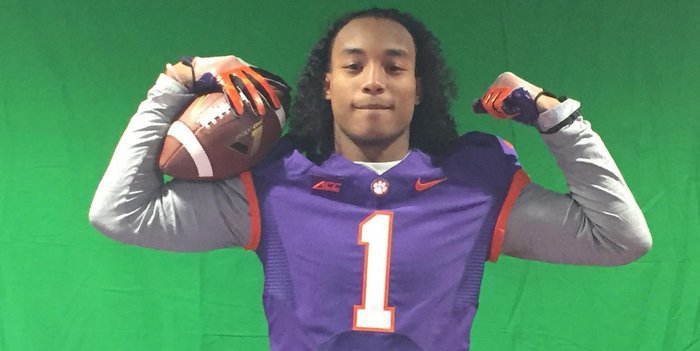 After a surprising visit, Clemson is firmly in the mix for one of the nation's top defensive backs because he knows All In is more than just a phrase.
Four-star Niceville (FL) safety Romeo Finley took his official visit to Clemson this weekend, and he told TigerNet that the trip went better than he could have ever expected.
"It went really well. Like I've been saying, it really opened my eyes, and it was better than I expected," Finley told TigerNet Sunday afternoon. "The thing that really stood out was how everyone is so close. I went to the banquet yesterday and a lot of the leaving seniors and captains talked about the coaches and the Clemson family. It was pretty cool how everybody is so tight. It's such a family. All In - their saying isn't fake. It's very real. They are a big family. At Clemson, they have a really good coaching staff and they're all behind you. They just want the best for their players. I can definitely see that they have a great time at Clemson."
An unexpected highlight of the trip was the winter storm that dumped several inches of snow on Clemson, allowing the coaches, players and recruits to engage in a friendly snowball fight as well as do a little sledding down Death Valley's famous hill.
"That was my first time seeing snow, and that was the first time I've ever gotten to do anything like that," Finley said. "That was definitely a highlight of the weekend. Coach Swinney was sledding down the hill with everybody and that just shows his personality. You know all of the videos they show throughout the season? That's just not for show, especially Dabo. He's an awesome guy."
While on the visit, Finley spent a lot of time with defensive backs coach Mike Reed, who explained that there is an opportunity for the 6-1, 200-pound prospect to come in and play early after the departures of Jayron Kearse, T.J. Green and Jefferie Gibson.
"I spent a lot of time with Coach Reed this weekend. We talked about everything. He was telling me about all of the players," he said. "He was telling me that he really wants me. Three people left so there's a big opportunity for me to play and he said that if I do the right things and do my job I could be playing."
Clemson head coach Dabo Swinney echoed Reed's sentiments during his exit interview with Finley Sunday afternoon.
"I'm actually heading to the airport in Greenville to catch a plane home at 3 p.m. They had three safeties who left - two declared for the NFL and one transferred - so there is a good opportunity there," Finley said of Swinney's message.
Finley has now taken visits to Georgia Tech and Clemson and finishes up next weekend with a trip to Miami before he sits down to make a final decision.
"I didn't expect the visit to Clemson to be so good. I like Georgia Tech, but I really have something to think about," he said. "I've got Miami next week, and then I'll decide on the second (of February). Clemson is definitely in the mix."