| | |
| --- | --- |
| Roll....Tigers? Bama grads and Clemson dads | |
---
| | |
| --- | --- |
| Monday, January 4, 2016 7:01 AM | |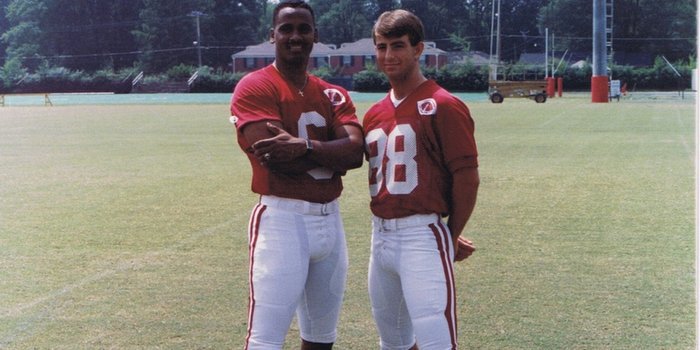 Roll…………………Tigers?
Those are the words that Willis Bevelle and John Fruhmorgen are living by in the days leading up to the College Football Playoff National Championship between Clemson and Alabama. Both played for the Crimson Tide, and Bevelle was a teammate of Clemson head coach Dabo Swinney. Both have sons that play for Clemson.
Who will they be pulling for? Roll Tigers.
Bevelle – the father of freshmen defensive ends Kelby and Kaleb – told TigerNet Sunday afternoon that he always ends his conversations with Clemson's head coach with 'Roll Tigers.'
"Dabo and I have been friends since back in 1989 and I've heard him say it, but every time I finish up a text, I send 'Roll Tigers,'" Bevelle told TigerNet. "I love Bama. I'm 51 and I have always loved all things Bama - chased the dream, was able to play there - but Clemson is a special place. Having my children there chasing their dreams, I'm pulling for the Tigers and the whole world can know it."
However, the phrase takes on a whole new meaning now that his alma mater is playing the team his best friend coaches and his sons play for.
"I couldn't be more excited. As far as our family is concerned, Clemson is our team. I'm learning more about the Bama connection the more that I learn about Clemson. We're tickled," Bevelle said. "I'm never at a loss for words, but I feel like I am now. We just can't wait. Pins and needles. Euphoria. That's the only word that can come close to describing it. I've been all things Alabama my entire life. My wife and I were able to come together and our first children were twins and we taught them their entire lives to be dreamers and to chase their dream and wherever it takes you we'll support you.
"I can't tell you how many times at our kitchen table when my kids were in high school and no one was talking to them as far as big offers and they don't care. They're just grinding it out and they fell in love with Dabo and Clemson and they continued to climb that mountain. We talked over and over about speaking your dreams into existence - the grind is the daily routine but you also have to speak it and see it. It's almost deja vu. We've almost talked about so much that it's like we've been there. Am I going to be happy if Clemson wins the game? Yes, but am I going to be said if Clemson wins the game? Yes. It's crazy. I'm so confused."
For Fruhmorgen, whose son Jake has started at right tackle as a true freshman, he has no problem saying that he's all in with Clemson.
"Truth be known, I'm all in with the Tigers. Of course. It's surreal. A year ago when Mitch (Hyatt) and Jake were at the Army All-American Game, we never would have envisioned Clemson playing for the national championship," Fruhmorgen told TigerNet. "I don't think anybody really thought that. It's almost like it's not even real. We were sitting around at the Orange Bowl going, 'Did we just kick their butts? Are we really going to play for the national championship?' It's like David and Goliath. Alabama has been there time and time again. I'm unbelievably excited. I've got about 16 people going out and we are jacked up."
Nobody outside of Clemson is really giving the Tigers a chance at beating Alabama next Monday night, but Bevelle said Clemson is the real deal.
"Clemson absolutely has a chance. Clemson dismantled what everybody was saying for two months was the hottest team in America," Bevelle said. "They dismantled them. They physically dominated them. Clemson is no joke."
And for the Tigers, who haven't played for a national championship in 34 years, Bevelle said this game is just the beginning of what's to come.
"This is a beginning point. I know people think this game is the end, but this is really going to catapult Clemson into the stratosphere," Bevelle said. "Recruits all over the country are going to know to Clemson. You say Clemson and the paw, everyone will know."