| | |
| --- | --- |
| Road trip: Is the trip to Louisville worth the effort? | |
---
| | |
| --- | --- |
| Monday, September 21, 2015 7:01 AM | |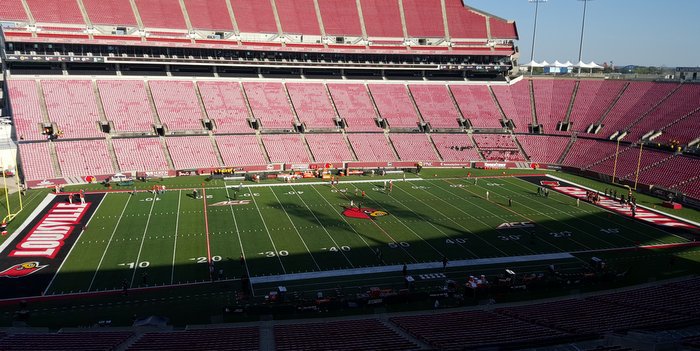 LOUISVILLE, KY – I love college football road trips and making a first trip to a college football venue is always at the top of the list. For that reason, I was looking forward to last week's trip to Louisville.
The Tigers defeated Louisville 20-17 last Thursday at Papa John's Cardinal Stadium, the victory capping off a busy day of sight-seeing and taking in the new sights and sounds of a new college football venue. This trip was also unusual in that my mother-in-law, Andrea Turner, and my son made the trip.
We drove up late Wednesday and slept in Thursday before heading over to the stadium. As we drove over the bridge in a distinct industrial area, I wondered if Louisville was going to turn into another Columbia, a college stadium not on campus but stuck in the middle of fabricated metal and urban blight.
We looked over the guard rails and saw the Cardinal Express – a line of cabooses used for hospitality events – and I was convinced I merely saw a smaller copy of Williams-Brice and Columbia.
I was wrong.
We parked down at Churchill Downs while I did the Tiger PreGame Show, and the iconic home of the Kentucky Derby was packed with Clemson fans. In fact, after the 4:30 p.m. race, the orange-clad fans started Clemson cadence count. I actually like the idea of horse racing and a football game in the same day, and once I had lost my three dollars we headed over to the stadium, and that is when my opinion began to change.
Walking with the family – they had on orange – Louisville fans went out of their way to be nice and welcome us to the city and the stadium. We stopped once and asked for directions, and we were once again welcomed. I heard from a friend of mine that lives in Louisville that Cardinal fans aren't always so inviting to the enemy but wanted to make a good impression after their trip to Death Valley in 2014.
I didn't get a chance to tailgate, but there were plenty of tailgate areas surrounding the stadium, and there were tents all over the place. We moved down into the parking lot, and I asked for directions to the Media Will Call gate, and once again couldn't have asked for nicer people to deal with.
Once inside the stadium, I had a couple of thoughts on the facility itself: 1. It isn't quite big-time, not like a Clemson or Florida St. or even Virginia Tech, but it isn't Wake Forest or Syracuse, either; 2. The facility itself – for whatever reason – reminded me of Maryland, but with a fanbase that really cares about football.
We made our way upstairs, and the press box area was extremely helpful. In fact, the whole press area is superior to even the new digs at Clemson. There were plenty of seats and different meal options, but I have to be honest when I say I've never seen soft drinks served in tea pitchers and not out of a fountain. Not in a press box.
We actually sat out on the photo deck for much of the game – I wanted to get a feel for the crowd – and came away impressed that they could generate that much noise in a stadium with an open end. Meanwhile, my mother-in-law's hastily bought tickets turned out to be in the Louisville student section, but she said everybody behaved, and everybody had a good time.
So…..first trip to Louisville was a success on the field and off the field. Is it recommended for Clemson fans who want to make the trip in two years? Absolutely.