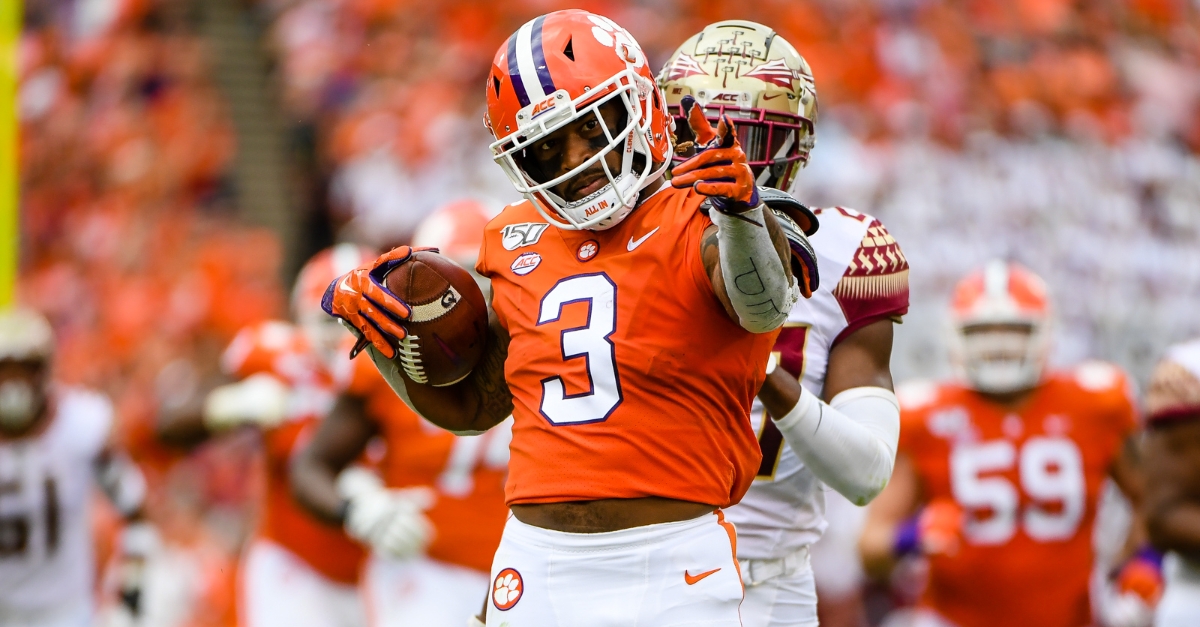 | | |
| --- | --- |
| Rivalry reversed: Tigers flip the script on 'Noles winning five in a row | |
---
CLEMSON – Tony Elliott was standing on the sidelines at Doak Campbell Stadium in early November of 2000 when FSU quarterback Chris Weinke dropped a 98-yard touchdown pass on the Tigers, and it felt then like the rivalry would always be dominated by the Seminoles.
Elliott was in the coaches' box Saturday afternoon when Clemson capped a 45-14 thrashing of the Seminoles that was more dominant than the final score indicates. If the Clemson coaches wanted to and had left the starters in after the first few drives of the third quarter, the Tigers could have hung 70 on the Seminoles.
Clemson has now won five consecutive games in the series and won the last two by a combined score of 104-24. Last year's score of 59-10 was wider, but somehow it feels like the gulf is bigger between the two programs this time around.
It wasn't that way in 2000. The head coaches were Bobby Bowden of FSU and his son, Tommy, of Clemson. The Tigers had started that season 8-0 and both teams were 8-1 entering the contest. FSU was ranked No. 4 and Clemson was ranked No. 10, but it wasn't much of a game for long.
The Seminoles were ahead 3-0 and had the ball at their own two-yard line. Using a wonderful play-action fake in which he stood flat-footed in the end zone with his back to the line of scrimmage, Weinke turned suddenly and fired a laser downfield to Snoop Minnis, who had the fooled Clemson defensive backs beaten by 20 yards. It was an easy sprint to the end zone from there, as Weinke and Minnis broke the record for Florida State's longest touchdown pass.
The Seminoles didn't let up – Bobby Bowden left his starters in until the fourth quarter even though it was obvious Clemson was beaten, Bowden was out to impress the voters and it didn't matter if his son was in the way. FSU wound up winning 54-7.
Elliott was a freshman wide receiver on that team and he remembers that play all too well.
"I was down there in Tallahassee. I remember that one," Elliott told me Saturday night. "I don't have many visuals of play, but I do have a visual of that one."
I then asked Elliott if he could have foreseen the rivalry going in the opposite direction.
"If you would have asked back when I was standing on the sideline and saw that play, I would have said no," he said. "But having been on this staff and being around Coach (Dabo) Swinney - because he wasn't here when that happened - but having been around him and the vision that he has, yes."
Elliott said the change in the Clemson program occurred when head coach Swinney convinced his players and coaches to not chase other programs, but simply to focus on Clemson.
"We believe that at the end of the day, it doesn't matter who we play. It's all about Clemson," Elliott said. "If we play to our standard, we can beat anybody in the country. That is our mindset and that is why we have been successful as a program. We don't worry about anything that is going on with anybody else other than if we don't lose to Clemson, we have a chance to win."

Upgrade Your Account
Unlock premium boards and exclusive features (e.g. ad-free) by upgrading your account today.
Upgrade Now