| | |
| --- | --- |
| Risky Business: Should Deshaun Watson play against Wake Forest? | |
---
| | |
| --- | --- |
| Wednesday, November 5, 2014 8:01 AM | |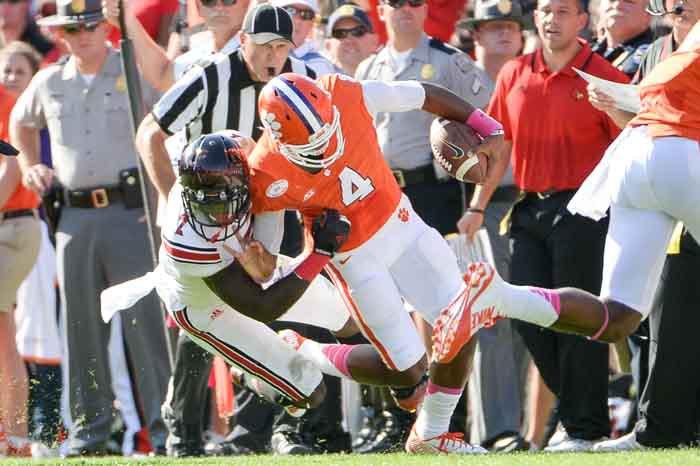 CLEMSON – Clemson head coach Dabo Swinney

Dabo Swinney
Head Coach
View Full Profile jokingly told the media Tuesday that the Tigers' pre-game warmups at Wake Forest Thursday night will be heavily scrutinized because freshman quarterback Deshaun Watson

Deshaun Watson
Fr. Quarterback
#4 6-3, 204
Gainesville, GA
View Full Profile will be dressed out and could play if needed.
He's right. Clemson's offense has struggled to score touchdowns since Watson left in the first quarter of the game against Louisville last month, and all eyes have been on the Gainesville native's progress. Swinney said Tuesday that Watson has been pain-free for over a week, has looked good throwing the football in practice and will dress out against the Demon Deacons.
I asked Swinney what it would take for Watson to play, and Swinney said he would use Watson if he needed him to go win the game. Meaning? If the offense continues to struggle and the Tigers are clinging to a slim lead at any point midway through the second quarter, Watson might see the field.
TigerNet has an instant messaging system we use to communicate with each other, and it was no surprise that we had differing opinions on whether Watson should see the field. With that in mind, here they are…………
David Hood, Senior Writer – Watson should play
*Swinney said a few weeks ago that Watson is still the Tigers' best option at quarterback and when he's healthy will return to the starting job. So, if he's healthy and ready to go and the doctors have cleared him to play, why wait?
I understand the concerns and I understand when people say that Watson came in "cold" against both Georgia and Florida St. and did a more than credible job. But if I've learned one thing from coaches over the years, it's that you can't coach scared and coach in a way that a player won't get hurt unless you just point them to a bench and tell them to never move. As for "coming in cold" against Georgia Tech, I think Watson would do just fine in that situation. However, he had an offensive line he was used to in both of those of those games and that dynamic has changed.
Will Reid Webster

Reid Webster
RS Sr. Offensive Tackle
#77 6-3, 300
Woodstock, GA
View Full Profile start at center against Tech? Will it be Ryan Norton

Ryan Norton
RS Jr. Offensive Line
#58 6-3, 292
Simpsonville, SC
View Full Profile ? Will Jay Guillermo

Jay Guillermo
RS So. Center
#57 6-3, 314
Maryville, TN
View Full Profile be back? Tyrone Crowder

Tyrone Crowder
RS Fr. Offensive Guard
#55 6-2, 322
Marston, NC
View Full Profile looks like the new starter at right guard, and the tackle spots have been a rotation after injury and suspension. The running backs will be new – in a manner of speaking – as well. Wayne Gallman

Wayne Gallman
RS Fr. Running Back
#9 6-1, 209
Loganville, GA
View Full Profile is the new starter, and Tyshon Dye

Tyshon Dye
RS Fr. Running Back
#23 5-11, 214
Elberton, GA
View Full Profile will be making his season debut Thursday. It takes time to build chemistry, and do you really want to wait until a game at Bobby Dodd to begin building that chemistry?
If he's healthy – and by all accounts he's ready – let him play. It's time for this offense to get going, and the sooner the better.
Tony Crumpton, Associate Editor – Watson should play IF NEEDED
*My thinking is that an experienced senior quarterback like Cole Stoudt

Cole Stoudt
Sr. Quarterback
#18 6-4, 231
Dublin, OH
View Full Profile should be good enough in a Thursday night game against the Demon Deacons. Remember Vegas oddsmakers currently have Clemson as a strong 21-point favorite against Wake Forest.
Hypothetically speaking though, if the game is within striking distance of an embarrassing loss to Wake Forest, then Swinney will have no choice but to suit Watson up at some point late in the second or third quarter.
This game will be shown nationwide and losing would not be a good look to prospective Clemson recruits, future bowl scenarios, etc. Wake Forest has a 4-1 lifetime record on ESPN for Thursday night games, so stranger things have happened in the world of college football. The Demon Deacons' pass defense is no slouch - 10th best pass defense in the nation allowing only 179.8 yards per contest.
Another plus for playing Watson a few snaps would be to help knock some rust off of him before the rivalry game against Georgia Tech (which takes place in his home state). All of this Watson conjecture is based on team doctors saying that he is still healthy enough to play on Thursday. The practices are off-limits to the media so I don't have any first-hand knowledge of how he has looked this week.
I personally believe that Stoudt will perform adequately but you MUST go out guns blazing with Mr. Watson at some point(and leave no bullets in the chamber) if you are losing to an undermanned Wake Forest team.
Nikki Hood, Staff Writer – No way Watson should play
*Offensive coordinator Chad Morris

Chad Morris
Offensive Coordinator / QBs
View Full Profile said coming into the season that he finally wanted to run his style of offense – the smash mouth spread – and up to this point we haven't really seen much of that due to injuries along the offensive line and the loss of running backs Zac Brooks

Zac Brooks
Jr. Running Back
#24 6-1, 199
Jonesboro, AR
View Full Profile and Adam Choice

Adam Choice
Fr. Running Back
#26 5-10, 211
Thomasville, GA
View Full Profile , but Thursday night Morris will get his chance to call a game that controls the tempo and clock with the ground game. Coming into the game, Wake Forest's defense is ranked 89th in the country in rush defense, giving up 4.28 yards per carry and 178.5 yards per game on the ground. With Reid Webster moving to center and road grader Tyrone Crowder at right guard, along with a confident Wayne Gallman at running back the Tigers should find some success on the ground, leaving quarterback Cole Stoudt to just manage the game.
During his time as a backup Stoudt showed that he was a capable game manager – hitting the short passes as needed to move the chains and doing enough to keep the offense moving. That's all that should be needed to beat Wake Forest, especially with the way Clemson's defense has been playing lately. If Dabo Swinney is going to stick to his guns and play Deshaun Watson "only if he's needed to win the game" then Watson should stay on the bench. Swinney said Tuesday that Watson has been in a green jersey this week during practice, meaning that he hasn't taken a live hit in over three weeks, so there's no need to risk an injury to Watson – whether it be to his hand or any other injury considering that the playing field may not be in the greatest shape with rain in the forecast for most of the day Thursday – with games against Georgia Tech and South Carolina looming.