| | |
| --- | --- |
| Religion, Chad Kelly and recruiting makes for a busy week | |
---
| | |
| --- | --- |
| Monday, April 21, 2014 9:28 PM | |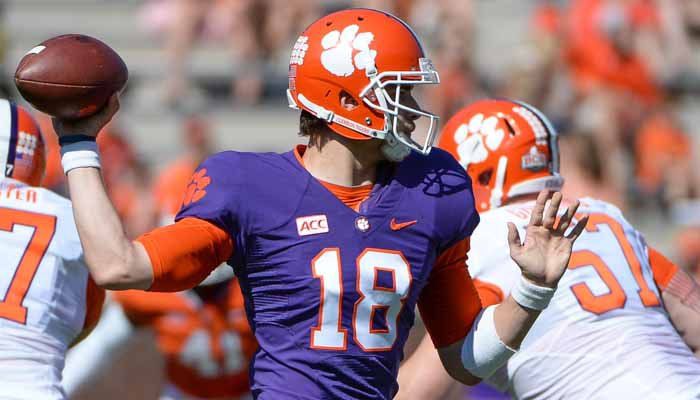 Some thoughts and scraps from a cluttered notebook and a cluttered mind.
As most of the beat writers exited the press box following the spring game, most of them could probably be heard exhaling or emitting an audible sigh. After all, the end of spring practice ends about nine months of frantic activity.
For those of us who cover Clemson athletics on a daily basis – this is really the website guys and gals and not really the newspapers – the "season" starts in mid-July and it's non-stop with football, basketball and baseball until after the spring game. During the frantic months – especially once spring football starts – we have recruiting, football, basketball and baseball all at once, and there are days when we might have basketball availability, spring football and a baseball game in one day. Heck, there was one Saturday where we had a spring practice, a basketball game and a baseball game all in the span of a few hours.
Once the spring game is over we can concentrate on a little bit of recruiting and baseball until early June, when Dabo Swinney

Dabo Swinney
Head Coach
View Full Profile 's high school camps are scheduled, and then we have another month or so until everything ramps up with Dabo's media golf tournament and the ACC Football Kickoff.
I woke up last Monday thinking it would be a relatively easy week, but those expectations ended with the news of Chad Kelly
Chad Kelly
RS So. Quarterback
#11 6-2, 210
Buffalo, NY
View Full Profile and the Freedom From Religion Foundation complaint. I won't get into all of that again – you're smart and can see what that group is doing – but I have heard that Clemson's legal department will issue a formal response this week. From there, it will be up to the people who want "Freedom" taken away to see what their next step will be.
Schedules
For those that care – the date of the spring game fell right in the middle of the college football fan's eternal wait for next season. The date of the spring game was 140 days since Clemson fans had last been in Death Valley (for the game against The Citadel) and it would be 140 more days before the opener at Georgia. Seems like a long time to wait, right?
We have the ACC Baseball Tournament in a month – that will happen May 20th through the 25th in Greensboro (that's a Tuesday through Sunday), and of course the NCAA's will start that next weekend and run into June.
Two weeks after the end of the ACC tourney, Dabo's high school camps will begin and there are two high school sessions that we will be covering in-depth. The first one is June 9th-11th, and the second is June 13th-15th.
Once those camps are over, there is about a month that I call the "dead period" where people take vacations and there is nothing happening around Clemson. The media dinner at Swinney's house usually occurs the week before the ACC Football Kickoff, and we have the Swinney media golf outing right in there as well. The ACC Kickoff is July 20th and 21st, so that marks the official beginning of football season for most of us.
See, football isn't as far away as you thought.
Recruiting
I can remember people panicking a few years ago when Clemson went into Swinney's high school camps with just a few commits for the next season. I preached a little patience, and recruits responded to the camps with more than one high-profile pledge.
That isn't the case this year – the Clemson coaches have 11 prospects already on board, and ESPN has Clemson's 2015 class ranked 7th nationally.
Here is what ESPN has to say about Clemson's class to date.
Who they have: Clemson began the 2015 class with offensive line a huge position of need, and the Tigers have scored in a big way. Leading the way on the offensive front is No. 7 and five-star tackle Mitch Hyatt. Hyatt is joined by ESPN 300 prospects No. 83 Jake Fruhmorgen and No. 197 Noah Green. Possession receiver and No. 247 Shadell Bell is another key pledge, as wide receiver is another position of need. Van Smith is a talented athlete who projects at safety, while Tucker Israel is the first commit of what is expected to be a two-quarterback class.
Who they want: Top prospects the Tigers are still in the hunt for include No. 10 Tim Settle, No. 11 George Campbell, No. 22 Shy Tuttle, No. 71 Jordan Colbert, No. 89 Taj Griffin, No. 102 Sterling Johnson and a number of others.
Clemson has had the reputation of being able to get plenty of skill players, but lacking in getting the "big uglies" on the line. Games are won at the line of scrimmage, and while Clemson has been able to put together some talented defensive lines in recent years, the offensive lines have been underwhelming at times. That seems to be changing with the addition of players like Green, Fruhmorgen and Hyatt.
Baseball
The baseball team won two out of three at Pittsburgh over the weekend, and now has a 24-15 overall record with 17 games to play. That includes a 12-8 mark in the ACC, 3.5 games behind Florida St. in the Atlantic. The Tigers have just nine ACC games remaining (three each against Miami, Boston College and Notre Dame), and even though Boston College and Notre Dame are struggling, it would be hard for the Tigers to catch the Seminoles.
To reach 39 wins – the number the Tigers had heading into last season's ACC Tournament – the Tigers need to go 15-2 over the final 17 games. The Tigers went into last season's ACC tourney as a fifth seed, but if the season ended today it looks like they would be a four seed. It should be an interesting final 17 games of the regular season for Jack Leggett

Jack Leggett
Baseball Head Coach
View Full Profile 's club, which has five home games this week.