| | |
| --- | --- |
| Recruiting, Integrity, Keeping Your Word and Ray-Ray McCloud | |
---
| | |
| --- | --- |
| Thursday, June 11, 2015 2:41 PM | |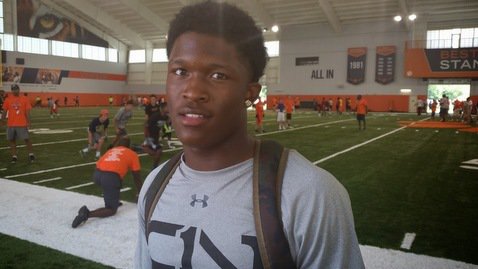 CLEMSON – The process of being recruited to play for a big-time college football program can be an exciting time for a young player and his family, with college's providing the chance at a college education and maybe even the opportunity to one day play in the NFL.
But there's also the dark side, when recruits are called and receive texts day and night from scouting services and recruiting writers, and the days after an official or unofficial visit are an endless stream of someone wanting the next piece of information or nugget. Involved in that process? Rumors and half-truths and bad information, and sometimes that can lead to hurt feelings and misunderstandings and family angst.
All in the name of hits and being the first to report something as fans demand to know what a prospect does with every single minute of his life.
In the next ten days or so, Ray McCloud, Jr., will help his son and 2015 Clemson commit Ray-Ray McCloud move into Clemson to begin his college career, and you would think that for a few days or weeks he could leave recruiting behind. Right?
Wrong.
McCloud endeavors to help college prospects with recruiting trips, helps them connect with coaches and teach them life lessons, and he has another son named Jordan who is a rising freshman at Tampa (FL) Sickles and is just beginning his immersion into the recruiting process.
McCloud works with an organization called Unsigned Preps. Unsigned Preps is designed to assist high school student athletes obtain admission into college. The organization is built on positioning exposure, education, community service and consulting as the keys to effectively producing well-rounded student athletes that flourish on college campuses.
McCloud knew that his work with the organization could cause some issues with his son's recruitment, and he told Clemson head coach Dabo Swinney

Dabo Swinney
Head Coach
View Full Profile a full three months before Ray-Ray's commitment announcement last July that Ray-Ray would be a Tiger. He gave his word, but also let Swinney know what was on the horizon.
"We had talked. I let him know that I had built relationships with other people and I just had to give them that respect to let them recruit Ray for that period of time," McCloud said. "He understood that. I gave them my word that I would bring him on their campus and that's it. I kept my word to them."
Ray-Ray verbally committed to Clemson during a live television broadcast in Tampa, but his dad's work with college coaches and other prospects caused the internet rumor mill to swirl full force.
"What we do, we try to put kids in a place where we teach them God first, family, school and football. Unsigned Preps - we're on a bus tour now and we do this every year," McCloud said. "We do a lot of stuff for these kids off of the field. We don't get paid. We spend a lot of money. We just did a leadership conference where we brought police officers in to teach kids how to respect the law.
"We brought in banking and finance people to teach kids about money. We brought a pastor in to talk to them on more of a spiritual level. We do a lot of stuff like that. We tour schools. I have relationships with a lot of coaches and Ray got caught in the middle of it. I'm going to continue doing that. I've got another son that loves Clemson."
McCloud said he couldn't tell Ray-Ray to stay at home just to satisfy the social media faction.
"My boys are like my best friends," he said. "They go everywhere I go. I hang out with my boys and they do everything I do."
The rumors continued to swirl into the fall, but came to a head when several internet sites continued to probe for hits, citing anonymous Florida sources and recruiting insiders that Ray-Ray could flip to the Gators, visit Auburn or even wind up at another Florida school. It led to concern within the McCloud family.
It was also a slap in the face to McCloud, who tried to build relationships with the reporters the way he builds relationships with coaches. Swinney took him at his word, why couldn't the reporters?
"It was hard. The only part that bothered me was when people were questioning our integrity and stuff like that," he said. "It did surprise me, and then again it didn't. I've been in that world but when you tell somebody in the media that's my word and they keep coming back with the same nonsense. Just because we talk to coaches, that doesn't mean anything. I want Ray to have relationships with those coaches after football, because he may want to coach one day. The relationships we build are bigger than football. We're just trying to help the kids. Coach Dabo and Coach (Tony) Elliott knew what was going on. Coach Elliott and I talked every day."
Now he will concentrate on moving his son into Clemson.
"We'll be moving him in the next 11 or 12 days. I'm nervous," he said. "It's scary and it has nothing to do with football. This is my first child and Ray has been my sidekick. I'm going to miss that part of it. When he moves into Clemson, he can't come back. He's a grown man. That's the part that I'm going to miss."
And maybe, just maybe, the craziness can subside for a while. Until it starts again.