| | |
| --- | --- |
| Reader following in the footsteps of The Fridge? | |
---
| | |
| --- | --- |
| Thursday, October 10, 2013 9:59 AM | |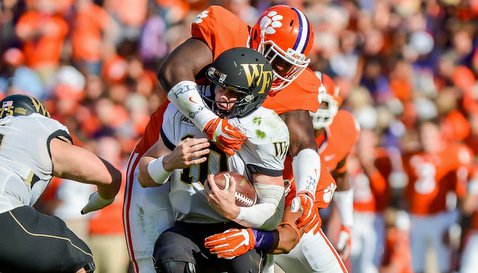 CLEMSON – Clemson defensive lineman D.J. Reader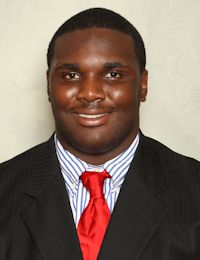 D.J. Reader
So. Defensive Tackle
#48 6-2, 335
Greensboro, NC
View Full Profile trotted onto the field at the Carrier Dome last weekend, but he didn't head out to his usual position as one of the Tigers' defensive tackles. Instead, he went out on offense and lined up as a fullback in Clemson's backfield, and his block paved the way for a Zac Brooks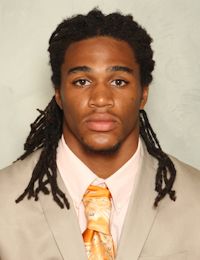 Zac Brooks
So. Running Back
#24 6-1, 185
Jonesboro, AR
View Full Profile touchdown run that gave Clemson a 14-0 lead.
As it turns out, the 325-pound North Carolina native showed up on the goal line the previous week against Wake Forest, and head coach Dabo Swinney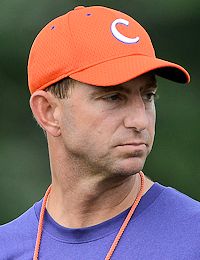 Dabo Swinney
Head Coach
View Full Profile told me Wednesday evening that Clemson fans could expect to see Reader on the field in those situations again this season.
The sight of former Clemson star William "The Refrigerator" Perry scoring a touchdown in Super Bowl XX is one that will be locked into the memories of both Clemson and Chicago Bears fans for as long as those teams exist, and Reader's entry into the game as an oversized fullback reminded me of Perry's exploits with the Chicago Bears during his rookie season of 1985.
During his rookie season, Perry rushed for two touchdowns and caught a pass for one as then head coach Mike Ditka attempted to get Perry on the field in a way that would take advantage of Perry's size and athleticism – Perry even caught a touchdown pass as a fullback.
During fall camp in August, Swinney had the same thoughts as Ditka, and tried to find a way to use a bigger body on the goal line, and Reader's move to the offense began. Reader, who wears No. 48 and wouldn't have to change jerseys, was the obvious first choice.
"I thought about that this summer," Swinney said, "I just wanted a guy that could bring a lot of extra beef in there. And I wanted an eligible number. You know, a lot of times we move an offensive lineman back there, but I really wanted a number-eligible guy back there and I started looking at all of my options.
"I started looking at our defensive linemen and he was easily the first choice. He has an eligible number, which is the number one reason. He is also very athletic and he is very smart, and he just has a good feel for the offense from an athletic standpoint. So we tried him out in fall camp and he did a good job, and you will see that continue to grow and we will continue to use him in that role the next couple of years."
Reader also plays on Clemson's baseball team, and Swinney said that Reader is the kind of athlete that can play anywhere on the field.
"Listen, he is a two-sport player and a three-way player for us," Swinney said. "He plays a lot of special teams – he is on punt, kick return, field goal and field goal block and he plays fullback and plays a little defensive tackle on the way, too. He is very good at it. Very natural. That is why we chose him. We have been working him there since fall camp, just on our goal line packages. That is a big 320-pound load right there that has some good feet and is good at blocking. He played on offense in high school, too, and he does a good job of it."
Perry found ever-lasting fame when he scored that touchdown in the Super Bowl, and I didn't ask Swinney if Reader would ever be considered for a carry or even a pass reception – he wouldn't have told me anyway. However, opposing defensive coordinators already have to figure out ways to stop Clemson's multitude of playmakers, and the thought of Reader reprising the role of The Fridge and catching a pass or rumbling into the endzone with the football is something that might give defensive coordinators nightmares.