| | |
| --- | --- |
| Ray-Ray McCloud ready to be Clemson's next home run threat | |
---
| | |
| --- | --- |
| Wednesday, May 20, 2015 10:46 PM | |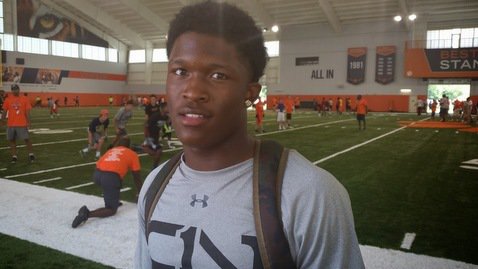 The college baseball season may be about to end, but Ray-Ray McCloud - Clemson's newest home run hitter - is about to step foot on campus.
McCloud isn't a longball hitter in the traditional sense of the national pastime, but he's the grand slam threat the Clemson offense has been looking for.
The 5-star Tampa (FL) Sickles athlete raised a lot of eyebrows when he decided at the last minute not to enroll early in Clemson, but he says it was the perfect decision and that it allowed him to better prepare physically and perfect his craft.
McCloud told TigerNet recently that he is more ready than ever to finally don the Tiger Paw and that June 21st - the date he's set to enroll - can't get here fast enough.
"I think it was a great idea for me. My body feels better than ever," McCloud told TigerNet earlier this week. "I was able to spend more time with my friends and family in my hometown and now I really want to be in college. At first I felt like I was rushing a little bit but now I'm ready to go. I feel like it was a great decision from my standpoint. I'm more than excited. Words can't even describe it. I've been waiting to get up to Clemson for forever."
The 5-9, 176-pound super-athlete said that he's been working out with a personal trainer from Georgia, as well as on his own every day.
"I actually go to a performance training complex. I've been working with a personal trainer for the past few years - since I was a junior," McCloud said. "That's about it. I do skill work on my own at Sickles. I always have to be up there because we're picking my little brother up. I go up there and do some sled work, bungee cords, cones and all of that stuff by myself. I also have a friend that's going to play receiver at Michigan that I work with every day."
McCloud accounted for over 7,000 total yards and over 60 touchdowns during his high school career and the Clemson coaches have told him that they expect him to come in and have an immediate, electrifying impact.
"He [offensive coordinator Tony Elliott

Tony Elliott
Co-OC / Running Backs
View Full Profile ] wants me to be electric for the team and make home run plays in all aspects of the offense," McCloud said. "If it's running back, the 5-man, the 2-man. I can play any position on the field and I think the coaches know that. The coaches are wanting me to be a home run hitter and don't rush anything because I'm just a freshman. I guess he thinks that I'm going to expect too much of myself or set too high standards, but I always reach for the highest goals."
With his mind and body in peak condition, McCloud said he can't wait to show the coaches what he can do on the field and in the classroom.
"I feel like I know what I'm going into with going off to college, the school work, and the coaches," he said. "I'm excited to get to work with different coaches. I'm ready to go to work, really. That's all I want to come up there and do is to put in some work and show the coaches what I can do in the classroom and be ahead in everything I do."