| | |
| --- | --- |
| Ray-Ray McCloud: "I was made for this moment" | |
---
| | |
| --- | --- |
| Monday, September 7, 2015 12:28 PM | |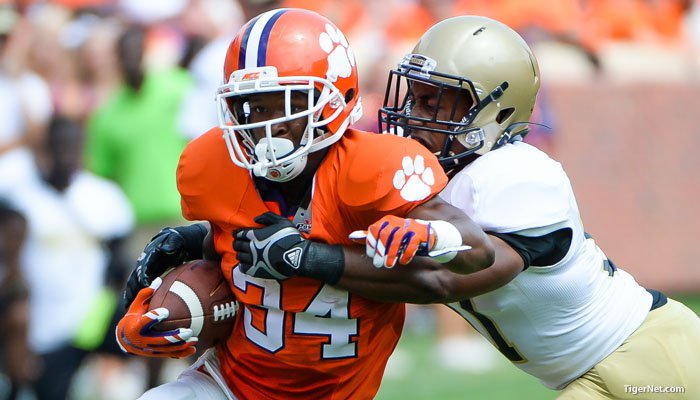 CLEMSON – Ray-Ray McCloud

Ray-Ray McCloud
Fr. Wide Receiver
#34 5-9, 181
Land O' Lakes, FL
View Full Profile has been praised by his teammates and coaches for his ability to pick up the offense and play much older than his freshman status, but that shouldn't surprise anyone because he's been preparing for this moment his entire life.
The Tampa (FL) native made his Clemson debut during Saturday's home opener against Wofford catching eight passes for 80 yards - a moment he's waited on and been preparing for since his freshman year in high school.
McCloud met with the media Monday morning and said his first game as a Clemson Tiger was surreal.
"It was wonderful. I've been part of Clemson since I was a freshman in high school, and just getting to actually play my first game with all of these great players here and the Clemson family, it was big for me," McCloud said Monday in the WestZone. "It was big to have my family come up here and watch me play because they've been part of it with me. It was a great experience."
Becoming Clemson's leading receiver in his first game donning the Tiger Paw didn't come without a lot of hard work and preparation.
"I stayed off of my feet [when I was training at home], but I stayed in the weight room a lot because I know college is a whole new ballgame with bigger and faster players," McCloud said. "I was just trying to prepare my body for it. Receiver comes naturally. A lot of people think it's easy, but it's not. When you focus on your craft a lot more than you do at home, you become an expert."
However, McCloud said his knowledge of the game is just as useful as his ability to avoid tackles.
"It was more just knowing football. Football is football whether it's high school, little league, college, NFL," he said. "It's just football. It's knowing the game and knowing concepts. I love football enough to study it, just like if you're in school, and you're studying for a test. I think that's what it is that makes the game slower for me. Just knowing that if the corner is outside of me that he's in a Cover 2, and I've got to get inside of him."
That mantra was something he picked up from years of working with former Southern California and Philadelphia Eagle wide receiver Nelson Agholor.
"When I first started playing receiver I would just go play receiver. But once a guy I am real close to back home who I call my older brother, Nelson Agholor, every Thursday we don't run a lot where we kill ourselves but we kind of go over simple stuff like stick read, reading linebackers, and kind of reading defenses," McCloud said. "He helped me read defenses before I even got here, so I kind of had a concept of different defenses because every defense is different. He got me prepared for that and reading coverages, so I brought that here, and I keep studying myself. I think that what helped me slow the game down."
In addition to training with other elite receivers, McCloud spent time with his father, Ray-Ray McCloud Jr., breaking down film from an early age.
"Just watching the game. My dad has been coaching me since I can remember, he said. "With him always coaching me and me playing with great teams, you have to be good or you're going to get exposed and thrown to the wolves. I had no choice but to be good, and I had to learn football. My IQ of the game is pretty high, but I have a lot of room to get better. With Coach Scott coaching me really hard, that's helping me as well - in the film room, on the field, and off the field - that's getting my IQ better."
Armed with all of the physical tools and understanding of the mental aspect of the game, all that was left for McCloud to do was play in his first college football game. Before he took the field, however, he remembered the first piece of advice ever given to him by his father.
"My dad always told me that this was for me ever since I was a little kid. I've always been humble and since high school he's always told me, 'Don't worry about it," McCloud said. "Just play your game and let it come to you.' That's what I did, and he was proud of me. He wasn't shocked at all because he knew that I had it in me. He was very proud of me. My little brother had a big smile. I'm just trying to be a big brother to him and a great leader to him and showing him what it takes."
After a solid performance in the first game, most players would be looking for more, but McCloud is satisfied playing his role and knows he's ready for even the biggest moments.
"I've always felt like I was made for this type of moment in my life. It took time," McCloud said. "I can't rush my life. I can't rush my time in college. It just took time for me to show it. High school is in the past now, so now it's time to show it. I can still be a bust, but there are doubters and coaches that motivate you. The doubters will always say, 'He's too small, or he's not going to play at Clemson because he's got Tay (Aratvis Scott) in front of him.' Even though Tay is in front of me, that doesn't mean I'm not going to play because Tay gets tired. That's human nature. I was prepared. I never had the mindset that I wasn't going to be good in college. I always have the mindset that I have goals and standards to be great.
"Tay starts. He's a monster, and he teaches me everything I know, so right now Tay is in front of me. As long as he's in front of me I'm just going to keep getting better and better and learning from him until he leaves. I'm just going to play my role."