| | |
| --- | --- |
| Quotable: Clemson and Syracuse players and coaches talk Clemson win | |
---
| | |
| --- | --- |
| Sunday, November 15, 2015 9:56 AM | |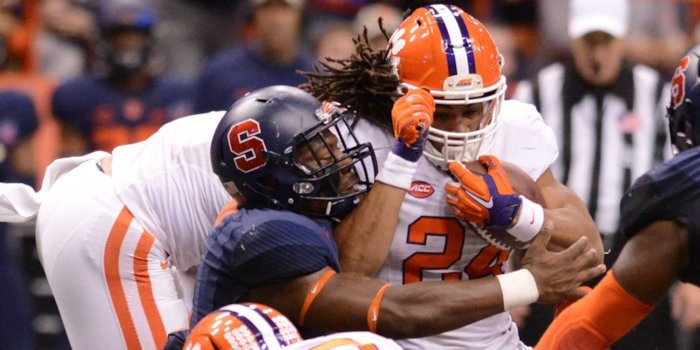 Deshaun Watson accounted for 461 total yards of offense and Charone Peake had a career-high 120 yards on seven receptions.

What did Clemson's coaches and players and Syracuse's coaches and players have to say about the game?

Clemson head coach Dabo Swinney

Opening statement

"Congratulations Syracuse, I thought they played their tails off. That's just the nature of where we are right now. I told coach Shafer after the game he should be proud of his team. I thought they fought their tails off. We certainly made some critical mistakes and we can't make some of the mistakes we've made and not expect them to take advantage of it. I'm really proud of our football team – a double digit win on the road. There were a lot of mistakes, and we really had to grind it out. Offensively, 570 yards of offense for the sixth game in a row, that's a Clemson record, never been done before. We had a couple of big fumbles that cost us and that was probably the most disappointing thing. We had a couple of big first down conversions so we had some penalties and we gave those. At the end of the day, it was an unbelievable performance. Defensively, not our best performance – they had 240 yards rushing and a 97-yard drive. I was really disappointed with our overall performance on defense. All I know is that when you make the types of mistakes that we made tonight and still find a way to win, that's the sign of a good football team."

On what impressed him about Syracuse's offensive

"Their scheme with getting their run game going. They came in with the triple option and basically running some slip flow and cracking on the back. I thought their quarterback did a great job and played a big game for them. They had 250 yards rushing, that's the stat of the night."

On if Clemson took Syracuse too lightly::

"I don't think you can let two or three guys making mistakes paint a broad picture. We had 570 yards of offense. It's not a beauty pageant, this is football and all you need is one more point than the opponent. Everyone has good players and good coaches. We didn't play Clemson football tonight. But at the end of the day, we played well enough to win."

Clemson quarterback Deshaun Watson

On the offensive performance:

"We did pretty good, we had a lot of mistakes though. We'll just get back Monday and correct those mistakes."

On whether it was surprising that Syracuse came back:

"Not at all. I knew they had guys that wanted this win and want to prove themselves. We had to work for it and fight hard. They came out and were pushing us and they fought today. So they get a lot of credit for that."

Clemson defensive end Shaq Lawson

On defense:

"We played terrible in the first half. They came out with some adjustments we had not seen. It really hurt us a little bit, but at the end of the day we had to find a way."

On not stopping the run:

"It was frustrating. We preach about this every week - everybody in their gap. It was just frustrating at first because they were busting long runs on us. That was the frustrating part about it."

Clemson linebacker B.J. Goodson

On if defense can fix the problems:

"Totally. Coming into this game the things that we were expected they didn't run so much or at all. But like I said it is adjustable things that we know we can handle."

On if he is concerned with run defense:

"The thing about it is it is all fixable things. It's nothing crazy or out of the ordinary. It's just tendencies that team know you are expecting they try to fake and go away in another direction.'

On defense performance:

"Honestly I think their offense had a better day than our defense. But we found a way to win. We found a way to get it done when it counted. "

Clemson Co-OC Jeff Scott

On long pass to Charone Peake to start the game:

"We really challenged them. We knew we were going to start off with a deep shot to start the game. Really challenged the guys to play fast. Charone made a great catch there. He's playing his best ball. I'm very proud of him. Being around here five years, he's been around here more than anyone on our entire offense and had to overcome a lot with injuries. For him to be playing his best ball right here toward the end of the season you couldn't ask for anything better."

On play of Germone Hopper:

"I was pleased with G-Hop. He made some key catches. He had some really nice blocks. With Ray-Ray McCloud being out, we really challenged G-Hop to really step up and take on a little more responsibility and he did that. He made some key plays. We are going to need that as we continue the rest of the year."

Clemson Co-OC Tony Elliott

On gameplan:

"We wanted to come out and be aggressive. We started the game with a deep ball. That's something we hadn't done in the past. We have been pretty conservative on our opening play calls. We wanted to be aggressive. We wanted to throw the ball. We wanted to loosen up their front six because we knew they had some injuries in the secondary that we felt like we might have a little bit of advantage there. So we wanted to throw the ball a little bit. "

Message at halftime:

"Let's go be who we are. We take pride in executing well. When the game was on the line we wanted the ball in No. 4's hands."

Clemson kicker Greg Huegel

On if his heart gets racing when the play clock is winding down:

"Yeah a little bit because normally we go out there in plenty of time. I just had to trust the guys, trust the snap, the holder. I didn't have to worry about it."

On the challenge Syracuse posed:

"I wasn't surprised just because with college football it can go any way at any time. I'm just glad we came out with a win. I just go out there and approach it one kick at a time."

Syracuse head coach Scott Shafer

Opening statement

"First off, congratulations to Coach Swinney, very good football team, very athletic football team - big. You don't notice how big they are until you're standing down there next to them. They do a great job over there and congrats to them. I thought our team played extremely hard, they continued to fight, I think they're a bunch of fighters in that room. I think something true about this team is we stay true to who we are and we're a team that will play until the last whistle.

"Disappointed in the loss but proud at the fact that the kids played extremely hard. I would also like to thank all of the folks from the 10th Mountain Division up at Fort Drum who spent good time with us, speaking to the team last night. Capt. Greg Durso had a great message for us, as well as SGT. 1st Class Shane Hankey. Just great men, they've seen a lot of ugly things, so we can sit here and talk about a football game - love those guys, love them to death. Really appreciative of what they have done with our kids. So obviously with that being said, difficult situation, you can't spot the number one team in the country 14 points in the first two minutes of the game, and we were disappointed with that. Once we washed that off of ourselves, I thought our team played extremely hard, I felt we played effective football. I thought our offense did a nice job by keeping Clemson guessing especially in the option game - the triple and double option game.

"Missed a couple of deep throws could have really given us a push there. Very good job our kids and coaches. Second half defense we played extremely well. Good turnover ratio, by the end of the game I believe we were plus two. Usually when you're plus two you find a way to win that game, unfortunately we came up short. Everybody's going to be back for a long time around here, these kids play football. Cordell Hudson felt terrible about giving up that first one but he felt a sensational game after that; I think he had eight solos, a TFL, it was a hip pocket against one of the best wide receivers in the country, runs them deep and double move balls. "So, I see great progress being made. I see great progress being made on the perimeter with our young corners fighting to get off some big guys that are big and seasoned veterans. So there's a lot of good there from my point of view, just look forward to getting back, getting a game plan ready to go down to NC State and get after them."

On allowing Clemson to score 14 early points:

"I like the way the kids played, you know we're trying to just get better all of the time and they did get better throughout the course of the game. So it's a hard one to swallow because we were in a position where we could play and beat this team. We talked about if we could get it to a seven-point game our crowd would help us and I thought we got to that point seven-point game in the fourth quarter, and I appreciate the fans that came out, I appreciate the fans that continue to come out and support our players.

On penalties and injuries coming at crucial times:

"Yeah, it's football. There's been season over the years it's always went my way too. It's been a difficult couple of seasons here with playing seven or eight different starters at quarterback in two seasons - if you would have told me that 20 years ago when I got into coaching you would have said 'hey, there's going to be a couple season where you're going to have to play eight different quarterbacks' I'd say what are you talking about? But that's life, and I think it's a great opportunity for us to teach these kids how to endure and push through hard times. Hard times aren't very difficult compared to the real world. All of this stuff, that's happening in France- it's all about perspective.

"My sister in-law sent me a text before the game and she said 'hey, just keep your perspective, there's other things going on in the world'-I forget how she worded it. She's a survivor of leukemia, wonderful human being. It's important - it's why I get upset and frustrated and all of those things, it's important for us right now. It's a great opportunity to teach our kids how to get through something that isn't really that difficult compared to a couple of the things I just mentioned. So that's what coaching is all about, that's what teaching is all about - doesn't make you feel anybody when you wake up in the middle of the night thinking about one play here, one play there. But it is a reality we have to deal with and as men we need to just lead the way and teach these guys how to deal with it."

On the close losses this season to top-teams LSU and Clemson:

"Sure, as well as Virginia and Pitt. There's four games, we talk about it all the time. It's a game of inches, how could we find a way to solidify it two inches here, two inches there, but we also talk about the ball isn't always going to bounce your way. And obviously this year is the best example of that, we've been in tight contests but we come back and take control of the controllables. We go to class, we do what's right, and we keep working hard together and the thing I'm most proud of is our kids never separate. As a tight a team I've been around, these guys are brothers to one another rand they have each other's backs. So those are just life lessons. But I think the biggest thing is perception, perception if you win those three or four games you mention, all of a sudden we're way better than people thought we were supposed to be. But we didn't, so we came up short. Hopefully people can see the process moving forward as we do, and we know the progress we're making."

Syracuse quarterback Zach Mahoney

On his play:

"I felt the offense started out great, obviously not the first drive with the fumble, but comparatively against LSU I was very inconsistent and short, but I felt today I was better with my decisions. Unfortunately, I missed a couple of big shots."

On regaining focus after trailing 14-0:

"Coach is very persistent on saying it's a 60 minute game anything can happen. Unfortunately, the first couple minutes didn't go our way but after that we were positive and hoped for the best.