| | |
| --- | --- |
| Quotable: Clemson, South Carolina coaches and players talk Clemson win | |
---
| | |
| --- | --- |
| Saturday, November 28, 2015 6:09 PM | |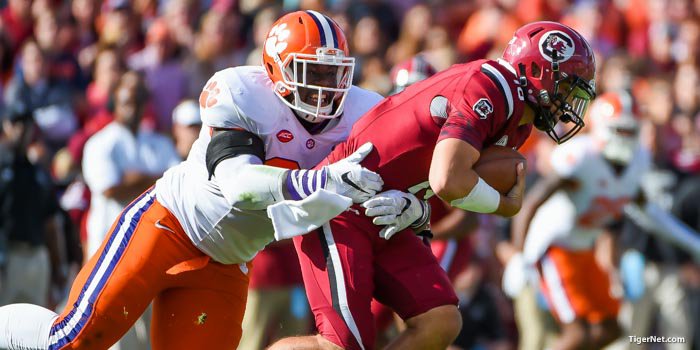 COLUMBIA, SC – Clemson defeated South Carolina 37-32 Saturday in Williams-Brice Stadium, the Tigers' 15th win a row, and improved to a perfect 12-0 on the season.
Next up for the Tigers is North Carolina in next Saturday's ACC Championship Game in Charlotte's Bank of America Stadium.
Clemson head coach Dabo Swinney and players and South Carolina interim head coach Shawn Elliott talk about the Tigers' win.
CLEMSON HEAD COACH DABO SWINNEY
Opening Statement
"I'm really proud of our team. It's not easy to win on the road and to be undefeated on the road. Our team has just continued to find ways to win. This is a game of results. We got the result that we came here for. It's just a blessing to be a part of it. We don't always play perfect but we find a way to win. We lost the turnover margin for the sixth time this year. If we win the turnover margin, we're going to kill somebody. Offensively we were clicking on all cylinders and really took the game over in the second half. Defensively it was a tale of two halves. We were pretty dominant in the first half and then second half we gave up some big plays, especially on some second and longs. I congratulated Coach Elliott after the game and it's a real credit to them and their coaching staff that they competed like that. They played with a lot of passion and they did not quit. I have a lot of respect for them. I know we'll continue to have a lot of competitive battles with South Carolina. But it is great to be state champs again and I am very happy for our fans. This team's got a chance to stand alone among Clemson greats."
"He was unbelievable again. He was the difference in the game. That's what great players do, they make everyone else better. He is certainly a great player. At this stage he's pretty special. I think he's the best player in the country. He just doesn't flinch, he keeps grinding and he makes good decisions."
On drive to extend lead to 34-25
"It was huge. We just really played clean outside of the turnover by Artavis. Nobody panicked. It's just football, it's what we do. We had a situation where we could have gotten five more yards and kicked a field goal but we're here to try and win a national championship. We hit a big play to keep the drive going and later get a touchdown. That's the mentality of our guys. We've embraced the opportunity. If we get beat, we're going to be a tough out and it's not going to be because we were tiptoeing through the daisies."
On success of third down offense
"We spread them out. Give them credit they were trying to not give up the big play. We were their best defense there for a little while but we finally settled in and took care of the football. We didn't think that they could handle our empty package. We felt we could spread them out and create some matchup problems and we were able to do that."
On Lorenzo Nunez
"He's a heck of an athlete. He's got a bright future here as he continues to grow into his role. He did a nice job of pulling the ball on a couple of reads late and split us. He gave them a good spark. They did a nice job with their plan to give their team the best opportunity to win."
DESHAUN WATSON
On the opportunity to play in this game
"I was just having a good time. I love games like this where I a capable of showing my skillset and what I can do."
On big drive right after fumble
"We never give up. We know what we can do, and we know that we can score points. The only thing that was stopping us was ourselves."
On beating South Carolina twice
"I appreciate everything, not just this game, but everyone around me putting in the hard work in order to get the job done."
On the National Championship
"We weren't worried about the national championship. We were just worried about this game and getting through this week. We achieved one of our goals and that was the state championship. The national championship is going to take care of itself."
On having one of his better games of the season
"It is one of them [better games], but I could have done much better than I did. When I watch film, I am going to look at the mistakes I made and try to execute so we can be perfect next week."
On first impression of Williams-Brice Stadium
"It was crazy when I first walked out, my first time being here. The fans were crazy; the emotions were high. I felt like they really hated us out here. All it did was motivated me to get out there and perform with my team."
On the close come-back
"Really, it is just adversity. We know how to handle adversity at any moment. With us being up by only a little bit, we did not try to bite or point fingers against each other, we just stuck together and said 'Let's finish it out; it is the third quarter.' This is what we work for, so we just try to finish out."
On preparing for playoffs
"It is like a dream come true. All the workouts and preparation we have had since the summer is all coming together."
On Watson's ability to run effectively
"It always gives us momentum. We always look for that person to give us a spark, and to get us driving down the field… sometimes it will be Deshaun. Sometimes it will be me; sometimes it will be Deon. We have playmakers all over the field, and that's what I love about us."
On how to handle pressure of being undefeated
"By blocking it out and not even worrying about it. This is a game, so that is how we treat it. We try to have fun."
On focusing on doing your job
"Just by walking forward. It is really easy, but really by just having a good head on your shoulders and really knowing the opportunity that is set in front of you. Our mindset is just, next game… next game… so we are good."
SOUTH CAROLINA INTERIM HEAD COACH SHAWN ELLIOTT
Opening Statement
"Our team fought to the very end. I made sure our coaches prepared these guys to fight for 60 minutes. The players believed. They came out, they fought, they made plays and they played with great effort against a great football team. They did everything in their power. There were a few plays here and there that could have gone the other way but I don't fault our coaches, I don't fault anybody on our staff. We did everything in our power to give us an opportunity to go out there and defeat the number one team in the nation, the Clemson Tigers. They (Clemson) played pretty well. They managed to make enough plays and came out on top. I can't tell you how privileged I've been to be the interim head coach here. It's been a great experience. I love those players and those players fight. There's a lot of great men in that locker room. A team without a bunch of great men would've quit a long time ago. The win/loss record probably doesn't say what type of men are in that room but they are special."
On Deshaun Watson
"I wish we would've hit him a little more but Deshaun Watson is a great quarterback. To be mentioned in the Heisman race is nice and he's well deserving of that. I talked to him after the game, I told him how fun it is to watch him go out there and play the game he loves. You can really tell he loves it. Of course we didn't do enough to stop him. It's hard to stop a dynamic football player like he is. I wish him the best of luck and much success. He's a class act."
SOUTH CAROLINA DC JON HOKE
On third downs
"He [Deshaun Watson] did hit some third downs. We pressured him a couple of times on the third down. He's a tough guy to pressure because he makes plays with his feet. He's only been sacked as a team 14 teams all year out of 12 games. They're an explosive offense. They live and die by the big play. You have to be sure to limit those as best you can and we did pressure and he scrambled around and made a play. It was a tough call to make because he's tough to get to. He gets rid of the ball and he does an excellent job running their offense and he knows where to go with the football."
T.J. GURLEY
On Clemson converting third downs
"The quarterback extended the play. They had a really good quarterback, who just kept extending the play, finding the holes, and finding the creases. On Clemson's offense They were trying to run the ball a lot, and we did a good job at stopping the run. But when they started to throw the ball, they found some things they like and found some bad spots in the defense so they started mixing them together. First quarter, they were trying to run the ball a lot, and that wasn't working, so they started to throw the ball and shake things up."