| | |
| --- | --- |
| Quick thoughts on Clemson's 2015 football schedule | |
---
| | |
| --- | --- |
| Thursday, January 29, 2015 3:49 PM | |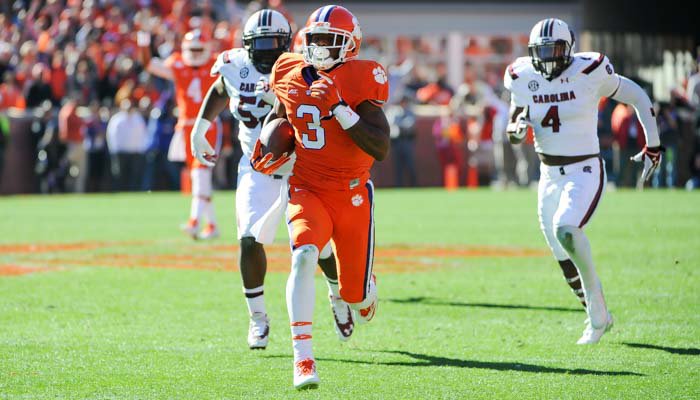 The Atlantic Coast Conference released the 2015 football schedule early Thursday morning, and as expected there are fans who like Clemson's slate and there are those who can't imagine a worse schedule than bestowed upon their beloved Tigers.
The truth lies somewhere in between, and here are some quick thoughts after seeing the schedule, which looks like this:
2015 Football Schedule
Sept. 5 WOFFORD
Sept. 12 APPALACHIAN STATE
Sept. 17 at Louisville (Thurs.)
Sept. 26 OPEN
Oct. 3 NOTRE DAME
Oct. 10 GEORGIA TECH
Oct. 17 BOSTON COLLEGE
Oct. 24 at Miami
Oct. 31 at NC State
Nov. 7 FLORIDA STATE
Nov. 14 at Syracuse
Nov. 21 WAKE FOREST
Nov. 28 at South Carolina
*Considering the Tigers will be looking to break in a bunch of new starters on defense and three new starters on the offensive line, opening the season with Wofford and Appalachian St. gives Dabo Swinney

Dabo Swinney
Head Coach
View Full Profile and the coaching staff time to iron out some of the wrinkles. App St. returns 20 starters (10 on offense and 10 on defense) from a 7-5 team, so they can't be overlooked. But…..
*The Tigers play at Louisville just five days later. Louisville doesn't have it quite as easy as Clemson over the first two weeks – they open against Auburn in the Georgia Dome, then return home for a date against a Houston team that went 8-5 last season. Both teams have holes to fill, and Louisville's secondary will get an early test while they try and figure out who will take the place of dynamic receiver Devante Parker and who will play running back.
*The open date comes at a weird time – once the Tigers play at Louisville – capping a stretch of three games in 13 days – the Tigers have 16 days off to prepare for Notre Dame. Because of the length (date wise) of the schedule last season, most teams had two open dates, so we got a full taste of what it's like to not play on multiple Saturdays. But two in a row that early in the season?
Speaking of the Irish, they play Georgia Tech and Texas prior to the Clemson trip – if both teams are undefeated could that be the first chance the Tigers have at GameDay? Clemson football SID Tim Bourret would have a field day with that one…
*October might just be the critical stretch of the season – following the crazy start and lazy end to September, the Tigers play five games in the month. That includes three consecutive home games to begin the month with Notre Dame, Georgia Tech and Boston College, or what we will call the "Golden Homestand" for the Tigers (all three times have gold in their color schemes). The Tigers then conclude the month with trips to Miami and N.C. State.
I get it that three consecutive home games can be hard to swing for people who have to travel long distances and for those who like to tailgate, but traveling can be a pain as well as we look at the next stretch….
*We also know that the networks love to schedule Clemson's road games at night – see Louisville above – and the Tigers have a four week stretch where they play at Miami, at N.C. State, come back home to face Florida St. and then travel all the way to Syracuse. That's 1909 travel miles plus a home date against the Noles' in what is another critical stretch.
If you don't like to travel far from home for away games, maybe you should be a Duke fan. From mid-October on, the furthest Duke has to go is a couple of road trips to Charlottesville and Blacksburg. If your GPS is letting you down right now, let me help you out: Durham to either location is no more than a three and a half hour drive.
*People have complained incessantly about playing FSU early in the season, and we've heard that the ACC liked the early matchup for two reasons – the first is that the mighty SEC is still in cupcake mode that early and it gives the network a showdown to broadcast, and the conference also knows that playing early gives the loser a chance to rebound in the polls. The league now has the Tigers and 'Noles late, and people are still complaining. A loss might end any chance the loser has at a playoff or New Year's Day Six Bowl, and there are some other interesting matchups that day regionally - LSU at Alabama, Kentucky at Georgia, Arkansas at Ole Miss, South Carolina at Tennessee and Auburn at Texas A&M.
For the record, the winner of this game the last 4 years has won the ACC title.
*No team has an open date before playing the Tigers.
*Getting Wake Forest the week before South Carolina might be the best possible matchup the Tigers could ask for. They aren't an FCS school, it's a conference game and while the Demon Deacons can't be overlooked, it certainly isn't like playing at Miami or going to Syracuse or hosting someone like FSU the prior week.
*We are still several months from the ACC Kickoff, but my guess is that Clemson and Florida St. will be the favorites in the Atlantic and maybe Miami and Georgia Tech in the Coastal. Want to know who is the best? These teams might just sort it out before the ACC Championship Game.
Oct. 10 Georgia Tech @ Clemson || Miami @ Florida State
Oct. 24 Clemson @ Miami || Florida State @ Georgia Tech
*Overall, I think this schedule sets up nicely for the Tigers. The three toughest games on the schedule - Georgia Tech, Notre Dame and Florida St. - are all within the friendly confines of Death Valley. The road contests - while tough - are certainly winnable and none of the road trips gives you that "uh oh" feeling. The toughest road game right now looks to be Louisville, and if it wasn't on a Thursday night I am not sure where it would fall.
Second-toughest road game? Maybe Miami, simply because they play in front of about 67 fans in a multi-purpose stadium. They are supposed to be better this year, but we've been saying that about Miami for a while now. The wild card in all of this is the free fall down at South Carolina - how long has it been since they haven't been one of the two or three toughest opponents on the schedule? Will they be better than last season? Hard to tell right now, and while you can certainly make a case that as the rival (playing at their place) it's the second-toughest road contest, you can also make a case for Miami. Incidentally, South Carolina beat Miami in the bowl game, but both of those programs will look different next fall.
Maybe you could even make a case for NC State being third on the list if Miami is second. However, there's a long way to go and that's why the game is played on the field and not on paper.