| | |
| --- | --- |
| Quick observations from the spring game | |
---
| | |
| --- | --- |
| Saturday, April 12, 2014 5:34 PM | |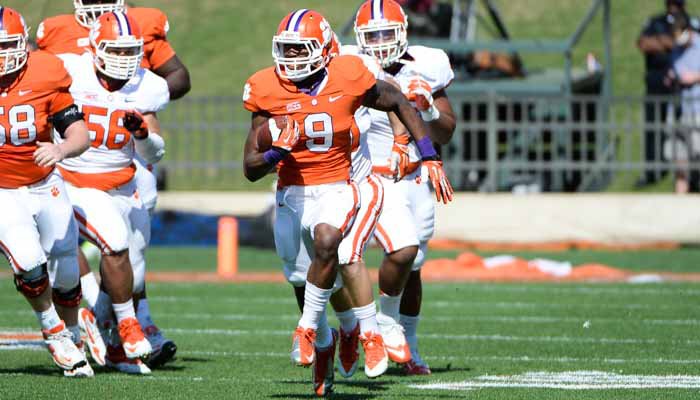 CLEMSON – Cole Stoudt led three scoring drives, but it was the running backs and who stole the show offensively as the White defeated the Orange 24-5 inside of Death Valley Saturday afternoon in the spring game.
Stoudt finished 15-of-23 for 158 yards and two touchdowns while leading three scoring drives. Chad Kelly was 10-of-18 for 113 yards, but threw two interceptions, both into double coverage. One of those interceptions was on the goal line, stopping a potential scoring drive.
Quick observations
*The fans wanted to see Kelly, but he didn't play in the second half. There were a few times where he appeared to have animated conversations with both head coach Dabo Swinney and offensive coordinator Chad Morris, but he was never re-inserted into the game.
*Stoudt looked poised, took what the defense gave him, and while he didn't put up eye-popping numbers, he led the offense and took care of the football.
*Wayne Gallman had a couple of long runs and turned one short pass into a 15-yard gain on third down as he saw his first action in front of the Clemson fans. Gallman carried the ball nine times for 61 yards, an average of 6.8 yards per carry. He also had a long run of 27 yards. He didn't mind lowering his shoulder, and he proved he could run around people as well.
*D.J. Howard didn't have the best start, but he lowered his shoulder late in the third quarter – running over safety T.J. Green – for a touchdown and finished with nine rushes for 59 yards.
*C.J. Davidson showed a quick first step. He still has areas of his game he needs to polish, but he looked like a game-breaker with five rushes for 42 yards.
*Zac Brooks also had 11 carries for 50 yards.
*Wide receiver Mike Williams caught an early touchdown pass from Stoudt, and he finished with two receptions for 58 yards. Daniel Rodriguez actually led all receivers with
*Tight end Jordan Leggett led all receivers, catching seven passes for 59 yards. He showed a nice burst and soft hands.
*Defensively, Tavaris Barnes had five sacks and tallied eight tackles, while Ben Boulware had eight tackles and Dorian O'Daniel seven tackles for the White. For the Orange, T.J. Green and Ryan Carter each had eight tackles.
*On special teams, Bradley Pinion had a 37-yard field goal, while Ammon Lakip hit a 39-yarder and missed a 53-yarder.
*Gallman led all players in all-purpose yardage with 89 total yards.

Tags:
C.J. Davidson
,
Chad Kelly
,
Cole Stoudt
,
Corey Crawford
,
Daniel Rodriguez
,
Jordan Leggett
,
Mike Williams
,
Nick Schuessler
,
Ryan Carter
,
Shaq Lawson
,
Tavaris Barnes
,
Wayne Gallman