| | |
| --- | --- |
| Prowl & Growl News and Notes | |
---
| | |
| --- | --- |
| Thursday, May 15, 2014 10:24 AM | |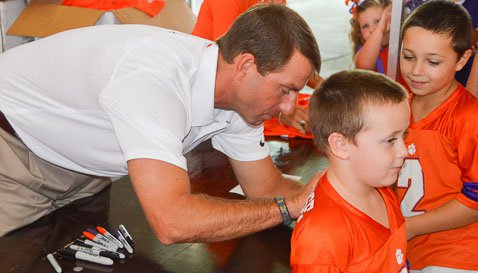 GREENVILLE – The 2014 Clemson Tiger Trek finally made its way back to the Upstate for a stop in Greenville Wednesday evening, giving the media one last chance to catch up with Clemson head coaches Dabo Swinney

Dabo Swinney
Head Coach
View Full Profile and Brad Brownell

Brad Brownell
Head Coach
View Full Profile .
The Prowl and Growl tour features both of Clemson's head coaches and before the event started Swinney and Brownell gave updates on several different subjects.
With the ACC Spring Meetings going on in Amelia Island, a hot topic of conversation was the conference's decision to go to and eight plus one schedule – requiring teams to play at least one game against an opponent from a power conference, something Dabo Swinney said he has always been in favor of.
"I've been for that. We've been playing eight plus two around here for a while, so that's one of the reasons I've been for staying at eight," Swinney said Wednesday evening outside of Fluor Field. "We're obviously going to continue playing South Carolina. As good as we've been, they've been better. They've been top-10, won 11 games. That's been a tough game for us. We played Auburn three years in a row. We've played Georgia now two years in a row. Next year we have Notre Dame. If you play nine and you continue to do that, you can schedule yourself out of a chance to be in the hunt pretty quick. This just gives us that flexibility to have great competition within our conference and step out of conference and bring in a different flavor."
Swinney also said that the team started its summer workouts Wednesday afternoon, in conjunction with the start of the first summer session.
On the basketball front, Brownell said that junior center Landry Nnoko is recovering from surgery to repair a torn meniscus that he suffered during the season.
"Everything seems fine. It was a little bigger tear than what we originally thought, but the doctors did a great job," Brownell said of Nnoko's injury. "Like everything, it's just going to take time. You just have to sit back and give him some time to heal. We'd love to get him back out on the court, but we know that it's going to be some point in June. We'll just have to wait and be patient."
Jaron Blossomgame is recovering from a fractured leg and Patrick Rooks is coming off of a redshirt year after suffering a hip injury, but Brownell said they should be both be able to participate in workouts soon.
"The guys are just getting back within the last day or two so I really haven't sat down with either of them," Brownell said. "I think they are both progressing fine and I would expect them to be able to do quite a bit here pretty soon."
Other notes
*Brownell recently added a point guard, hoping to ease transition after Rod Hall Graduates in 2015.
"Avry Holmes, the point guard transfer from San Francisco, I really like him," Brownell said. "He shoots the ball really well and has two years of experience. He's played two years in a good league in the West Coast Conference. He's a guy that can play with a lot of different kinds of people because he can shoot. We have a senior in Rod Hall who we feel like is going to be a terrific leader and we will lose him, and we felt like we needed to add an older player to help in the transition after Rod's departure."
*Freshman Donte Grantham began classes Wednesday and the basketball team will begin workouts next week. Gabe DeVoe and Holmes will finish with their respective schools in June and will enroll in the second summer session.