| | |
| --- | --- |
| Protecting The Diamond: Can a freshman left tackle protect Deshaun Watson? | |
---
| | |
| --- | --- |
| Thursday, June 25, 2015 4:27 PM | |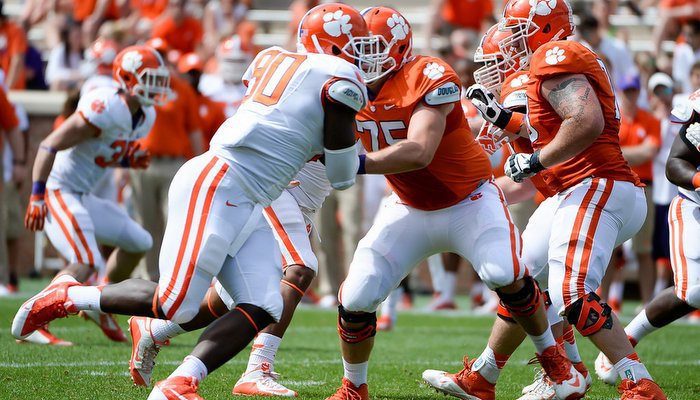 The Smithsonian Institution surely takes great measure in protecting one of the world's rarest of gems, the Hope Diamond. I'm sure there are pressure plates underneath the diamond, cameras that cover it night and day, armed security and the Smithsonian might even set out a perfect looking replica to fool tourists into thinking they are looking at the real Hope.
Clemson's hope diamond – the one that represents hope for this season – might be protected by two freshman tackles before all is said and done and there are no replicas that can stand in Deshaun Watson

Deshaun Watson
So. Quarterback
#4 6-2, 205
Gainesville, GA
View Full Profile 's place.
The news was released earlier Thursday that starting left tackle Isaiah Battle

Isaiah Battle
Offensive Tackle (2012 - 2015)
#79 6-7, 290
Brooklyn, NY
View Full Profile would enter next month's NFL Supplemental Draft. Enter Mitch Hyatt

Mitch Hyatt
Fr. Offensive Line
#75 6-6, 270
Sugar Hill, GA
View Full Profile , the heralded true freshman out of Suwanee (GA) North Gwinnett who has yet to play a collegiate snap. On the other side at right tackle is Joe Gore

Joe Gore
RS Sr. Offensive Tackle
#73 6-5, 290
Lake Waccamaw, NC
View Full Profile , who was has 361 career snaps to his credit. Gore started three games last season but was replaced by Kalon Davis

Kalon Davis
Offensive Guard (2010 - 2014)
#67 6-5, 340
Chester, SC
View Full Profile . He then fought through some medical issues – he's had trouble staying healthy – but had a good spring and seemingly earned the right tackle spot ahead of another freshman in Jake Fruhmorgen

Jake Fruhmorgen
Fr. Offensive Line
#63 6-5, 285
Tampa, FL
View Full Profile .
If Gore were to go down again – the diamond's protection duties belong to two youngsters who were playing high school ball a year ago. The good news is that these kids are pretty talented, and their starting was simply a matter of time anyway. Hyatt now gets a jumpstart on the process.
Hyatt's uncle is Dan Benish – the Ohio native chose to come play football for Danny Ford

Danny Ford
Former Head Coach
View Full Profile at Clemson over Penn State and Ohio State. Benish spent a year playing behind All-American Jim Stuckey before spending two years as a starter at defensive tackle. Benish was an All-ACC defensive tackle on the Tigers 1981 championship team. After Clemson, Benish signed with the Falcons as an undrafted free agent, and his NFL career spanned six seasons and ended after the 1987 season, in which he was a member of the Super Bowl winning Washington Redskins.
Benish has watched his nephew grow up, and he thinks the Tigers have another diamond on the left side of the line.
"He has always been the type of guy that will do what's best for his team. He steps up," Benish said of Hyatt. "All the way back to when he was a sophomore and faced up against (Robert) Nkemdiche. Everybody thought there was no way he would be successful, but he stepped up and had a great game. He's just that way. He has that kind of confidence about himself and his abilities. I kind of wish he had a chance to work his way in until he gets a chance to start. But he will embrace it and he will go for it."
Hyatt was visibly bigger at Swinney's high school camp earlier this month – he was one of the Tigers' student coaches – and Benish says Hyatt told him Wednesday that he was weighing anywhere from 285-288. Benish also says that Hyatt is stronger than people think.
"Physically he is so much stronger than he looks. He tells me, 'Dan, every day when I step in that weight room I feel like I am getting stronger.' From a strength standpoint, that shouldn't be an issue," Benish said. "He isn't one of those guys that is going to get muscle bound and look like The Hulk out there. He is one of those guys that can go out there and just work all day and give max effort."
The mental part of the game also shouldn't be an issue.
"From a football standpoint and a mindset standpoint, I think the coaches will tell you that they are pretty amazed at what he can do and what he is grasping," he said. "I don't think from a mental standpoint it will slow him down, it might actually speed things up. I am not saying anything negative about Isaiah, but I think they will be able to do more from that standpoint."
Benish says it would have been preferable for Hyatt to have time to grow into the position, but knows from experience that a true freshman can be successful.
"When I came in it was a different time and everything, but I backed up Jim Stuckey as a freshman and I played 10-to-13 plays a game as a true freshman," he said. "I didn't get redshirted, so you can do it. I weighed 245 and played defensive tackle. So it can be done, and I think Mitch proved he can in the spring game. He went against Shaq Lawson

Shaq Lawson
So. Defensive End
#90 6-3, 269
Central, SC
View Full Profile the whole game, and I thought he did well. There were a couple of times where he didn't, but he kept coming and kept coming. I think he is going to do fine. I think you are going to see a guy who won't flinch a whole lot."