| | |
| --- | --- |
| Prophet to Dabo: Don't respond to "crazy uncle" anymore | |
---
| | | |
| --- | --- | --- |
| Wednesday, January 22, 2014, 11:48 AM | | |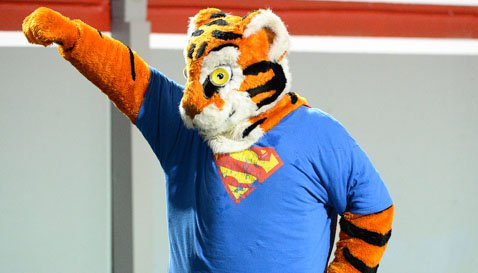 I love talking smack as much as the next guy and I love to poke fun at the opposition. Heck, it's why ole Crump gives me a little space to write each week during the football season. Talking a little junk makes the games more interesting to me, even when someone like Richard Sherman goes all Incredible Hulk and screams and scares poor Erin Andrews.
That's why I consider the back-and-forth banter between the two in-state head coaches to be entertaining. It makes the rivalry relevant, and even though Clemson has owned bragging rights since Moby Dick was a sardine, the Gamecocks have won five in a row and written their own revisionist history and given the rivalry a little kick.
However, it stopped being all kicks and giggles last weekend. It just got creepy. South Carolina head coach Steve Spurrier has delighted in grabbing microphones this month – he took the mic away from the guy at the Capital One Bowl and started his own little rant, totally taking away the accomplishment of his team's win over a good Wisconsin team and throwing it back on himself.
Clemson head coach Dabo Swinney

Dabo Swinney
Head Coach
View Full Profile responded – in a way – by telling the entire world after the Orange Bowl that Clemson was the only team from the state of South Carolina to win a BCS Bowl, drawing cheers from the orange-clad faithful still in the stands and listening on the radio.
This past weekend, however, it took the creepy turn. Spurrier again looked like a drunk sailor grabbing for a mic at a karaoke bar, and again he showed his obsession with all things Clemson when he talked about the streak. Heck, he deserves to talk about the streak because his teams have won five in a row. But he didn't stop at the streak, he went on to talk about Clemson's Sammy Watkins

Sammy Watkins
Jr. Wide Receiver
#2 6-1, 205
Fort Myers, FL
View Full Profile , who to my knowledge has never said anything bad about South Carolina or Spurrier. At least I guess it is who he was talking about – he looks and sounds like someone's over-medicated uncle at a kid's birthday party, and he made about as much sense.
So, that brings me back to Swinney. Will he respond? The answer here is: I hope not. Just let it be. Heck, even the people who cover college football nationally are beginning to wonder what is wrong with that man, and by responding, Swinney will simply be an accomplice to the foolishness Spurrier has been spewing forth.
In many ways, Dabo doesn't deserve to respond. The streak says that to be true. But last weekend's rambling and disjointed diatribe mean there are no rules.
However, If I'm Dabo, I smile and talk about how great South Carolina and Spurrier is every time I am asked about them between now and next November. I don't talk any smack. I don't talk any junk. I take the high road, and show the kind of class other people will never find by going shirtless in public or rolling around on rubber balls on videos. Or talking about student athletes from another program. That crossed the line.
Don't get me wrong – you have to admire what Spurrier has done in Columbia. It's not much of a town, and he has had to turn around a program that was once the laughingstock of college football. Now, people don't laugh at that program, they just laugh at their fans. Not many coaches could have accomplished what he accomplished at South Carolina.
And I see what he is trying to do – for all of their success, they still haven't won a league title, they haven't played in any kind of bowl game of note, and they've played in their league championship game exactly once in their history. That was an epic beatdown, and I am sure some of their defenders still have Cam Newton's cleat marks on their backs and faces.
So see? He's a genius. He is a magician. He uses sleight of hand. Despite Tennessee, Florida and Georgia not having the type of programs they are used to having – can anyone remember Tennessee and Florida being this kind of down for this long at the same time – the Gamecocks still haven't won anything in their precious conference. Despite having as easy of a road as they will ever have, they really haven't made a difference in the conference. They still find a way to be South Carolina, lose that head-scratcher of a game and watch someone else get beat up by the SEC West in the SEC Championship Game.
So, every year they get invited back to the South Carolina Memorial Outback or Champs Bowls, and they play a team from somewhere in the Midwest and they win and they go home and wonder what Clemson is doing in recruiting.
In short – Spurrier has turned into a South Carolina fan. A friend of mine once gave me his login and told me to go to their message boards, and he asked me if I noticed a trend. I did. No matter the subject or topic, it always came back to Clemson.
Examples, if you will.
Topic: Clowney taken in first five picks?
First reply: Clemson won't have someone taken in first five picks.
Topic: Gamecocks start out 0-4 in SEC in hoops
First reply: Well, Clemson would be 0-5 after four games in the SEC
Topic: 2-star LB has South Carolina in his top five
First reply: Clemson doesn't have a stud like this anywhere on their roster
Topic: Prayers for my dad please, he has surgery today
First reply: Clemson's schedule is terrible
Topic: Bruce Ellington declares for NFL Draft
First reply: Ellington is better than any of Clemson's juniors, including Sammy Watkins, and will be the first player taken overall
Topic: SEC releases 2014 schedule
First reply: Clemson would go 0-21 with that schedule
Topic: It might be 97 degrees in Columbia Sunday
First reply: It has never been 97 in Clemson
Topic: Just bought my first car!!
First reply: A Clemson fan has never bought a car.
Topic: What do you prefer, PC or Mac?
First reply: Tajh Boyd

Tajh Boyd
RS Sr. Quarterback
#10 6-1, 225
Hampton, VA
View Full Profile didn't beat us, so I don't know what you're talking about
See what I mean? Their coach and fans have had to live with more attention being given to Clemson over the last two seasons, despite the streak. The Tigers have gone on to steal the bowl spotlight, if you will, and the Ole Ball Coach has to find a someway to keep his fans on his side. It's brilliant. You just become one of them.
So, Dabo, don't say a word. You don't deserve to say a word. Even when you beat them next season, throw platitudes and compliments their way. And you will beat them next season. All streaks end, and even blind squirrels eventually go hungry. The rivalry will turn, and if you follow recruiting or were paying attention this season, it's closer than they want to think.
Let him have his fun now. Let him take his shots. Because even the over-medicated uncles at the birthday party eventually come back to earth; the medicine wears off, and reality sets in. It's like I tell my friend – you can't argue with stupidity. Just sit back and smile – they know how they sound, and it frustrates them. They can't help it. They know that despite the streak, we still laugh at them. And now, their head coach embodies the very reason we laugh at them. We get it. They don't.
They know how they sound. They know we laugh at them. It infuriates them. Dabo needs to teach Spurrier the same lesson, and let the rest of the country sit back and laugh at the crazy uncle with us.
Oh yeah, and just win baby.