| | |
| --- | --- |
| Prime Time is ready for Prime Time | |
---
| | |
| --- | --- |
| Sunday, August 23, 2015 8:01 AM | |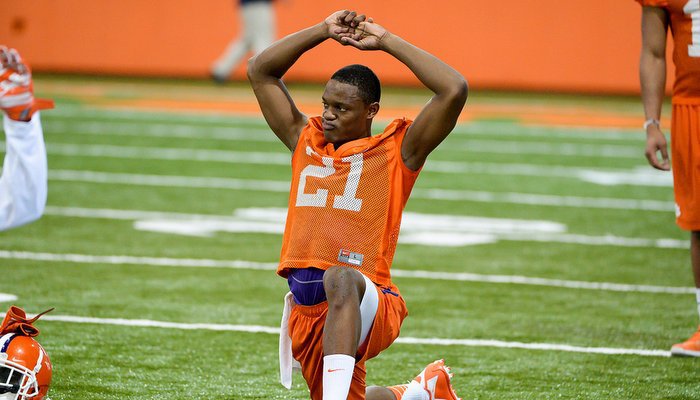 CLEMSON – Adrian Baker

Adrian Baker
RS So. Cornerback
#21 5-11, 180
Hallandale, FL
View Full Profile earned the nickname "Prime Time" while he was in high school in his home state of Florida, but it was a nickname he didn't want. Three years into his Clemson career, Baker is finally getting to play during Prime Time, and it's something he wants more than anything.
The redshirt sophomore out of Hallandale (FL) Chaminade-Madonna was rated as the No. 197 player nationally by ESPN coming out of high school, but redshirted in 2013 and had one tackle in just 46 snaps in 2014. That should change this season as Baker has climbed the depth chart and firmly sits in the four-man cornerback rotation.
Prime Time is about to see Prime Time, but he only smiled and shook his head when asked about the moniker after Friday's practice.
"Honestly, the whole Prime Time thing got kind of blown out of proportion," Baker told TigerNet. "One of my teammates in high school gave me that nickname and then the newspaper back home got a hold of it, and then it blew up. But that's not who I am. I am actually a team first guy. When I got here, it wasn't shedding that. It was just being de-recruited."
Baker said that de-recruitment is a humbling experience, especially when you realize you aren't the best player on the field each day.
"When you are recruited, they are going to tell you the great things and how good you are and how great you are," he said. "They won't tell you anything bad. And then when you get here, it's a humbling experience knowing you aren't the best player here. Everybody here was the best player on their high school team. I think that was the biggest thing, just going from being a star player to being a freshman with everybody else."
Baker used last year's playing time – or lack thereof – as motivation and said he realized he needed to mature if he was going to be the player he knows he can be.
"From a mental aspect, I needed to grow up. I needed to study the playbook more and I needed to study more film," Baker said. "Last year, I wasn't mentally ready to play. I had the talent but mentally, I wasn't ready to play. Over the summer Travis Blanks

Travis Blanks
Safety (2012 - 2015)
#11 6-0, 210
Tallahassee, FL
View Full Profile and those veteran guys stayed on me and motivated me a lot. I talked to my grandma (Bobbie Sims) a lot and she stayed on me to push me."
Defensive coordinator Brent Venables

Brent Venables
Def. Coordinator / Linebackers
View Full Profile told the media following Thursday's practice that Baker has earned his spot, and Baker said it shows his hard work is beginning to pay off.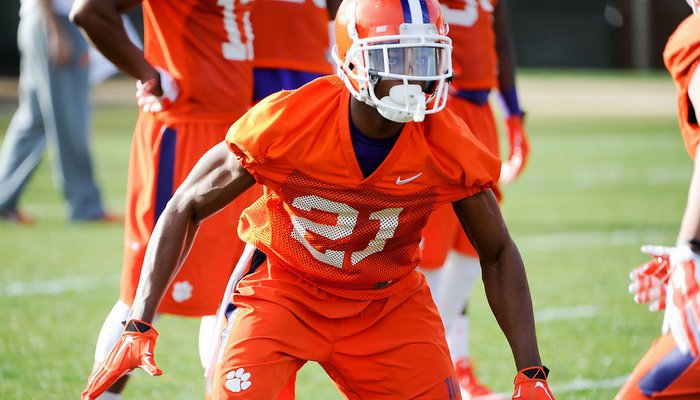 "I think I have had a pretty good camp. I've been working on the things the coaches have been wanting me to work on, and I brought that into camp," Baker said. "I think I've done pretty well overall. I've improved the most in being physical. I've got good speed and I can run with any receiver. I just need to be physical and work on my tackling. This offseason I hit the weight room hard and I put an emphasis on that. I think that's been my biggest improvement. This is great, because my first year I redshirted and last year I played sparingly. It's a great feeling to know that my hard work has paid off. I have some great guys around me to motivate me to do well and get in the rotation and see the field. It's good to see the hard work pay off."
The 6-0, 180-pounder said Clemson fans can expect to see a physical corner.
"I think my strength is covering. Using my athletic ability. I pride myself on trying to do it all," he said. "Like I said, during the offseason I attacked my weaknesses so I could prove to the coaches and my teammates I can be physical. Hopefully I can have a great season and do everything I need to do."
Now that he's had a small taste of success, Baker said he doesn't want to let his Prime Time chance go to waste.
"It feels good. I came here because I wanted to play," he said. "It feels good to get that recognition. But I can't be satisfied. I have to keep working."