| | |
| --- | --- |
| President Clements says ACC Network will provide "incredible benefits" | |
---
| | | |
| --- | --- | --- |
| Thursday, July 21, 2016, 1:42 PM | | |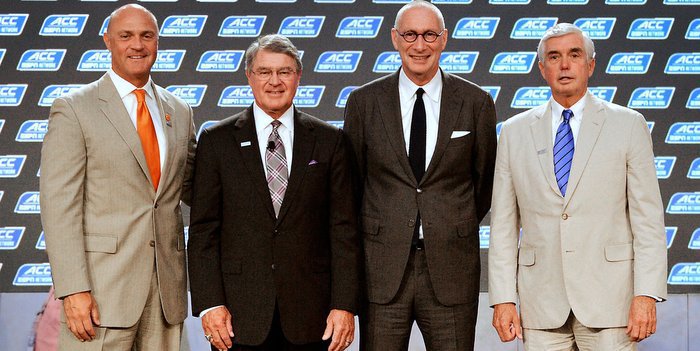 CHARLOTTE, NC – Clemson University President Jim Clements says the new ACC Network will provide incredible benefits for ACC member schools.
The announcement of the network was made Thursday morning at the ACC Football Kickoff at The Westin in Charlotte. ESPN and the Atlantic Coast Conference will launch the ACC Network – a comprehensive linear and digital network, it was announced today by ACC Commissioner John Swofford and ESPN President John Skipper.
The 20-year partnership will provide ACC fans unprecedented access to live events via a comprehensive, multi-platform network. It also provides for the extension of the conference's existing rights agreement with ESPN to 2036. ESPN is the ACC's exclusive worldwide rights holder.
Beginning in August 2016, fans can access more than 600 exclusive live events from across the conference via a digital live-events channel 'ACC Network Extra', immediately available to users who have access to ESPN3 via WatchESPN and the ESPN app, with that number growing each year. More than 1,300 ACC events will be distributed across the platforms in 2019 when the linear network launches.
Clements was in attendance as the chair of the Council of Presidents.
"I'm proud to be here representing the Atlantic Coast Conference as the chair of the Council of Presidents. Although I might be a little bit biased, I believe that this is the strongest collection of institutions in the entire nation," Clements said. "The conference is led by an impressive group of presidents, chancellors, faculty members, athletic directors, administrators and coaches.
"As leaders among higher education, the ACC strives to represent all that is good within college athletics. As John mentioned earlier, year in and year out, the ACC is the strongest academic conference among our peers by numerous metrics."
Clements said the deal will provide immediate benefits.
"Looking ahead to the immediate and long-term future, the ACC Network will provide incredible benefits to our universities and our student-athletes," Clements said. "This is a monumental time for the Atlantic Coast Conference, and it speaks volumes that this agreement, along with the Grant of Rights, was supported unanimously by the ACC Council of Presidents.
"Throughout this entire process, my league colleagues and I were kept up to date by the tremendous work of the athletic directors. The ADs steer their respective athletic departments with a keen vision and a steady hand."
The ACC Network Extra will be a premier, authenticated digital channel. Initially it will be available to over 90 million subscribers via the WatchESPN app, and it will have the flexibility to live on other digital platforms that may be offered in the future by ESPN as technology continues to evolve.
ACC Extra will broadcast 600 live games in year one. That number will grow to over 900 live events by 2019. Combined, this will mean over 1300 ACC events will ultimately be televised on an annual basis through one of these platforms.
Swofford said that the relationship with ESPN can only help the conference.
"There's no question that these new agreements with ESPN competitively position the Atlantic Coast Conference for the long-term, both from a financial perspective and from a programming content, he said. "It's an understatement to say that ESPN is a leading provider in sports content. We appreciate their understanding of the value of the ACC's programming and the vibrant markets throughout our current footprint, as well as their commitment to this league, and their desire to enhance our long-standing partnership with this agreement, which I think most definitely provides tremendous growth opportunities for both parties."
GENERAL FAQ
Is ESPN launching an ACC-dedicated television network?
Yes. ESPN has partnered with the Atlantic Coast Conference to launch ACC Network - a multi-platform network.
When will it launch?
The multi-platform network will launch in two phases. Beginning this fall, ESPN authenticated subscribers can stream more than 600 exclusive ACC sporting events through a dedicated live-events digital channel, "ACC Network Extra", via ESPN3 on WatchESPN and the ESPN app. In 2019, a dedicated television channel will launch.
I already have ACC Network, how is this different?
You may currently have access to syndicated ACC football and basketball games. Those syndicated games are currently referred to as "ACC Network" games. This will be a dedicated multi-platform network experience with exclusive ACC games and news and information programming. The current broadcast syndication package will continue through the 2018-2019 season.
Will I have to pay more?
Packaging and pricing is determined by your content provider.
When can I get it?
As an ESPN subscriber you will have access to stream 600 exclusive live events in August on the new dedicated WatchESPN channel, "ACC Network Extra". The television channel will launch in 2019 and availability information will be available closer to that time.
Where will the network be located?
That has not been determined yet.
Where can I apply for a job?
ESPN Careers will post jobs online as they are available. No hiring decisions are being made at this time.
PROGRAMMING & CONTENT
Will ACC Network be 24 hours a day, seven days a week?
Yes, in 2019, ACC Network will have 24/7 programming as a dedicated channel for all things ACC. In the interim, the ACC Network Extra digital platform will air more than 600 live events.
What kind of shows will I see on ACC Network?
The network will result in more ACC content coverage than ever before. Live events across sports will be the bulk of content including premier matchups. The network will also have a complement of news and information shows and other original programming.
What is different from the events and shows I get now?
The ACC has great depth. The network will have top-tier matchups each week to serve viewers on the different networks, and a complement of news and information and other original programming.
How many football games will be aired on the Network?
Approximately 40 games.
How many basketball games, baseball, women's sports?
More than 150 men's and women's basketball regular-season games; More than 200 regular-season contests and tournament games from across the conference's 27-sponsored sports.
Will the network show breaking news or investigative pieces about the conference?
The network will cover and report on sports news and information in an objective manner.
Will there be fewer games available to me now that there is a network?
No. There will be more ACC content available than ever before.
ACC NETWORK EXTRA
What is ACC Network Extra?
ACC Network Extra is an Atlantic Coast Conference dedicated live-events digital network available to authenticated subscribers of ESPN3 available on WatchESPN and the ESPN app. More than 600 sporting events will be available to stream through the channel.
How do I get access to ACC Network Extra?
ESPN3 subscribers can "authenticate" at WatchESPN.com. If you are already an authenticated user, you will automatically have access to ACC Network Extra when it launches in August.
Do I need a subscription to access ACC Network Extra?
Yes. You must be an ESPN3 subscriber to have access to ACC Network Extra content.
Where can I watch ACC Network Extra?
ACC Network Extra is a dedicated digital channel within WatchESPN and the ESPN app. In addition to the ESPN app, WatchESPN content is accessible on computers, smartphones, tablets and connected devices. It is available on Amazon Fire TV and the Fire TV Stick, Android TV, Apple TV, Chromecast, Roku, Xbox 360 and Xbox One.
What will be available on ACC Network Extra?
600 exclusive live sporting events annually.