| | |
| --- | --- |
| Practice news and notes: Pagano ready to help the seniors pack? | |
---
| | |
| --- | --- |
| Friday, December 26, 2014 5:51 PM | |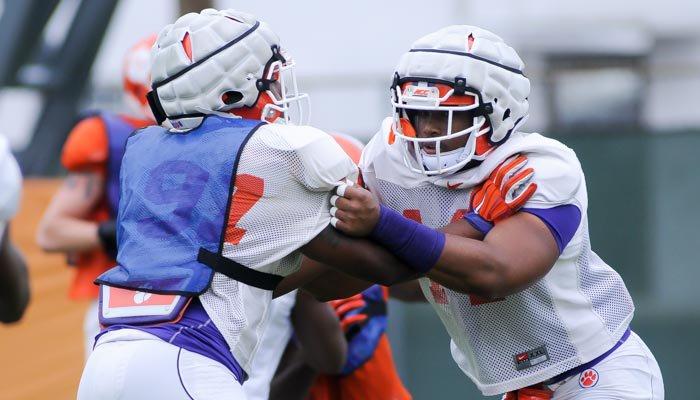 ORLANDO, FL – The game plan is in and the work is done. All that's left to do is fine tune the minor details and then go play the game.
The Clemson Tigers held their final full-speed practice under cloudy skies Friday afternoon at Thunder Field as they prepare for Monday's Russell Athletic Bowl against the Oklahoma Sooners.
Head coach Dabo Swinney

Dabo Swinney
Head Coach
View Full Profile said that Friday's practice was a typical Wednesday game week practice and that the team will wrap up it's preparation with one final practice Saturday afternoon.
"It's good to wrap it up with our last pad practice," Swinney told the media following the Tigers third bowl practice in Orlando. "We're creatures of habit so tomorrow is a normal Thursday practice, but to the rest of the world it's Saturday. We've got to start getting the guys dialed in and ready to flip that switch to play the game Monday night."
There are a lot of distractions in Orlando with the theme parks and nightlife, but Swinney said that his team has showed up to practice each day focused and ready to work.
"It's been a good week and I've really liked how our guys have come to practice," Swinney said. "When we've come to work, our guys have been really focused. This has been some of the best bowl practices we've ever had. Hopefully it will show up in the game Monday night. I really appreciate the effort and intensity that our team has had all week long."
With all of the physical practice behind them, the only thing left for Swinney and his team to do is finalize the game plan.
"We've gotten a lot of work done and it's been a really productive week," Swinney said. "Tomorrow is about dotting the I's and crossing the T's – a scripted practice and scout work and a little special team work. We'll bring it all together on our game prep day before we go play."
Swinney on the guys that have stood out during bowl practice
"There have been several guys. We've done a ton of JV work. We have a process that we go through each and every bowl season that culminates with a big scrimmage like we had yesterday in the stadium," Swinney said. " C.J. Fuller

C.J. Fuller
Fr. Running Back
#27 5-11, 216
Easley, SC
View Full Profile is going to be a good player. He's a hard guy to tackle. He's fast. This has been a good fall for him to just develop. Scott Pagano

Scott Pagano
RS Fr. Defensive Tackle
#56 6-4, 292
Honolulu, HI
View Full Profile couldn't scrimmage yesterday because he got a stinger but he's had an impressive few weeks. He is ready for those six senior defensive linemen to graduate and move on. I think he is going to help every one of them pack their bags next week. He is ready for an opportunity."
Williams and Stoudt putting in extra work
"Cole has been great. We've stayed after practice every day and gotten a lot of throws in – a lot of back shoulder throws trying to prepare for this game," Mike Williams

Mike Williams
So. Wide Receiver
#7 6-5, 208
Vance, SC
View Full Profile said. "Cole looks like he did in the spring. We've had a lot of time to prepare – in Clemson and here [in Orlando]."
Stoudt on the health of his shoulder
"It's been good. I feel it every now and then but I'll be good," Stoudt said. "I think I'm going to take a shot just to be safe."
Stoudt on having a dedicated quarterback coach
"Yes. With Coach Morris, he was there to help but sometimes you had a question and he wasn't there to answer because he was trying to help the whole offense, put in scheme and coach other players," Stoudt said. "With this, it's good to know that he [quarterbacks coach Brandon Streeter] is coming for me instead of me going to him. He's constantly talking to me and making sure that I'm doing the right thing and making the right reads."
Robert Smith

Robert Smith
Sr. Safety
#27 5-11, 211
St. George, SC
View Full Profile of spending Christmas in Orlando
"I actually think Coach Swinney made it the best situation possible," Smith said. "It wasn't easy at all. I had never been away from home on Christmas and I know a lot of the guys never had either. I think it was a moment where you wish you were home but at the same time you're with guys that you've known for most of your life. It will never be the same but Coach Swinney did a great job trying to create that family atmosphere that he has preached to us ever since the recruiting process. We definitely made the best of the situation."