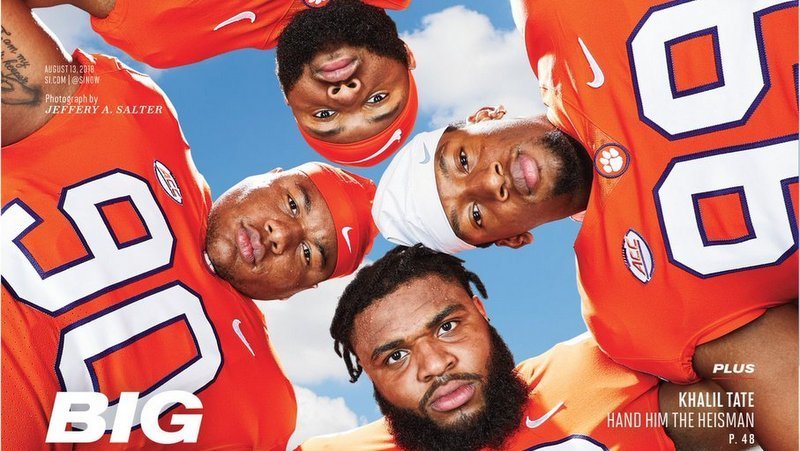 | | |
| --- | --- |
| Powers Ranger says SI cover is fun, but now it's time to handle business | |
---
CLEMSON – Sports Illustrated showed up on Clemson's campus a few weeks ago to shoot a cover for the College Football Preview issue, and the Tigers' vaunted defensive line was the subject. The shoot wasn't quick, it wasn't painless and it wasn't without its share of laughs. But now, it's time to work.
The regional College Football Preview magazine for Sports Illustrated will hit newsstands on August 13 and has Clemson's talented defensive line on one of the four covers. The title of the lead story is BIG CATS: Clemson's D-line: The Best Ever (Consider the National Championship Crushed).
"We made it fun. We don't like all of the pictures and photographs and stuff like that, but we make the best of every situation because we know that a lot of people don't get that opportunity to be in a magazine or be on the cover of a magazine," Dexter Lawrence said. "We made it fun and had a good deal with it.
"I always dreamed about it as a little kid. It was something that after all of my bigger dreams, I want to be on the front page of a magazine. I'm accomplishing those goals so it feels good."
Christian Wilkins said the cover is something he will enjoy long after his playing days are over.
"It was good. It was fun. Anytime I get to be with my guys no matter who it is on the d-line, it's always fun," Wilkins said. "It's something that's cool now, but I feel like we'll appreciate it more when we're in our 30s and in our 40s and when our time is done playing the game. When we look back it will be, 'Man, we had a good little run. We had a good little run.' Not just us four but the whole d-line. It will be something when we look back we'll definitely appreciate more, but right now I'm just focused on the season and trying to get better."
Wilkins said the cover won't mean anything if the defensive line doesn't live up to the billing.
"I get it but personally - and I don't want to speak for other guys - but I feel like we just want to go work and handle our business," Wilkins said. "We're getting a lot of attention and a lot of publicity, but all of that goes away if we don't do our job this year and if we don't play to our capabilities. We came back with a goal in mind. None of that matters. We don't think too much of it. We came back to do our jobs."
Austin Bryant called the cover a dream come true.
"It was cool. It's something you grow up as a kid seeing all of the time and to be able to say 10 or 20 years from now that I was able to accomplish something that I always dreamed about as a kid is really cool," Bryant said. "All of that is on the backburner now. I don't think anybody will really care if we were on the cover of SI if we don't fulfill our potential this season."
Clelin Ferrell says the cover is a testament to the hard work the quartet has put in over the last three seasons.
"We're happy to be back in camp and working. I'm glad that all of those offseason worries and wonders are really over with. Now we can go out and really answer some of these questions that people have been asking about us," Ferrell said.
"Something like that is truly a blessing. Just to be put in that position off of what we've done in past years is truly a testament to the hard work we've put in the past and hopefully that's behind us now and we can focus on the goals we set for ourselves this year, which is a lot of big things that I'm uncomfortable speaking on."

Upgrade Your Account
Unlock premium boards and exclusive features (e.g. ad-free) by upgrading your account today.
Upgrade Now