| | |
| --- | --- |
| Position battle: Running back | |
---
| | |
| --- | --- |
| Thursday, January 16, 2014 1:52 PM | |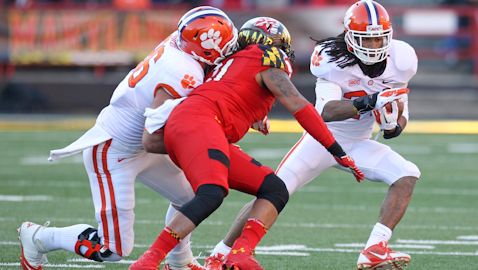 Chad Morris

Chad Morris
Offensive Coordinator / QBs
View Full Profile has wanted to run his "smashmouth spread" offense at Clemson, but has lacked the kind of bigger back needed to make that offense work during his first three seasons.

Is this the season we will see Morris' offense begin to hum and have more of a physical presence?

Anyone that watched Auburn's offense with Tre Mason this past season understands that if Morris can get a similar running game working at Clemson, it will make it harder for defenses to defend, especially with the playmakers the Tigers will have at tight end and wide receiver.

The past two seasons have seen Morris use quarterback Tajh Boyd

Tajh Boyd
RS Sr. Quarterback
#10 6-1, 225
Hampton, VA
View Full Profile as the go-to-guy on the goal line and in third-and-short yardage situations. The reasoning? He was the biggest back on the roster and the one player the coaches trusted to get those tough yards up the middle.
Will one of the eight running backs that will be here in the fall be that physical presence? Who will be the speed guy?
Clemson head coach Dabo Swinney

Dabo Swinney
Head Coach
View Full Profile told the media last weekend that he wants the Tigers to be more run-oriented next season.
"I want to see us really run the football. We ran the ball well against Ohio State, who is top 10 in the nation defensively against the run," he said. "We ran the ball well against South Carolina," he said. "We were creative in how we did some things. We have a chance to be pretty special in our backfield. It will be a little bit of a shift in that direction, if you will, but we will see. We are what we are. We do what we do."
So, who are the eight (as it stands now) options?
Already on campus
* D.J. Howard

D.J. Howard
RS Jr. Running Back
#22 5-11, 195
Lincoln, AL
View Full Profile – Howard had 57 carries (second among running backs for 213 yards last season, a 3.7 yards per carry average. The rising senior has had a few big games in his career – at home against Auburn in 2011 when he had 86 yards stands out – and has 133 total carries for 581 yards during his first three seasons.
* Zac Brooks

Zac Brooks
So. Running Back
#24 6-1, 185
Jonesboro, AR
View Full Profile – Brooks had 26 carries for 119 yards last season, an average of 4.6 yards per carry. Brooks suffered a shoulder injury at the end of the season, however, and didn't play against Virginia in early November and got just one carry the rest of the season. The rising junior would appear to be the front-runner to take over as the starter, but has to prove he is healthy. He also caught six passes for 83 yards last season, and his versatility is one of the things the coaches love about his potential.
* C.J. Davidson

C.J. Davidson
RS So. Running Back
#32 5-11, 185
Clemson, SC
View Full Profile – Davidson is the surprise out of Daniel High School. He had 34 carries for 155 yards last season, an average of 4.4 yards per carry. He had one carry for three yards in the Orange Bowl, but also caught three passes for 27 yards. He has nice top end speed and showed a willingness to run in between the tackles when necessary.
* Jay Jay McCullough

Jay Jay McCullough
RS Fr. Tight End
#89 6-3, 230
Fort Mill, SC
View Full Profile – With the injury to Brooks late in the season, the coaches moved McCullough to running back and the big guy (6-3, 235) looked pretty decent running the football. He had 43 yards on six carries against The Citadel. It will be interesting to see if McCullough stays at running back now that the numbers are back up at the position.
Wayne Gallman

Wayne Gallman
Fr. Running Back
#9 6-1, 195
Loganville, GA
View Full Profile
Gallman red-shirted last season, but was one of the stars of bowl practice. He has added weight and strength, and he looks the part of a big-time running back and could be one of those guys that surprises everybody and winds up being the starter. As a senior at Grayson (GA), he had 516 rushing yards and eight touchdowns, but showed his physical nature on the defensive side of the ball – he had 46 tackles and seven sacks out of the linebacker spot. As a junior, he had 700 rushing yards and eight touchdowns.
Tyshon Dye

Tyshon Dye
Fr. Running Back
#23 6-1, 205
Elberton, GA
View Full Profile
Many thought that Dye would be in line to grab a lot of playtime time last season, but he wound up red-shirting after back surgery. He also had ankle surgery in December to clear up some lingering damage in high school, and he was limited to walking during bowl practices. Dye has the size (5-11 and I've heard he is 220 pounds) to be a big, physical and pounding back. The big question for him – how will his body respond after back surgery? He had 817 yards on 95 carries and 12 touchdowns in just seven games as a senior, as he was limited by injury. He had 1,561 yards on 212 carries and 21 touchdowns as a junior.
Coming in
* Jae'lon Oglesby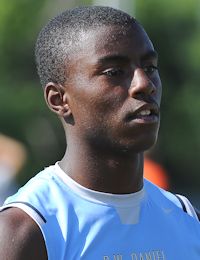 Jae'lon Oglesby
Running Back
5-11, 175
Central, SC
View Full Profile - The Daniel High product is intriguing. He lacks weight and muscle at this point, but his blend of speed and athleticism make him special. I watched him several times last season, and he makes plays that make your jaw drop. You turn around and look at the person next to you and say, "How did he do that?" As a senior, he had 156 carries for 1,511 yards and 17 touchdowns, but also added 16 receptions for 315 yards and four touchdowns. He had 1,700 yards as a sophomore and 2,472 yards and 33 TD as a junior.
* Adam Choice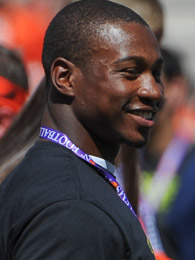 Adam Choice
Running Back
5-9, 190
Thomasville, GA
View Full Profile – Choice is a bowling ball of a back (5-9, 206) and it will be interesting to see him in action. He played rushed for 1,595 yards and 12 touchdowns last season, and had 1,650 yards and 23 touchdowns as a junior. During his high school career – much of it as an option quarterback – he had 5,091 yards.
*NOTE: C.J. Fuller put up good numbers at Easley High School, but from all I've heard he will be moved to defensive back when he gets on campus, so I didn't include him in the eight. That could change, but right now I think he will be a defensive back.