| | |
| --- | --- |
| Position battle: Quarterback | |
---
| | |
| --- | --- |
| Tuesday, January 14, 2014 2:22 PM | |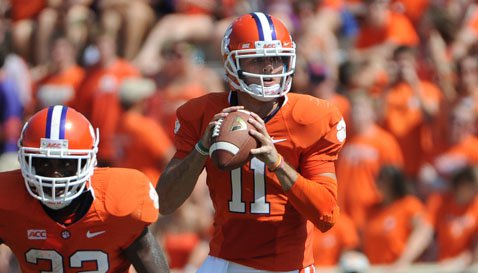 You've heard the old saying as many times as I have, the one that says that the most popular player on a football team is the backup quarterback.
If that is indeed the case, then Clemson fans will have a hard time figuring out just who their favorite player is during spring practice. All eyes will be on the battle for the starting quarterback job this spring as Cole Stoudt

Cole Stoudt
Jr. Quarterback
#18 6-4, 205
Dublin, OH
View Full Profile , Chad Kelly

Chad Kelly
RS Fr. Quarterback
#11 6-2, 210
Buffalo, NY
View Full Profile , Deshaun Watson and even Nick Scheussler battle for the chance to take over for Tajh Boyd

Tajh Boyd
RS Sr. Quarterback
#10 6-1, 225
Hampton, VA
View Full Profile .
Over the next few weeks, TigerNet will take a look at each position grouping on the team and look ahead to spring practice. We start with the quarterbacks.
*Cole Stoudt - Stoudt has played in 22 games during the first three years of his Clemson career, logging almost 300 snaps (287). This past season, Stoudt played 116 snaps and was an amazing 47-for-59 for 415 yards and five touchdowns.
Stoudt will be a fourth-year senior, has the size and accuracy to be a very good quarterback. His numbers this season – although in backup role – were outstanding. The son of former NFL quarterback Cliff Stoudt, Cole came to Clemson as a recruit of former offensive coordinator Billy Napier as more of a dropback passer, but showed signs last season he could run when necessary.
He told me following one of the bowl practices that he was ready for this moment.
"I feel like this is my time," he said. "The coaches have told me they want me to be one of the leaders on this team, and that is something that I embrace. I am ready for this."
*Chad Kelly - Kelly red-shirted in 2012, but played 55 snaps this past season, completing 10-of-17 passes for 58 yards. He also carried the ball 16 times for 117 yards, and his highlight film play was his long touchdown run at Virginia.
Kelly is more of a dual-threat quarterback than Stoudt, even after his knee injury in last year's spring game. Prior to the injury, however, he showed flashes of just why offensive coordinator Chad Morris

Chad Morris
Offensive Coordinator / QBs
View Full Profile was so high on Jim Kelly's nephew.
"With there being a running quarterback, you have running plays called already for the quarterback," Kelly said during bowl practices. "That just gives an added dimension, when there's a pass play called, and you can scramble around and make plays, just like Johnny Manziel and all those guys."
Kelly also has that attitude that you look for in winning quarterbacks.
*Deshaun Watson – Watson has been recruited by the Tigers since his freshman season, and while his recruitment had a few bumps and hiccups along the way, he never really wavered in his commitment to Morris and the program.
His high school numbers look like something off of a video game: For his career, Watson was 939-of-1458 for 13,077 yards and 155 touchdowns with 29 INT; He had 618 carries for 4,057 yards and 59 touchdowns as a runner. As a senior, he was 273-of-412 for 3,775 yards and 47 touchdowns with eight interceptions. On the ground, he carried the ball 143 times for 1,057 yards and 14 touchdowns. An added bonus – he also had two receiving touchdowns as a senior and had three for his career.
In the words of today's youth, those numbers are sick.
Watson suffered a knee sprain during his final game, but he is already on campus and will take part in all off-season drills and will very much be a part of the conversation during the spring.
He told me during bowl practices that he doesn't pay attention to the rumors that seem to surround Morris this time of year.
"It doesn't bother me at all. I really didn't choose a place because of the coach. I am the type of person that I know I will have to be here for the next four years," he said. "I chose Clemson because I love Clemson and this is where I want to be. But I trust the coaches, and I know they are going to be honest and up front with me. If they are interested in or talking to other schools, I know they are going to talk to me first. I know that beforehand and that just makes it easier."
Head coach Dabo Swinney

Dabo Swinney
Head Coach
View Full Profile told the media last Saturday that he wouldn't be averse to using two quarterbacks during the 2014 season.
"I wouldn't concede anything, but once you go through the whole situation, if you have a clear-cut starter, then that's the way it is," he said. "If you don't have a clear-cut starter and you've got two guys that bring different strengths and you need that combination to win – you look at Duke and the year they had and they played two different quarterbacks in different situations. Ideally, you'd like to have one guy that's clear cut and it's obvious, but who knows, but at the end of the day if you've got a couple of guys that can go win for you, I don't have any problem with that. There's just way too much to get settled before we can even think about that.
"We've got a great situation here. Somebody asked the other day, if I'd consider playing two. Well sure, but there's the old adage that if you don't have one, you have none. That may be very true, but the situation here is that we have some really good players and some great talent at that position, but there's always competition. We can let them go compete. Everything counts. When you have a situation like this- it's your academics, it's your leadership, how you respond to coaching, it's performance, it's practice."
Swinney said he can't wait to see the competition play itself out in the spring.
"Everything counts when you have to make a tough decision. I'm really looking forward to it because I think we have great candidates," he said. "I see these guys working. I've seen Chad Kelly out on the field doing drills by himself. I had to go do a little video over in the indoor practice facility, and there's Cole Stoudt working by himself, doing drills. Those are things that you like to see because you know you've got guys that really want to be the guy and that they are going to go above and beyond to give themselves a chance to win the job. And then you throw in Deshaun Watson, who is as talented of a guy as we've ever signed here. It's exciting. At the end of the day, we are going to have a guy ready to go when it comes time to play, but we've got a long way to go before we figure all of that out."