| | |
| --- | --- |
| Poised: Deshaun Watson ready to run down the hill | |
---
| | |
| --- | --- |
| Tuesday, September 1, 2015 7:01 AM | |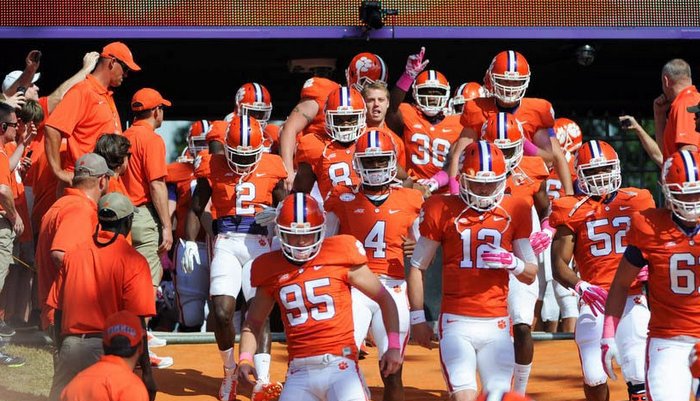 CLEMSON – Deshaun Watson

Deshaun Watson
So. Quarterback
#4 6-2, 207
Gainesville, GA
View Full Profile is the picture of poise, whether it's throwing a touchdown pass at Georgia in his first collegiate game, staring down No. 1 Florida St. on the road, facing his arch-rival with a torn ACL or coming back from that injury. He doesn't get rattled or excited. Unless he's running down the hill prior to a Clemson home game.
The Tigers' sophomore signal caller sat down with the media Monday in the WestZone, and he said that he's looking forward to starting Saturday's season opener against Wofford. It will be his first game since beating South Carolina last November. It will also be his first chance to run down the hill since last October's home game against Louisville. Watson suffered a finger injury a week later and then a knee injury at Georgia Tech and didn't make the trek with his teammates during the Tigers' final two home games.
It's something he is ready for.
"Every time I stand and get off the bus and stand at the top of that hill and look out over the fans, it's a different feeling each time," Watson said. "My first time was kind of nuts. I can't really tell you how I was feeling at that moment. Everything was running through my head and I was just ready to play."
Watson said that even the freshmen are coming to him for advice on how to handle that situation, especially freshman defensive tackle Christian Wilkins

Christian Wilkins
Fr. Defensive Tackle
#42 6-5, 299
Longmeadow, CT
View Full Profile .
"Friday after the Beanie Bowl, I was talking to Christian Wilkins and he was telling me about how excited he is about Saturday," Watson said. "I was just giving him a little info and telling him that it's going to be a little wild the first time, especially coming down that hill and seeing all of that orange. All of the young guys are excited and ready for that moment. I think they'll do well."
Watson said he will run down the hill, but don't expect any flying leaps. He will take it slow.
"I will. Yeah. I will take it slow," he said with a smile. "I feel great. I feel really good and I am excited about Saturday and I can't wait for that moment and time to come."
The Gainesville native said he isn't putting any pressure on himself as he prepares to once again play in front of the home crowd.
"Right now I am just taking it one day at a time and enjoying myself with the preparation and going to classes and working out. In a little while I am going to go to meetings and practice, so I am just taking it one day at a time. I want to play the best I can play and help my team. I don't want to leave any regrets out there on the field no matter who we are playing. Just go out there and have fun. It's a game I love to play and I've put in so much work and time just to go out there for 12 Saturdays. It's a game and it's fun and I want to go out there and leave no doubt."
A year ago, the Tigers were preparing to take on a ranked Georgia team in Athens and many wondered if the freshman would have butterflies. He didn't.
"A lot of people thought I was nervous at the time but I really wasn't," Watson said. "The moment that I found out I was really playing college was when we were riding the bus into Athens and seeing all the fans. A year before I was a recruit and standing out there watching the bus come in, and now I 'm on the bus. At that moment it kind of hit me. But when I stepped on the field it was go time. I trust my skill set and my knowledge of the game and I went in and prepared with a purpose."
This season, Watson says he only has one goal and that's to win every game.
"Only thing I really want to do is go undefeated," Watson said. "I really don't focus on the stats and accolades, as long as we get the W."