---
| | |
| --- | --- |
| Monday, September 22, 2014 2:59 PM | |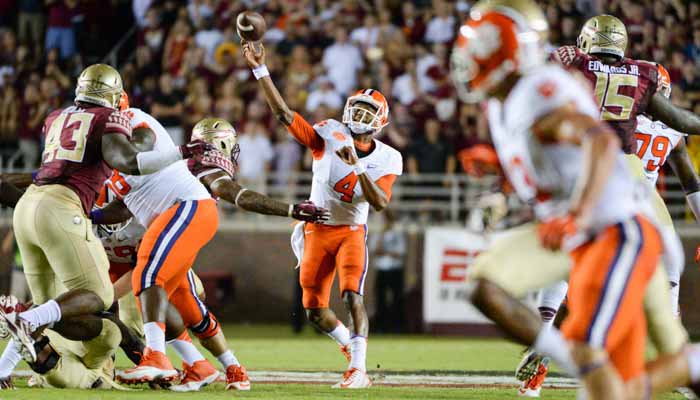 CLEMSON – Deshaun Watson

Deshaun Watson
Fr. Quarterback
#4 6-3, 204
Gainesville, GA
View Full Profile scored his first career rushing touchdown Saturday night against Florida St., but those expecting the freshman to get excited, do a dance, spike the football or talk a little trash were sorely disappointed.
Watson's poise and calm demeanor were evident throughout his limited action against Georgia and South Carolina St., and that same poise was there for the entire nation to see in the Tigers' loss to the top-ranked Seminoles on the road.
Watson, talking to the media Monday afternoon in the WestZone, said he didn't feel like a celebration was in order because there was still a lot of game to be played.
He then performed the kind of celebration reserved for a seasoned leader, not a freshman getting his first extended playing time.
"I was excited but I knew the game wasn't over," Watson said Monday. "I knew Florida State was going to come back and not just give it up. I just kind of smiled. I was very happy on the inside and when I got to the sideline that's when I went to my offensive line and all of my receivers to pat them on the back and congratulate them and thank them for getting me in the endzone."
Making his first start in Death Valley will be just as exciting as scoring his first rushing touchdown, but don't expect Watson's demeanor to change just because he's been named the starting signal caller.
"It's going to be exciting - my first game starting in front of all of the Clemson fans in my home stadium," he said. "A lot of nerves but I'm going to be ready for it. You have to start off fast. The energy and the team are going to feed off of you as the starting quarterback. You just have to go out there and start off fast and execute the plays."
As a matter of fact, his reaction to being named the starter was the exact same as when he scored his first rushing touchdown Saturday night.
"I read it online [that I was the starter]," he said. "I wasn't sure if someone was just putting it out there. When Coach Swinney told me, I just smiled. I never really thought about being the starter. I just go out there and do what I can do and just be the best player that I can be. Once you get too caught up in all of the hype of being the starter, you lose track of the real reason that you're on this team. Each week I just went in there to do what I can do and play my role. It just happened to be that this week I'm the starter."
Despite the fact that he has been given the opportunity to run Clemson's offense, Watson said that nothing for him will actually change.
"There's no difference. I prepared myself to be the leader three weeks ago, too," he said. "The starting quarterback and the backup quarterback are similar because you always have to be ready for that time. You never know what's going to happen. I'm going to prepare like I have the last couple of weeks and try to help the team."
Watson said that he will take the same calm attitude into the huddle and will be careful not to let the moment overwhelm him.
"I wouldn't say that it's just like high school," he said. "There's a lot more talent and bigger guys out there. I wouldn't say that the speed of the game has gotten to me. I try not to think about that too much. I try to make sure that I'm calm out there and focusing on the job. I think all of that stuff is a mindset and an attitude that you go out there and you have to calm the game down yourself."
Its a trait he learned from his mother.
"I'm not even sure. I guess my mom," he said. "When she went through her cancer, it was really hard on her. She said just to make sure you pray and stay calm and know that everything's going to be alright. You just have to have faith. That's what I do. I have confidence and faith in myself and all of my teammates."
On taking snaps under center
"In high school, I didn't do it too much. We were straight shotgun. I was bigger than everybody else so I could just get the ball and run straight ahead and get five or six yards. At this level, it's a whole new ballgame. It's something I have to work on, to be honest. We did a little bit in fall camp. It's something that Coach Swinney challenged me to work on this week, throughout the season and during my career."