| | |
| --- | --- |
| Plenty of depth at running back, but it's Gallman's job to lose | |
---
| | |
| --- | --- |
| Friday, July 24, 2015 10:05 AM | |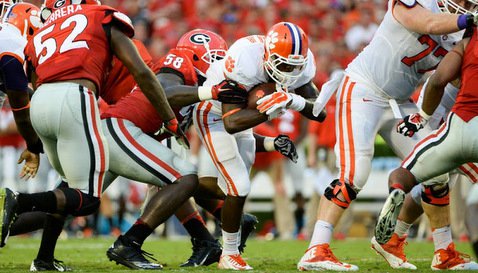 SUNSET, SC – With questions about depth surrounding the Clemson football program, there's one position coach that doesn't have that worry.
Tony Elliott

Tony Elliott
Co-OC / Running Backs
View Full Profile 's running back room has six guys who are all capable of being the guy and rushing for 1,000 yards. However, Clemson's offensive coordinator said that it's Wayne Gallman

Wayne Gallman
RS So. Running Back
#9 6-1, 205
Loganville, GA
View Full Profile 's job to lose.
In 2014, Clemson running backs were plagued with injuries - Zac Brooks

Zac Brooks
Running Back (2012 - 2015)
#24 6-0, 200
Jonesboro, AR
View Full Profile was lost before the season even began, and Adam Choice

Adam Choice
So. Running Back
#26 5-9, 215
Thomasville, GA
View Full Profile tore his ACL against Boston College. With his peers sidelined, it was Gallman who stepped up and showed his potential late in the season.
Gallman rushed for 769 yards and four touchdowns on 161 carries – a 4.7 yards per carry clip – but with Brooks, Choice, Tyshon Dye

Tyshon Dye
RS So. Running Back
#22 5-11, 215
Elberton, GA
View Full Profile , C.J. Davidson

C.J. Davidson
RS Sr. Running Back
#21 5-10, 200
Clemson, SC
View Full Profile , C.J. Fuller

C.J. Fuller
RS Fr. Running Back
#27 5-9, 215
Easley, SC
View Full Profile and Ray-Ray McCloud

Ray-Ray McCloud
Fr. Wide Receiver
# 5-9, 175
Land O' Lakes, FL
View Full Profile waiting in the wings – Elliott said that the redshirt sophomore will have to show up to work every day and make the most of his opportunity.
"I thought coming out of spring that Zac made some strides. He had some really, really good practices, and he really pushed Wayne, so I wouldn't say the leash is very long," Elliott told the media at head coach Dabo Swinney

Dabo Swinney
Head Coach
View Full Profile 's media golf outing at The Reserve "It's going to be up to Wayne. Wayne still has a lot of ceiling left and a lot of potential, being that he's the one guy that didn't play running back his entire life, so he's still learning every day. The leash will go as far as he wants to extend it. Right now, going into camp, all of those guys are competing. I feel like coming out of spring, Zac was nipping at his heels. C.J. [Davidson] had a great spring game. Fuller was a pleasant surprise. Obviously, we knew where Choice was prior to his injury and obviously I'm excited for Tyshon to have an offseason to get himself back in shape to be able to compete."
Elliott then broke down where some of his running backs are at this point in the summer.
Tyshon Dye
"If you just look at him physically, in passing, you're starting to see his body look like how it looked in high school. He's carrying good weight and his body fat is down. He looks like he's in shape. He's walking around with a lot more confidence, and you can even see it from what the guys are telling us when they're out there running. You're starting to see some of those flashes come back. It's big for him and I'm excited for him, because he's the type of young man that came in with a lot of high expectations and now he's finally got an opportunity to compete and live up to those expectations."
Zac Brooks
"It was big for him from a physical standpoint. He was able to focus really on building his body a little bit, because when we recruited Zac we knew he was a hybrid guy. We felt like his frame could put on some weight, but he was forced into action as a freshman. He didn't have that opportunity to redshirt, so this was his year to work on his body and build his body - put on some good, productive weight and put on some weight to protect himself to hopefully avoid some of those injuries."
C.J. Davidson
"He's been solid. As a matter of fact, I was talking to Coach Batson about him yesterday, and he said he's been impressed with the way he's carried himself. He's graduated so he's got that off his chest. He's like all of them, and he wants to be the guy, but he understands that when you're in a room with six guys that you've got to compete every day. He wants to be there in that room and competing. He's responded well, and he understands that your character is defined in adversity and not when you're at the top of the hill. I've been proud of the way he's responded. He's really pushed those guys this summer to work."
Adam Choice
"He looks great. Physically, he looks great. Everything that they're telling me, he's doing everything with the guys. He's moving around well. The biggest thing with Adam is just making sure mentally he's where he needs to be because he's a very, very conscientious young man. He wants to do everything right. The biggest thing with him is making sure he's confident because structurally everything is fixed, and he's such a strong guy that his rehab is going to accelerate from a strength standpoint. I'm anxious to see where he's at mentally once the pads come on because they're all going to look good running around in shorts. When he has to take that contact, I'm anxious to see that. From every indication from the training staff and the weight staff, he's healthy.
"It's too early to determine if he'll redshirt. We'll have to wait until we get into camp to make that decision. I don't want to put that thought in his mind. I want him to come back and be ready to compete, and we'll see where he's at. Once we get about midway through camp, we'll make a decision."
Ray-Ray McCloud
"Ray-Ray is very dynamic. We're going to start him where Artavis Scott

Artavis Scott
So. Wide Receiver
#3 5-10, 190
Oldsmar, FL
View Full Profile is at the receiver position and as he continues to become comfortable with that, then you can expand his role. He does have a running back skill set, which was his primary position in high school. You're going to have some options with him, but you don't want to throw too much on his plate too fast so that you paralyze him."