| | |
| --- | --- |
| Pinion's decision works out as 49ers make the call on draft day | |
---
| | |
| --- | --- |
| Monday, May 4, 2015 3:40 PM | |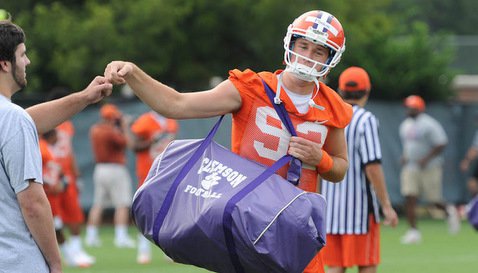 Many people questioned Bradley Pinion

Bradley Pinion
Punter (2012 - 2014)
#92 6-6, 230
Concord, NC
View Full Profile 's decision to forego his senior season at Clemson and enter the NFL Draft, but after seeing his name scroll across the screen during Saturday's Draft broadcast, the former Clemson punter knew he made the right decision.
The Concord (NC) native shocked everyone following Clemson's bowl win over Oklahoma with the announcement that he would enter the NFL Draft, and his calculated gamble paid off Saturday when he was selected with the 165th pick (fifth round) by the San Francisco 49ers.
Pinion was the first specialist picked in the draft and was the first Clemson punter nabbed in the draft since Chris Gardocki was drafted by the Chicago Bears in 1991. He is also just the third punter in school history to be selected, joining Gardocki and Dale Hatcher (Rams 1985).
Pinion told TigerNet he had a small idea the Niners would come calling but didn't know for sure until he received the phone call.
"They called me before the draft and kind of hinted at it, but I didn't know anything about the fifth round," Pinion told TigerNet. "They came and worked me out. They were the last team to work me out last Saturday. They really liked me and they pulled the trigger. They called me two or three minutes beforehand and told me to stay on the phone until my name came across."
Pnion was home in North Carolina when the call came.
"It was great. It was a dream come true," he said. "So blessed to have the opportunity to play or get the chance with a team. To be the first punter drafted coming out as a junior is just unheard of. God was on my side on that one. It was absolutely crazy. It was a dream come true. Everything lined up and everything worked out."
The 49ers already have an accomplished punter in Westminster (SC) native Andy Lee, a four-time All Pro who is one of the best punters in NFL history. However, Lee's 39.6 net average last year was his lowest total since 2010 and Pinion said he has been told he will come in and compete against Lee.
"They're going to let me compete against Lee. They like my kickoffs a lot and they like my punting a lot so they're going to let me compete and let the best man win," he said. "Lee is a seasoned veteran. He's an awesome punter. I'm hoping to learn a lot from him. He's been there for a decade. Hopefully, I can learn and get better and win the job."
Pinion said that he is happy his decision worked out for the best.
"I wouldn't call it an 'I told you so.' I would say that it worked out the best way that it could. God was on my side," he said. "I'm never going to say I told you so, because people have their opinion and they have the right to say, 'you're crazy for doing that.' I might have been a little crazy but it all worked out in my favor. It's definitely a privilege and I thank Clemson for everything they did for me. They've been huge throughout this whole process. I want to thank the Clemson fans. I couldn't have done it without all of them."
However, he won't soon forget his days at Clemson and he said he has a few special memories.
"I would have to say in the locker room with all of my teammates," Pinion said. "We had some great times. It's just the brotherhood that we all created. Seeing all of my buddies get drafted has been unreal. I couldn't pick one memory so I'll just say the brotherhood that was formed and all of those guys that will be there for the rest of my life."