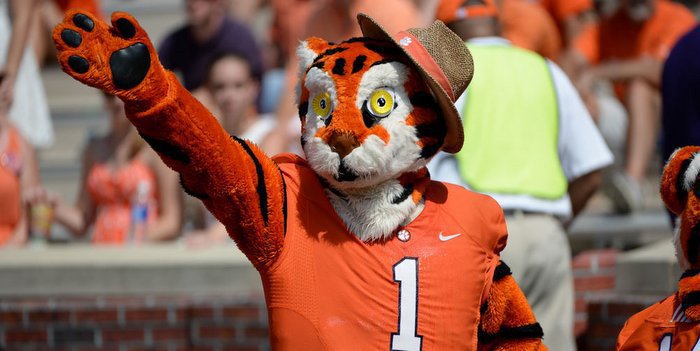 | | |
| --- | --- |
| Pigskin Prophet: Week Two Yawn Edition | |
---
The opening week of the college football season provided a bevy of thrills and chills, while the second week of the season is poised to provide….a lot of yawns.
Last weekend's slate of games covered Thursday through Monday and we were treated to several big-time matchups, but in looking over this week's schedule I had one thought: looking over the schedule reminded me of when I was giving tours of South Carolina's football trophy case. There just isn't much to see. Not a lot of meat on the bone. Nothing to see here. Just a tattered piece of some banner that was torn off the stadium after The Great Quit.
Still, we will try and muddle through some predictions. And remember, it's all in fun, so don't get offended. If you do get offended, take a pill and learn to laugh (Crump disclaimer).
FRIDAY
LOUISVILLE AT SYRACUSE
Syracuse head coach Dino Babers has already planned for the arrival of Louisville for this Friday's game – all Orange volleyball players and coaches have been sent to Buffalo for the weekend. Bobby Petrino has a good offense helmed by Lamar Jackson, who ran for 900 yards and threw for 14 touchdowns against Charlotte's Web last week. Syracuse earned a win over Toothpaste U (Colgate), so both teams will step into conference play without really being tested. Babers will make Syracuse relevant – but it won't be this week. VOLLEYBALL 42, URRANGE 23
CHARLESTON SOUTHERN AT FSU
The Charleston Southern quarterback won't turn it over as many times as Chad Kelly, but it won't matter. FSU 69, CHARLESTON SOUTHERN 12
WAKE FOREST AT DUKE
Speaking of yawns…..this one doesn't even make a mark on the old excite-o-meter, does it? Wake Forest can't score. Duke is struggling. It's at Wallace Wade Outdoor Stadium, where dozens of fans will be in attendance. Something tells me many of the fans of these schools will be watching a movie somewhere. DUKE 28, WAKE 16
TROY AT CLEMSON
The Fighting Polamalu's travel up from Alabama to take on Dabo "I'll never again kick a field goal" and the second-ranked Tigers. Dabo knows that in order to impress his own fans, he has to win by a certain amount. With the pressure on to score a certain number of points, the Tigers come out against the Fighting Polamalu's and crank up the air show, scoring 35 points in a wild first half and setting the stage for the freshmen to get plenty of playing time. However, freshmen are freshmen and the Hairs makes it closer than Clemson fans would like and Swinney is once again called out on the message boards for bad coaching. CLEMSON 55, POLAMALU 13.
SOUTH CAROLINA AT MISS. ST.
I tuned in to watch the Gamecocks play at Vanderbilt last week, and instead of SEC football I watched Alaska Class A high school football between QuQuum School in Oscarville and Tuluksak School. It said it was South Carolina and Vanderbilt, but it was bad Alaska football. I know a lack of athletes when I see it. Meanwhile, Miss. St. lost to the Alabama School for Rehabilitation and Woodworking (GO SEC!!!), so this is another one on the old yawn-o-meter. Both teams have trouble scoring points – let's face it, neither head coach could score on a Kardashian even if they were a rapper – and the famous cowbells that call in the Miss St. cheerleaders to breakfast could be silent after the first quarter. The bad news for South Carolina is that the Bulldogs have a few more quality athletes than QuQuum and will walk away with this one in the second half. MISS ST. 23, TULUKSAK 16
UTSA AT COLORADO ST.
WHOOOOO????
ARKANSAS ST AT AUBURN
Auburn head coach (for now, lol) Gus Malzahn has revolutionized college football as we know it, inventing an offense where there is a new quarterback on every play. The Tigers want to run 80 plays a game, and they have 85 scholarship players, so much like sleepover night at the Kardashians and Jenners, everybody gets a turn!!! Montravius Adams will start off at quarterback, but it isn't until a second quarter carry by a cheerleader that the Auburn offense gets in motion. Bo Jackson breaks it open in the third, and Cam Newton's dad sets up a field goal with a fourth quarter carry (as cash falls out of his pocket). QBU 29, ARK. ST. 19
JACKSONVILLE ST. AT LSU
This is a Gamecock squad that took Auburn to the brink last season, so they won't be intimidated by Les Miles and his 1942 Cloud of Dust Offense. The Tigers stunk it up in Lambeau last weekend, and they haven't had a quarterback capable of completing a forward pass in years. As a result, Les Miles will come out with what he thinks is the perfect gameplan, reminiscent of Steve Spurrier and Marcus Lattimore. He will run Leonard Fournette until Fournette's NFL chances are ruined. Fournette carries 64 times and the Tigers beat the Gamecocks. Barely. FOURNETTE 24, THE REAL GAMECOCKS 14
VIRGINIA TECH AT TENNESSEE
Virginia Tech fans love Tennessee quarterback Josh Dobbs, who is really tall. Taller than any QB they've had since Logan Thomas. Dobbs is about as accurate as Thomas, however, and Tennessee struggled with App St. last week. This week the teams play at Bristol Motor Speedway, and I can kind of guess how this one is gonna go. The Riddell Under Armour Schutt Turkey Gobbler car driven by Justin Fuente will get in the gas early and take a lead, but as the laps begin to mount the Phillip Fulmer and Tee Higgins Come Back GoFundMe Page car driven by Butch Jones will cut into the lead. Dobbs will throw 11 interceptions in the game while the announcers talk about the fact he faces SEC defenses SO DON'T WORRY, but the Gobbler Ford Chevy won't go away. In the end, however, Butch Jones will have this to say: "The Phillip Fulmer and Tee Higgins Come Back GoFundMe Page Pepsi Coca-Cola Gatorade Kentucky Fried Chicken Motorcraft Boom Bus Spurrier Banner machine ran well at times, and once we got under the Gobbler's back end and created some upforce we were able to downdraft and get in the contraflow and make the right pit stops. Of course, we had to take 12 pounds of pressure out of Josh Dobb's rear end and add six pounds of pressure to the rear end of our defense, but we'll take the win and get ready to race somebody else next week." TENNESSEE 22, VIRGINIA TECH 17 (a lap down).
OTHER GAMES
*Wofford at Ole Miss…the good news for Chad Kelly is that Wofford doesn't have any porn stars for him to "slide into."
*NC State at East Carolina….The Dave Doeren Farewell Tour gets off to a rocky start as a Purple Haze descends in the eastern part of the state.
*UNC at Illinois….Just like last season, Larry Fedora has to have Elijah Hood introduced to him by the assistant coaches. Seems like he always forgets he has Hood in the openers. Kinda like Crump.
*Lamar at Houston…..I don't know who Lamar is, but I am sure am glad Houston's Tom Herman isn't a Gamecock..
*Boston College at UMass…Just a bunch of people walking around saying Pahk the Cah in Havahd Yahd. Nothing to see here.
*Kentucky at Florda…a battle of real SEC East powers here….hahahahahahahahaha
*SMU at Baylor……final score Baylor 122, SMU 111
*Middle Tennessee at Vanderbilt…..Vandy gets a real test this week.

Upgrade Your Account
Unlock premium boards and exclusive features (e.g. ad-free) by upgrading your account today.
Upgrade Now