| | |
| --- | --- |
| Pigskin Prophet: Week Six | |
---
| | |
| --- | --- |
| Thursday, October 8, 2015 5:04 PM | |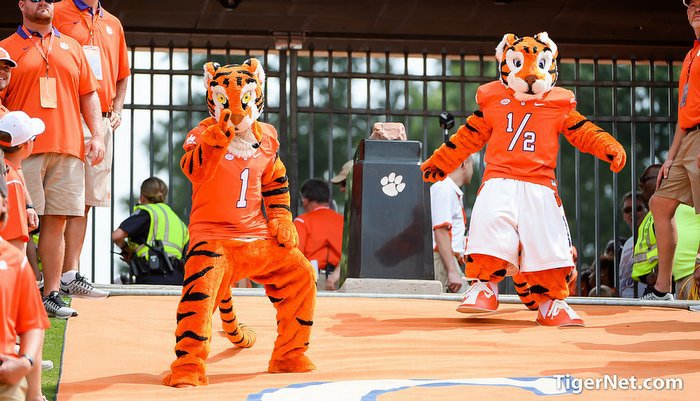 Another college football weekend is upon us, and while we usually take the first part of the Pigskin Prophet to talk about jobs or to poke a little fun at our various rivals, I just wanted to take a second and remember everyone that has been affected by the flood waters in this beautiful state.
We might pull for different teams – we're Tigers and Gamecocks and Paladins and Bulldogs and Cougars and Chanticleers – but at the end of the day we're all South Carolinians, and it's ripped my heart out to see what some in this state have had to endure this past week.
Special thanks also go out to all of the first responders and government personnel who have gone the extra mile to help, as well as the ordinary citizens who have answered a higher calling and pitched in with water and supplies.
It's amazing how we all can get along when we try.
Now on to the picks, and remember (I got ya Crump) it's all in fun.
THURSDAY
SMU at HOUSTON
Chad Morris

Chad Morris
Offensive Coordinator / QBs
View Full Profile takes his pony herd down to Houston for a tilt with the Cougars. This will be a matchup between two of the hottest first-year coaches in the country in Morris and Tom Herman. Unfortunately for Morris, his ponies just don't have the speed to escape a pack of Cougars and there will be horse meat aplenty after this affair is over. HOUSTON 50, SMU 27
FRIDAY
NC STATE AT VIRGINIA TECH
I really feel bad for the Wolfpack. They had to leave their 1-AA schedule last week and play a game against an ACC team. And lost. This week, they get another ACC team and this time it's, wait for it, ON THE ROAD!!! THE HORROR!!!!! But let's face it, neither of these programs are worthy of making any kind of run at an ACC title, and both of these coaches will probably face questions at season's end. And they are playing on Friday night when high school teams play across the country. There really is just nothing good about this game, except we won't have to hear about the loser after this contest. PRETEND BEAMERS 23, PRETEND PACK 22
SATURDAY
DUKE AT ARMY
How about those Blue Devils? They couldn't score on a Kardashian in heat, but they still find a way to win games because of their defense. The Black Knights have struggled out to a 1-4 start, and their option offense won't find many holes in a Blue Devil defense that held Georgia Tech at bay a few weeks ago. This one won't be fun to watch, but the Blue Devils will pick up win number five along the way. DUKE 22, ARMY 14
OKLAHOMA AT TEXAS
Poor Charlie Strong. If you're going to walk around all the time looking like someone just showed Steve Spurrier's moobs, you better win some football games. Charlie just looks sour and isn't winning, and that isn't a good fit for a Texas program that expects more. They can't snap. They can't kick. They can't play defense. They can't play offense. But Charlie looks sour!!! That won't be enough to beat an Oklahoma team that is starting to gain some traction nationally. Sure, this is the kind of game where Bob Stoops turns into Mark Richt and gets blown out, but Texas just doesn't have anything going for it. SOONERS 37, NOT-SO-STRONG-HORNS 17
MARYLAND AT OHIO ST.
Hey Randy Edsall, how did the move out of the basketball conference work out for ya? Maryland is just bad and getting worse, and a trip to the Horseshoe won't help things. Ohio St. hasn't played like number one, but they get a chance to whip up on the Terrapins, who have more uniform combos than conference wins the past few seasons. OHIO ST. 45, UGLYUNIFORMS 3
WAKE FOREST AT BOSTON COLLEGE
I am gonna make this one easy for Boston College fans to understand: The Eagles have a problem moving the puck once they cross center ice eh, and even though they have one of the best in the business in goal they have issues scoring on the other end. They've been called for penalties once they cross the blue line, and can't push it through the net once they get in the crease. You know, the offense has been bad, eh? Maybe these two bad teams will make this one fun to watch. The Eagles win the Stanley Goblet. EAGLES 24, WAKE 13
LSU AT SOUTH CAROLINA AT LSU
Yep. You read that right. LSU plays a road game at South Carolina this weekend, except it's at LSU. This one really doesn't matter where it is played – LSU is just far better because their coaches actually, you know, recruit. And, Les Miles doesn't go around telling everybody he will step away in a year or two. The good news for South Carolina is that their home fans won't have to witness the Leonard Fournette Express hit the chicken truck head-on and leave a pile of feathers all up and down the bayou. LSU 30, CHICKEN SOUP 13
GEORGIA TECH AT CLEMSON
Can Pawwwwl Johnson and his Ramblin Wreck get this Wreck of a season back on track? Early successes against Sister Sadie Mae Dinkins Sunday School Class and the Sugar Tit Volunteer Fire Department had some people expecting great things from Tech. Then came the three straight losses, and now this is a desperate team. This is also a group that is used to having success against Clemson, but don't expect Deshaun Watson

Deshaun Watson
So. Quarterback
#4 6-2, 207
Gainesville, GA
View Full Profile and company to hand-wrap touchdowns like last season. This one is also at home. The Sweat Bees will hang around and make this one just another good one in the series, but in the end Brent Venables

Brent Venables
Def. Coordinator / Linebackers
View Full Profile breaks out his big ole fly swatter and flattens the bumblestingers. CLEMSON 33, TECH 21
GEORGIA AT TENNESSEE
It's ok, Mark. You can win this one. The heavy load of expectations have been removed, and it's on the road. No pressure. Right? Meanwhile, Butch Jones and the Volunteers have been Gamecocking, which means they are chickenpooping fourth quarter leads away. Wide Receiver U? Not hardly. More like WIDEOPENU considering the defense. Which team rises up out of the ashes to get a win? I think Georgia has some serious issues at quarterback when they aren't playing South Carolina, and that will continue this week. Both teams will score points, the celebration is on Rocky Top at the end of the day. TENNESSEE 28, GEORGIA 27
LOUISIANA TECH AT UTSA
WHOOOOO??????????????
MIAMI (FL) AT FSU
Miami looked disinterested last Thursday against Cincinnati and let's face it, the whole program has been a mess since the guy that supplied the hookers and limos was forced to stay away from the program. Meanwhile, Florida St. has looked less than impressive since the Tallahassee Police Department garnered national attention for letting Noles players get away with everything short of murder. These programs are just better when there is a criminal element involved!!! The good news for Miami players is that they actually get to play in front of more than 500 fans this week, and they need a win to keep the heat off Al Golden. Miami will keep this one close, but Florida St. hasn't lost an ACC contest in a few years and won't start now. LITTLE JIMBO 27, BIG AL 24