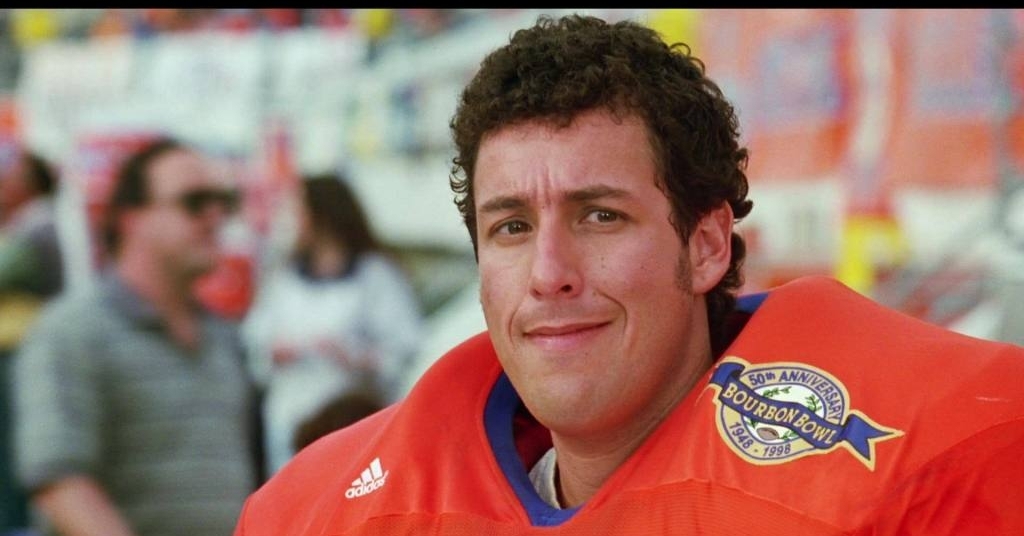 | | |
| --- | --- |
| Pigskin Prophet: Waterboy Edition | |
---
Hide the crab legs at Sardi's Den, the Seminoles are back in town!!
I am just kidding of course. Former Florida State quarterback Jameis Winston now toils in the NFL in Tampa Bay and presumably gets all of the crab legs he can eat, and he probably doesn't have to steal them (but as bad as he's been, he probably has to pay full price).
My guess is that Sardi's Tuesday crab legs are safe for now.
As for the Seminoles, they will be bringing a salty and improved bunch to Death Valley this weekend. The 'Noles got off to a rough start this season, and it was quickly determined that dehydration was part of the problem. That's right – the fellas just weren't getting enough of that high quality H2O to satisfy their bodies' needs.
That's why I've been asked to be a SPIT (Specialty Products Irrigation Technician) for the guys while they play Clemson. After all, that's some high quality H2O right there.
Now, onto some games.
THURSDAY
SYRACUSE AT NC STATE
The loser of this game might have to scramble to make a postseason game, so while it isn't a big game on a national scale, it's a big game in the ACC. That means both teams will be desperate for a win, which means Dave Doeren will blame laptops and ghosts and pretty much everybody else if things go wrong. The good news for ole Dave is that Syracuse really isn't very good and he has his Pack at home, which should be the difference. Or it won't. NC STATE 30, SYRACUSE 24
FRIDAY
VIRGINIA AT MIAMI
If there is a football game and there is no one there to watch it, did it actually happen? I think it's a little odd that Vegas has Miami favored in this one. They were beaten at home last week by a bad Virginia Tech team and have suffered some other ugly losses along the way. In fact, this looks like a program that's plummeting while Virginia is ascending. Virginia is undefeated in the league and has the dynamic quarterback and has the inside track on winning the division, so that means…………………..Right. Miami beats them and throws everything into further chaos. Because, why not? MIAMI 24, VIRGINIA 23
SATURDAY
SOUTH CAROLINA AT GEORGIA
The Gamecocks looked impressive (cough, cough) against a really bad Kentucky team a few weeks ago and now feel a little salty. Like maybe they can go out and win this game. Look, I give them something of a chance because Will Muschamp is another desperate coach and maybe, just maybe, he lets his assistants coach this game and he stays away from calling boring plays on offense and stupid plays on defense. Maybe Georgia is overlooking the Gamecocks. Maybe Kirby and his offensive coordinator will continue to stay boring and the South Carolina defense keeps them in the game. Oh, who are we kidding. This is a train wreck. And if you think South Carolina can win, The Waterboy has a message for you – Don't Smoke Crack. GEORGIA 34, SOUTH CAROLINA 13
OKLAHOMA VS. TEXAS
The good old Red River Showdown. (Shootout. It's the Shootout. Get offended. I dare you.) Both teams have great quarterbacks and iffy defenses, which means this will be a shootout. In fact, it's pretty much a shootout every year, with scores like 45-40 and 48-25 and 39-27 in three of the last four seasons. I am a big fan of Sam Ehlinger, the Texas QB, but Jalen Hurts has a few more playmakers on his side. In a shootout, the Sooners win. SHOOTOUT OKLAHOMA 41, SHOOTOUT TEXAS 30
ALABAMA AT TEXAS A&M
The Crimson Tide gets to go on the road, in a true road game, for the first time in over a month. The SEC set it up that way because Nick Saban's squad simply got too tired last season, traveling back and forth to such exotic locales as Oxford and Fayetteville. College Station is usually tough on opponents, and the Alabama defense is ranked 35th nationally. That's' right – 35th. The issue here is that A&M quarterback Kellen Mond has had ONE good game against good competition and that was a year ago against Clemson. The Aggies also don't have a running game. This doesn't look good for Little Jimbo, does it? ALABAMA 40, A&M 24
FLORIDA ST. AT CLEMSON
I am not sure if you've been paying attention this week, but Dabo Swinney has been on a roll. The Tigers have had two weeks to sit back and listen to the national media tell them how bad they are. Poor FSU. I am sure they have been playing better, and there is no doubt they have talent across the board because of how well they've recruited. But they have no idea, none, of what they are walking into Saturday. I decided to be nice and used my position in SPIT to reach out to the professor who read a book during last year's game. I've asked him to come up to this game as my guest. I even have a book he can read early in the third quarter when it's obvious things have gone sideways and dry for the visitors – You Can Do It!!!! By Bobby Boucher. CLEMSON 45, DEHYDRATED ONES 14
FLORIDA AT LSU
This is one of those games I am excited to see. Everyone has been talking up LSU since the win at Texas – the one that broke the heart of that actor – and now the Bayou Tigers get to see what their high-flying passing attack can do against a real defense. The Gators have actually seemed like a better team since losing their starting quarterback and smacked Auburn in the face last weekend. They won't have the home crowd this week, and they won't have a freshman quarterback to confuse this time around. LSU's defense is still suspect, but it will be good enough to win this one. GOTIGAHHS 28, FLORIDA 20

Upgrade Your Account
Unlock premium boards and exclusive features (e.g. ad-free) by upgrading your account today.
Upgrade Now