| | |
| --- | --- |
| Pigskin Prophet: Spring Practice Edition | |
---
| | |
| --- | --- |
| Friday, May 8, 2015 7:01 AM | |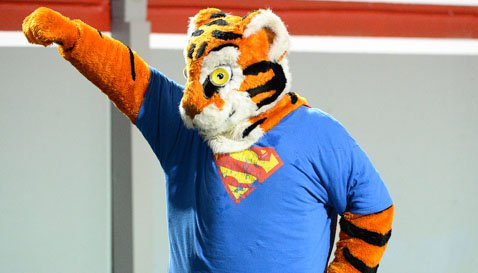 Spring practice is quickly fading into the rearview mirror and the start of the 2015 football season seems like it is a University of South Carolina SEC Championship away. You know, it kind of feels like it will never happen.
However, unlike the chances of an SEC trophy with chicken feathers sticking out of the side the 2015 season will arrive and we can get on with the business of watching our favorite sport and teams rocket towards the four-team playoff and another exciting season.
Before we get into the summer, however, the ole Pigskin Prophet wants to take a look at some of the region's football teams and kind of give you his own irreverent recap of how spring practice went down. I have time right now – I did take a job with South Carolina monitoring Twitter and keeping track of all of the recruits that jumped ship, but it eventually felt like the Titanic and I gave up.
On to my recap, and remember, it's all in fun (disclaimer courtesy of Crump).
GEORGIA TECH
The Yellow Jackets surprised a lot of people by having a really good season in 2014 and then thumping an SEC West team (but didn't everybody?) in the bowl game. Can Pawwwwl John-un keep up the good work? He lost almost all of his running backs but returns quarterback Justin Thomas, who figures to be the Best Quarterback in the ACC Who Throws Less Passes Than A Pee Wee Quarterback. The Jackets refilled their tanks, however, with several big name 1-star and 2-stars that nobody has ever heard of. Johnson still finds a way to beat the big boys, however, because his team will execute better than yours. Can they find a way to get back to a big-time bowl game? Is an ACC Championship a possibility? Yes and yes.
FLORIDA ST.
True story – the Florida St. Seminoles had 11 players drafted in the recent NFL Draft and the City of Tallahassee laid off 30 percent of its police force and Publix now has an overstock of crab legs. Yes, with no Famous Jameis in town and no Ronald Darby gone to the NFL the Seminoles might actually be able to concentrate on football for the first time in a few years. Whether the crime rate actually drops has yet to be determined, but head coach Jimbo Fisher will spend less time listening to the police scanner and more time on his game plans now that he has to replace so much talent. The 'Noles are talented but have questions at quarterback, the offensive line, defensive line and secondary. However, Fisher can lean on kicker Roberto Aguayo, who is something like 997-for-1001 on field goals with a long of 73 yards in his career. And he doesn't like crab legs or shouting in the student union.
NORTH CAROLINA
The big question surrounding the Tar Heels heading into the spring centered on whether they could get all of their players eligible considering the stringent academic standards UNC players have (snort). The word out of Chapel Hill is that some of the football players are being made to go to class while the NCAA is sniffing around looking for impropriety, and even John Swofford's misdirection can't keep them away. However, we have learned that one of their players tweeted out that he was taking music appreciation. He walks into class – taught by Roy Williams – and Williams plays music on his Ipod. The players say, "I appreciate that" and get an A. Ah, North Carolina gotta love em. On the football field, they will be trying to rebuild a pathetic defense with Gene Chizik – who never met a phrase he couldn't copy – and they might struggle with good teams. Which means they will beat South Carolina on the opening Thursday and struggle in the ACC. Right Swoffy??
VIRGINIA TECH
Let's face it, the Hokies haven't been the Hokies in a while and Frank Beamer has come under fire from Tech fans who expect more from their program. Some fans have been seen jangling car keys outside of his house at night – a terrifying sight – while playing Enter Sandman on their car stereos. The only thing more terrifying than a rock song that has nothing to do with your school is a song from a movie and maybe some fire extinguishers. But I digress. Ole Frank needs to find a quarterback to go along with what should be an improved team in 2015. As a result, he has scouted all of the NBA teams for players who are tall with eligibility, then sent ESPN's Heather Dinich to watch some European leagues. There is a rumor Dinich fell in love with a 6-11 Turkish center who once saw a Super Bowl on television. Sounds like a perfect match!!
ALABAMA
The best news coming out of Alabama – and I'm being serious – is that Alabama fans are taking this whole not winning the championship thing every year fairly well. As we know, they've ruined construction on rivals' stadiums, poisoned trees and served jail time for exposing their privates in New Orleans. Classy bunch down there. Nick Saban has dealt with some off-the-field issues this off-season, but the Crimson Tide have one of the nation's best backs and talent across the board. They will be contenders before it's all said and done. Won't they ESPN?
AUBURN
Auburn is another school that has to constantly deal with off-the-field issues. But the Auburn Tigers/War Eagles/Jurden Hares/Chipmunks or whatever they are this week will be another team that will be feared. Like a lot of other SEC teams, they have to find a new starting quarterback and keep the rest of their roster out of jail. Word on the street is that Auburn boosters combed the streets of Atlanta looking for another Cam Newton, but none of the preachers there were willing to turn over their sons for a "church donation."
LOUISVILLE
Bobby Petrino has a problem up at Domino's Pizza Hut Little Caesar's Stadium – a lot of Charlie Strong's recruits have gone on to the NFL, and that leaves Petrino with recruits he scouted while on volleyball trips with his girlfriend. Can he replace all of that NFL talent with all of the transfers he brings into the program? This season might not see the same success they had last season.
SOUTH CAROLINA
Let's face it, last season started out with high hopes down in Columbia (first time anyone has ever said that) when they were touted as a dark horse national title contender and had a preseason ranking of nine. However, snarky jabs and living off the past aren't exactly the way you win in college football these days – you have to actually put down the beer can and go recruit. So what does their head coach do? He promises to quit in a few years. You honestly can't make this stuff up. It was even so shocking that the tailgating sex couple decided to move the action indoors. However, Spurrier hasn't forgotten how to coach, and despite the fact that he doesn't have a quarterback or an offensive line or even much of a defense, he should find a way to win at least four games next season because he is so good with a quip. Because that counts. Right? Man, now that I think about it, his banner may be only 6,317 inches high this season.