| | |
| --- | --- |
| Pigskin Prophet: Re-stocking the shelves edition | |
---
| | |
| --- | --- |
| Thursday, October 23, 2014 8:25 AM | |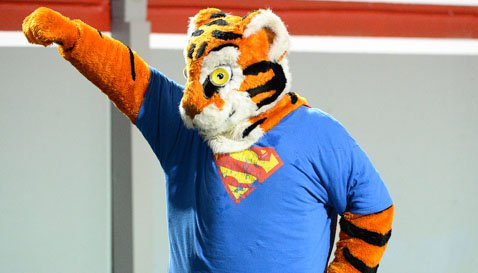 For once, the old Pigskin Prophet has steady work trying to keep college football players from doing silly things. My main job is trying to keep Florida St.'s Jameis Winston on the straight and narrow, but there is simply nothing straight about him. And the only narrow thing is his mind. So I have my hands full.
However, I wanted to let all of you down in the Columbia area of South Carolina know that there is a wonderful opportunity for work, if you are so inclined to find a job.
As it so happens, a good friend of mine is a store manager at the Wal Mart down on Dobbins Road in Columbia, and he ran into somewhat of a situation late on a Saturday night a few weeks ago and now has "seasonal work" available. Kind of like when department stores hire extra help during the holidays, except this seasonal work means football season.
Apparently, the Wal Marts in that area had a run on returns in their Gamecock section a few weeks ago – car flags, t-shirts, jerseys, pajama pants, mullet hair ties, Gamecock themed beer and GPS Mobile Home Finders – following South Carolina's loss to Kentucky.
With South Carolina facing a good Auburn team this week, the managers have been told to expect a flood of new returns after midnight this weekend and they need people to help take in the returns and re-stock the shelves. The only qualification to be hired is to know ancient history – like a whole five years.
But I digress….let's get to some picks. And it's all in fun.
THURSDAY
MIAMA (FL) AT VIRGINIA TECH
This is a showdown in the Coastal Division and I am so excited about seeing these two 4-3 teams face off with the sounds of a menacing turkey gobbling in the background. Ok, I made that up. I am not looking forward to it and the turkey just sounds stupid. Makes me wanna grab a shotgun and get ready for Thanksgiving dinner. My Thanksgiving for this game is that I don't have to watch it. GOBBLERS 27, CANES 24
SATURDAY
NORTH CAROLINA AT VIRGINIA
This is the old guard versus the new guard. Can Roy Williams take his AFAM Five on the road and win against the Hoos? Is an NCAA Tournament berth at stake? Probably. The Heels need to get off to a fast start, but have struggled against the zone defense. And…what? Wrong sport? Has someone told John Swofford? This is football???? Oh………..Yeah I don't care about this one either. VIRGINIA 92, UNC 90 on two late free throws.
MISS. ST. AT KENTUCKY
The nation's number one ranked team travels to the Bluegrass State, where they will be entertained by the Wildcats, a team that knocked off former National Champion South Carolina (hey, the SEC had a nice run) a few weeks ago. This time it won't be so easy – Miss. St. has a young coach who is actually good and he never throws his visor and he will adjust to the Wildcats running the Wildcat. The Cowbells go on the road, and the only music at the end of the night is the sounds of cows loose in the pasture and not Bluegrass…..MISS ST. 37, KENTUCKY 20
WEST VIRGINIA AT OKLAHOMA ST.
The smoke from all of the burning couches has cleared in Morgantown, and the Mountaineers have been preparing for the Cowboys all week. Last week, the Mountain ears defeated Baylor and dashed their playoff hopes, and this week try to continue their ascension up the rankings when the travel to play in Boone Pickens Stadium, named after Daniel Boone who was originally from Pickens, S.C. Ok, he wasn't but it sounded good. In reality, this should be a good contest between The Mullet and I Am a Grown Man Pick On Me. Grown Man wins by his grown man whisker………DANIEL BOONE 34, DANIEL BOONE'S COUSIN 33
UTEP AT UTSA
WHOOOO???????????
OLE MISS AT LSU
Ole Miss has risen in the rankings because they are in the SEC West and because Mama Nkemdiche – Prime Minister of Nigeria or something – has decreed they be up there. LSU has been on a bit of tough stretch, and people are wondering if The Hat is facing tough times in Red Stick (that's French for Baton Rouge for you South Carolina grads). He isn't – the man has won a lot of games there, and they are actually thinking about erecting an 85-foot banner of Les outside the stadium because it worked so well for Spurrier (snicker, snicker). Ole Miss and Huge Freezee are favored in this one, but can anyone else see the Red Sticks losing twice at night in Death Valley in the same season? Uh uh, I can't either. Mama Nkemdiche is gonna wail and have ole Huge Freezee fired after this one, and curtail her son's bong use. LSU – in the upset. LSU 27, NKEMDICHE TECH 26
ALABAMA AT TENNESSEE
Speaking of smoking weed – Alabama takes its Miami Vice star player and all of his "product" to Knoxville for a date with the Vols. It also marks the return of Lane Kiffin, who had a TON of success in Knoxville when he was the Tennessee head coach. Or maybe that was his wife I am thinking about. Anyway……the last thing we need is for Tennessee to pull the upset and Harvey Updyke to come up and try to poison an entire river, even if he has Mama Nkemdiche's help. Alabama is gonna go into Neyland Stadium and roll that joint (see what I did there!!!!) BAMA 33, KIFFIN'S EX 14
SOUTH CAROLINA AT AUBURN
Well, South Carolina is certainly back. They rolled Furman last week in another impressive win, and look to keep that momentum this week as they try and knock off Gus Malzahn and the Tigers/War Eagles/Squirrels/Trees or whatever the heck their mascot is this week. South Carolina can actually score points, and chances are good they will light up Auburn for a few quick scores. We've heard from Gamecocks over the past few years at Demure Bird or whatever his name is will be better than Sammy Watkins

Sammy Watkins
Wide Receiver (2011 - 2013)
#2 6-1, 205
Fort Myers, FL
View Full Profile , and he's proved it this season with a whopping eight catches on the season. He might even have one against Auburn, but it won't be enough because Auburn's offense has an actual pulse and will score at will on the Gamecocks defense (which makes me think of the girl at the SCAR tailgate). Wal Mart shoppers unite…..AUBURN 43, SOUTH CAROLINA 24
SYRACUSE AT CLEMSON
I am not sure how Syracuse will handle being outside in the weather this week, and I just don't know how they will adjust to the change of coming from their loud dome to little old quiet Clemson. The good news is that Clemson's offense couldn't score on that South Carolina girl right now. The bad news is that no one is scoring on Clemson's defense, and Syracuse is bringing a freshman quarterback who thinks Saturday will be "fun." If he thinks that's fun, he should work at a Wal Mart in Columbia. My guess is that Clemson will be too good, too loud and too outside for the Orange, and Syracuse head coach Scott Shafer will throw a lot of F bombs sooner rather than later. CLEMSON ORANGE 30, ORANGE JULIUS 13