| | |
| --- | --- |
| Pigskin Prophet: Lottery edition | |
---
| | |
| --- | --- |
| Thursday, September 17, 2015 7:01 AM | |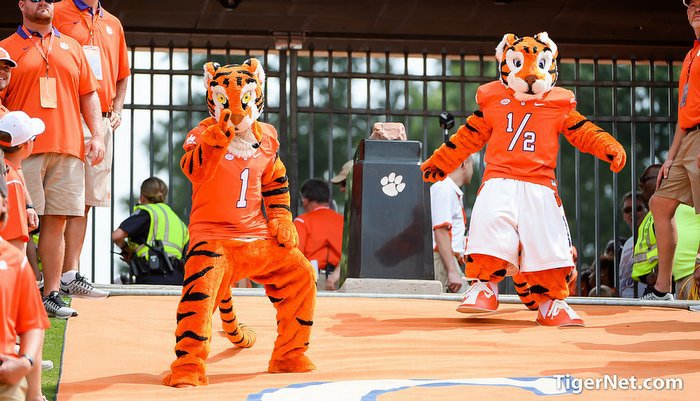 Now this is what I am talking about! It's time for college football, and the week gets off to a great start with Clemson and Louisville on a Thursday night in Papa John's Large Pepperoni Peyton Manning Pizza Box Stadium.
I have a friend who lives in Kentucky who tried to explain to me how Louisville fans are perceived versus the Kentucky fans, and he said the dynamic is a lot like what you see in South Carolina. Clemson fans are used to winning and are seen as having that old money kind of class. Kentucky with its great basketball tradition and history of true blue bloods is perceived the same way.
Louisville is like South Carolina – they are the rednecks that came into some recent money. I was told, think of Cousin Cuthbert, who lives in a shack down by the railroad tracks. Cousin Cuthbert wins the lottery, and he goes out and buys 92 gold chains, gaudy rings, loud suits and a Cadillac that he puts diamond-crusted rims on along with a painting of a Gamecock or Cardinal on the trunk. And…Cousin Cuthbert runs out of money about six weeks in because he's obviously an idiot. Welcome to Louisville. Or Columbia.
But I digress….let's get to some picks. And remember, it's all in fun (CRUMP DISCLAIMER).
THURSDAY
CLEMSON AT LOUISVILLE
I know, I know. I've been a little rough on Bobby Petrino in the past, and I apologize. Why, I just heard last week that Petrino has started a foundation for young, blonde volleyball coaches with the idea that his foundation will help them advance their careers. No motorcycles necessary. What a kind-hearted man. Petrino has a decent squad, but what he doesn't have is one good quarterback. He has four guys, and like in his relationships, he can't choose just one to stick with. CLEMSON 34, LOUISVILLE 21
FRIDAY
FLORIDA ST. AT BOSTON COLLEGE
I don't think Everett Golson has thrown multiple interceptions, so he's due. This game is never easy for the Seminoles, who simply haven't put in enough time and dollars to be friendly with the Boston Police Department. It's also hard for visiting teams to win in Chestnut Hill in front of 987 fans, most of whom are there because they heard they can redeem their football ticket for two tickets to a hockey game. It won't be easy – it never is – but the 'Noles put their lack of police protection (snicker snicker) behind them and grind out a win. FSU 31, BOSTON COLLEGE 17
SATURDAY
NORTHWESTERN AT DUKE
Holy Nerd Bowl, Batman. These two fine academic institutions are a combined 4-0 and square off in Wallace Wade Outdoor Stadium Saturday in a battle of SAT scores and righteous indignation. This one will get salty late in the game when the teams meet at midfield and break out the slide rules in a contest to see who can predict the angle of the sun at the 40-yard line at 5 p.m. Closest to the mark wins. That's Duke. DUKE 28, NORTHWESTERN 27
UTSA AT OKLAHOMA ST.
Seriously? WHOOOO????
GEORGIA TECH AT NOTRE DAME
The Yellow Jackets have been impressive in two early-season wins over Sister Sadie Dinkins Sunday School class and the Warrenton Volunteer Fire Department Flag Football Team. And people wonder why a bunch of old women are in knee braces and the fire deparment now has 19 firemen out on sick leave with bum knees. This week, the Jackets travel to South Bend to practice their nasty but somehow legal cut blocks on an Irish squad that is already injured and will be without several key players. The looming spectre of Touchdown Jesus won't make a difference, and the Tech players will be aiming for the knees from the opening kickoff. The Irish have a young quarterback, and they've already played two games against teams with an actual pulse. Coming out to face that Tech option and knee-busting attack isn't what the doctor ordered. GEORGIA TECH 30, NOTRE DAME 28
AUBURN AT LSU
Let's see. Auburn was ranked in the top five because they are in the SEC West (it's a default ranking) but dropped after a tussle with the FCS Jacksonville St. Gamecocks. Auburn has issues at quarterback, and word on the street is that the Auburn bagman was last seen with Harvey Updyke. That's not good news for anybody. LSU hung on to win against Miss. St. last week, and are hard to beat in Death Valley, Jr. This one will be an old-fashioned slugfest, and LSU will jump into the top five after the win, and Auburn will climb 13 spots after the loss. LSU 24, AUBURN 20
SOUTH CAROLINA AT GEORGIA
The women's basketball school heads down in between the Hedge Funds to take on Georgia and UGGGAA the 93rd. This Gamecocks squad isn't coached by Dawn Staley, and that group is like North Carolina in that they are counting down the days until the first basketball practice. However, they still have to play a little football first, and people think this one will be a blowout. But Mark Richt is always going to Mark Richt, and Steve Spurrier is spending the night with Brandon Wilds as Wilds will attempt to keep his coach sober. It's closer than people think, but Georgia wins. BULLDOGS 30, WOMEN'S BASKETBALL 20
OLE MISS AT ALABAMA
This game has Swag. No really. It does. Swag Kelly and Ole Miss have also completed a rugged out-of-conference start to the season with wins over the 8-under Wren Pee Wee team and the Perry Correctional Institute Work Release Team (that was an intrasquad scrimmage). This week, they get big and bad Alabama, and Swag will wish he had brought his famous automatic rifle to use against the bouncers. Robert Nkemdeechee and company will give the Tide or Gain or Arm and Hammer Squad all they can handle for most of the game, but let's face it, Bama is at home and has more talent. In a fun one…BAMMER 27, SWAG 23