| | |
| --- | --- |
| Pigskin Prophet: Hunchback Edition | |
---
| | |
| --- | --- |
| Thursday, October 1, 2015 5:43 PM | |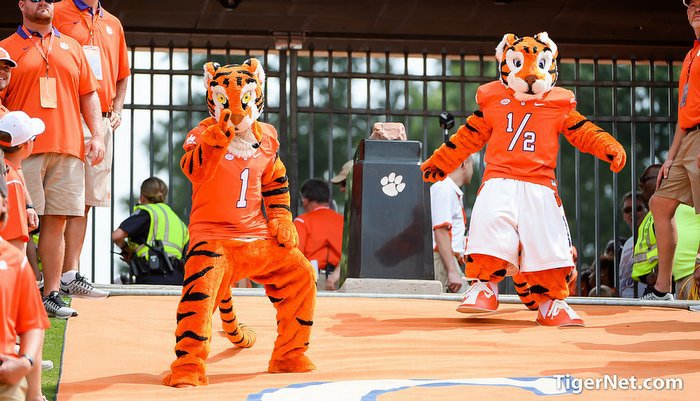 This is the game that Clemson fans have been waiting for. The Fighting Irish of Notre Dame come to town this weekend, straight from their potato farms in Indiana, for a matchup against the Tigers.
But I hate to tell everybody….I've been doing some research and Notre Dame has a secret weapon that could make the difference in this contest. Everybody knows about the quarterback, Deshone Kizer. Everybody knows about the running back C.J. Prosise. They know about the wide receiver Will Fuller. They know about the linebackers.
But I googled Notre Dame and I found out they have a special position on their football team. It's one of the backs, but not a halfback or fullback or quarterback. It's a hunchback!!!! I've never heard of that spot on the field, but apparently the hunchback of Notre Dame is a big thing.
I have been trying to look up videos on this guy, and apparently he is really short and very muscular and whenever he does something good he runs all over the place ringing bells!!!
Well no Irish potato farmer is gonna go around ringing the bells on Clemson's campus, no matter how good or how ugly he is.
Now onto the picks, and remember, it's all in fun unless you get your feelings hurt. Then you need a psychiatrist and you need to learn to relax.
THURSDAY
MIAMI AT CINCINNATI
There are plenty of reasons to get excited about this game. Except…I can't think of any. An absolute borefest on Thursday night, and the only way this could get exciting would be if Miami brought their players' personal strippers and massage therapists with them to be cheerleaders on the sidelines. Then I might watch. I will be watching the NFL and the baseball pennant races. MIAMI 37, CINCY 30
SATURDAY
SOUTH CAROLINA AT MISSOURI
The Two Columbias square off against each other, and there really isn't much on the line here. Neither team is good enough to compete for a division title, and really they are both just trying to stay a step behind Kentucky and a step ahead of Vanderbilt. So you have the chickens and their bad quarterback and the Missouri quarterback – Aye Maty Mauk the pirate scourge – has been suspended for disciplinary reasons. This is another one of those games I wish I could tell you that will be exciting to watch. It won't. If you have a chance to watch reruns of The Bachelor, please do so. At least someone will eventually score in that show. MISSOURI 6, SCAR 5
LOUISVILLE AT NC STATE
NC State finally has to play another program with a pulse, after running the gauntlet of Troy, Eastern Kentucky, Wren 12-under and St. Bartholomew's Flag Football team. However, they still think that wins over that crushing out of conference schedule means they are good and they fully expect to whip the Cardinals in front of the fat guy on the pole (don't we miss him?). I fully expect them to win, too. NC STATE 27, LOUISVILLE 23
NORTH CAROLINA AT GEORGIA TECH
How bout those Yellow Jackets? They went from contender to pretender in two short weeks, and it's obvious why…Notre Dame and Duke both took a page out of Brent Venables

Brent Venables
Def. Coordinator / Linebackers
View Full Profile ' playbook and played their defensive linemen two yards off the ball. So when Tech's offensive linemen went to block –which means fall down and try to ruin the other guy's knees – they were simply eating grass like a bunch of beef cows while the ballcarriers were getting tackled. Paaawwwwwwl Johnson has been working on an alternate blocking scheme where his blockers run three yards and then fall down, so we will see if it works. We know UNC's players are SUCH good students (snicker, snicker) and will adjust quickly. Will it be enough? JACKETS 33, AFAM 30
BOSTON COLLEGE AT DUKE
Neither team has an offense. Both teams have good defenses. It will be raining. Yikes. DUKE 3, BOSTON COLLEGE 2.
FLORIDA ST. AT WAKE FOREST
Wake Forest is making strides, but not enough to hang with Florida St. The Demon Deacons are in the Gamecock phase of their rebuild, which means they have decent coaches and no talent anywhere on the field. The 'Noles roll. FSU 37, WEAK FOREST 10
ALABAMA AT GEORGIA
Now this one will be fun to watch. At stake for Alabama is an 0-2 start in SEC play, which means they will get a bye until the SEC Championship Game and reserve a spot in the College Football Playoff. Actually, it won't be that dire. Sure, Georgia looked good against a bad South Carolina team and played decent against Southern, but I'm not sold on Greyson Lambert thriving in a big game. Alabama's secondary struggled against Ole Miss but will be better in this game, and they are better than South Carolina. Something tells me that Nick brings out a can in this one……BAMMER 31, JAWJA 20
OLE MISS AT FLORIDA
Let's face it, the Rebels have Swag. No really. They have Swag Kelly, who showed out against Bama a few weeks ago and now gets to show what Swag in a Swamp looks like. He will have Robert Nkemiche and Mama Nkemdiche and much of the Nigerian Parliament on his side. Between being asked for jobs for family members and dealing with the Ole Miss offensive juggernaut, the Gators will have a hard time in this one. They will stay competitive and run the football and make a few plays, but it isn't enough. SWAGKEMDICHE 30, FLORIDA 16
ARKANSAS AT TENNESSEE
All I can tell you is that both of these teams play in the mighty SEC and are worthy of preseason rankings and dreams of the College Football Playoff. Until they play a game and then have to be dropped out of the polls. True story – one of these teams will lose this one and rise 19 spots in the poll. Just kidding. Just five spots. The team that loses is Bret Bielema's mouth. VOLS 28, OURKANSAS 20
UTSA AT UTEP
WHO????????????????????????????????
NOTRE DAME AT CLEMSON
The Irish make the trip to play the Tigers and a tropical storm. This one will be played in muddy and wet conditions and the advantage might lie with the team who controls the line of scrimmage. I expect the Hunchback to play a big part, but the Tigers have some secret weapons of their own that they will unveil. One of those will be an angry and sold-out crowd still mad over the water that got into the barbecue and vodka during pregame. It won't be a pretty setting. This one will be close throughout, but the Tigers make the plays and these farmers won't pluck any Taters this trip. Besides, Deshone Kizer is no Joe Montana and Clemson still has No. 4 on the field. CLEMSON 23, IRISH 20