| | |
| --- | --- |
| Pigskin Prophet: Harley Davidson Volleyball Edition | |
---
| | |
| --- | --- |
| Thursday, October 9, 2014 7:01 AM | |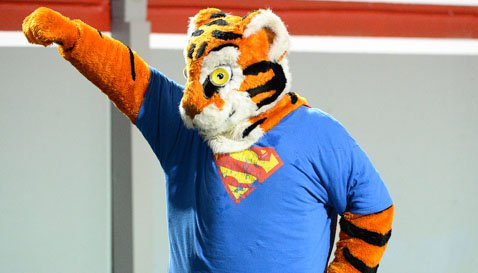 Honestly, the Pigskin Prophet has had a busy week. The quest for long-term, meaningful employment in the world of college athletics has taken a dramatic turn – there are just too many people out there doing dumb things and job opportunities are plentiful.
The first place that called was Wal-Mart. You know how department stores hire extra help at Christmas, to help with stocking and the holiday rush? Turns out Wal-Mart needs the same kind of help right now in returns – car flags, bed spreads, t-shirts, hats and other Gamecock paraphernalia are being returned at a rapid rate, and it all started late Saturday night.
But I really don't wanna deal with people who think college football started just five years ago, so I accepted a job at Clemson.
Seems that Bobby Petrino is bringing Louisville to town this weekend, and I have been hired as extra security for the women's volleyball team. I am told someone has some kind of history with volleyball coaches and players.
And the athletic department was really nice – they didn't give me the usual golf cart to ride around on. They gave me a Harley………
But I digress………..on to this week's picks, and remember it's all in fun.
FRIDAY
WASHINGTON ST. AT NO. 25 STANFORD
The Pirate takes his band of Cougars into Stanford, where in true Cougar fashion they will chase a bunch of young men across the field. Stanford has one of the nation's best defenses, and the Cougars are known (snicker, snicker) for going on the offensive. Will the Pirate and his harem of Cougars win over the defensive-minded Cardinal? The Cougars go home unsatisfied……STANFORD 34, COUGARS 17
SATURDAY
SOUTH CAROLINA AT OPEN DATE
South Carolina has the edge here, but Open Date gets into the Wildcat late in the second quarter and manages to make it a game after the Gamecocks open a 14-0 lead. Open Date rushes for 494 yards and passes for a few more. The banner outside of Wilma-Brice gets even more yellow stains after this tussle………….TOO CLOSE TO PICK A WINNER.
NO. 1 FLORIDA ST. AT SYRACUSE
I honestly don't see how Florida St. can win this one. That Carrier Dome is SO LOUD and SO HOT, especially when 9,234 cram in there for a football game. Even though two thousand of them leave when they find out it isn't a basketball game, that place gets rough. Just ask Bobby Petrino, who almost had to shout last week. Poor Seminoles, they don't know anything about hot, living in Tallahassee like they do. Of course, I'm kidding. The only heat the Seminoles are gonna feel is when ole Famous Jameis want to steals something and can't figure out how to get out of the Dome…..WE SKRONG 43, ORANGE 13
DUKE AT NO. 22 GEORGIA TECH
Boy, those Jackets are on a roll. Of course, they haven't really played anybody, but that doesn't matter. No sir, old Paul Johnson and his crew are ranked and loving life, and the schedule has set up well. This week, his offensive linemen get to fall at the feet of Duke players. Duke has struggled at times recently, and they'll have trouble with all of Johnson's walk-ons and 1-stars falling down. Will the luck finally run out for old Paul? Nah….this is the ACC Coastal, which is like saying this is the SEC East. Nobody wants to win it, and nobody really scares you. Maybe Cutcliffe needs to take his players over to Coach K to learn how to flop……….TECH 31, DOOKIES 27
NO. 2 AUBURN AT NO. 3 MISS ST.
Break out the cowbells!!!! Auburn is coming to town. This one actually shapes up to be fun to watch, with new Heisman hopeful Dak Prescott going up against Auburn and Nick Marshall. The biggest question for Auburn is which mascot to take – the bird, the squirrel, Gene Chizik or the Tiger. This one might just be a shootout, and the Allbarn Tigers/Squirrels/Chiziks come out on top simply because they have more mascots and don't have cowbells. TOOMERS CORNER 33, COWBELLS 30.
FLORIDA INTERNATIONAL AT UTSA
I saw UTSA on the TV the other day!!!! I get it now!!!! Wait, no Ms. Prophet tells me it was a commercial for the TSA. WHOO????????????????????????
LSU AT FLORIDA
Back in the day – back when the SEC East was good – this was a primetime kind of matchup. Now the Gators have Will Muschump, whose best quarterback is playing at NC State and whose second best quarterback went all Jameis Winston (no, not the crab legs part, that's ok in Florida). Les "The Hat" Miles still has plenty of talent on hand, and Florida will once again turn to a bad quarterback to lead the way. No, not Logan Thomas. Some other guy. Maybe some guy in the stands. Maybe the fat guy that hangs on the pole at NC State can play quarterback for the Gators. LSU 27, QB-U 13
BOSTON COLLEGE AT NC STATE
Congrats, NC State. You might get to score this week, and it definitely won't be loud. You have to go to the Carrier Dome for that. Boston College had a nice win over Southern Cal, then turned around and lost to a team from Colorado a short time later. That's ok if it's the Denver Broncos, but it was Colorado St. who came in and threw the ball all over the yard against the Eagles. The Pack manage to win this one. NC STATE 34, BOSTON COLLEGE 27
NORTH CAROLINA AT NO. 6 NOTRE DAME
North Carolina is pretty good offensively. And defensively, they are atrocious. Beyond awful. I have an idea – maybe they should take all of the defensive players and give them easy classes to take, something that could get them easy A's. Oh wait…they tried that and John Swofford gave them the BANHAMMER by doing absolutely nothing. Oh well, this week's it is Notre Dame's turn to wake up the echoes….the echoes of the counter on the scoreboard ringing up score after score after score…NOTRE DAME 43, AFAM STUDIES 27
LOUISVILLE AT CLEMSON
This one actually shapes up in my mind as a defensive struggle. Clemson is almost to the point of holding tryouts on the offensive line, and the Louisville defensive line is so hopped up on Papa John's pizza they are pretty active. If was I was Dabo Swinney

Dabo Swinney
Head Coach
View Full Profile , I would have The Tiger come down the Hill first – on a motorcycle, with a blonde on the back, and have him wreck at the bottom. Then I would have a highway patrolman come over with a broom and sweep them under a rug. Just for kicks. But Dabo has too much class, and this one will be decided on the field. TIGERS 27, HARLEY WRECKERS 17