| | |
| --- | --- |
| Pigskin Prophet: Etiquette edition | |
---
| | |
| --- | --- |
| Thursday, October 2, 2014 2:59 PM | |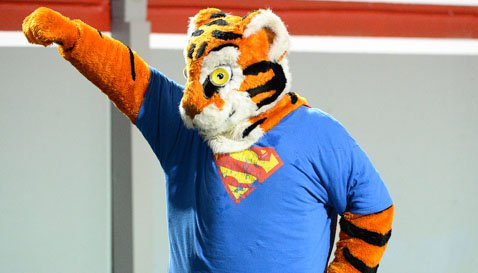 It has been a tumultuous few weeks in my life, and the career path has taken yet another turn. However, this is one I might have to stick with for a while.
My mother owns an etiquette and manners school, and she has been hired to give manners lessons to all of the South Carolina fans. She had to set up a website, and the school has suggested that all fans view the informational videos before attending the next game. The site has been up for four days, and has 12 views, so I guess that's a start.
In case you missed it, this hasn't been the best season for the image of the University of South Carolina and it's football fans. We've all seen things in the past, but it has taken a nasty turn this year. It started before the season opener against Texas A&M when thousands of Gamecocks lined up to taunt and jeer Aggie fans during yell practice on the Statehouse steps, and there have been mullets galore during television broadcasts.
Last week, a person who looks like a mild-mannered soccer mom flipped off a Missouri player – right in front of her young soccer player – and the hate on her face is evident. It's sports, it's supposed to be fun!!!
Speaking of fun – some South Carolina fans took it to the extreme with the video that was posted of them engaging in --- ummmm ---- coitus ---- during a tailgate last week. I am helping mom shoot that video as we speak – it's called There Is a Proper Time and Place For Everything and On the Ground Between an SUV and A Metal Building Is Not the Place.
But………it's time for some picks. And the Crump disclaimer reads….It's all in fun.
THURSDAY
ARIZONA AT NO. 2 OREGON
RichRod and his Wildcats gave Oregon a tussle in Arizona last season, but Eugene hasn't exactly been kind to the Cats, and this year won't be any different. Oregon has way too much for Arizona to handle, especially when it comes to uniforms!! That's been a key component of Oregon's success that no one talks about – they come out in these chrome helmets and brightly-colored uniforms they bought at a clown surplus store, and their opponents are effectively blinded for a half. By then, it's just too late. OREGON 54, ZONA 30
LOUISVILLE AT SYRACUSE
Warning to all Louisville coaches, players and fans!!! Syracuse has an unfair home field advantage. See, they have a dome named after an air conditioning manufacturer. But said dome doesn't have actual air, so the dome gets hot on game days. Last year, Clemson was warned about the extreme and the rabidity of their fans, and it was awful. At one point, it almost reached 66 degrees during the game, and while Syracuse fans were falling out from heat stroke, Clemson fans were reaching for sweaters. Poor Louisville…they have no idea of the extreme temps they are in for!!!! Really, the only thing the Ville has to worry about is keeping Bobby Petrino away from the volleyball players at the Cuse. LOUISVILLE 27, HEAT 20
NO. 6 TEXAS A&M AT NO. 12 MISS ST.
The Aggies get to practice their yelling in a more civilized part of the world this week. Mississippi St. knocked Les Miles' hat last weekend, and now they want to pull the upset at home against Kevin Sumlin and his team. Of course, the Bulldogs have a home field advantage (no, not the heat) because people sneak cowbells into the game and terrify their opponents. It's not the noise, but the opposing team hears all the cowbells and they think a stampede is coming…..in reality, it is a stampede as the lovely young heifers of Starkville hear about half-priced pizza at the concession stand. Can the heifers pull the upset? No. AGGIES 34, HEIFERS 30
NO. 20 OHIO ST. AT MARYLAND
All I have to say about this game is: If Urban Meyer's teams played defense and tackled like his strength coach slammed wayward fans, they would be a national title contender. Instead, they have the "pleasure" of playing in Byrd Stadium. Because of South Carolina fans, you might think "Bird Stadium" is Williams-Brice, but it's actually in Maryland. OHIO ST. 40, MARYLAND 30
FLORIDA AT TENNESSEE
Florida has this great young quarterback named Jacoby Brissett. Oh no, that's not right. They have Jeff Driskell. TENNESSE 27, FLORIDA 24.
VIRGINIA TECH AT NORTH CAROLINA
Glad to see Virginia Tech moved one of their HUGE tight ends into the quarterback spot at times last week. Now they're moving in the right direction. Meanwhile, North Carolina's defense is kinda like the girl on the tailgating video – everybody gets to score. John Swofford has done everything in his power to make sure the Heels are a power in the conference, but not even a Ron Cherry sighting can help that defense. VIRGINIA TECH 33, UNC 30.
WAKE FOREST AT NO. 1 FLORIDA ST.
The good news is that Wake Forest has put some semblance of a defense on the field. The bad news is that it doesn't matter, because their offense couldn't score on that poor Gamecock or the Gamecock defense. Florida St. has had its up and downs this season, but they remain skrong and undefeated and are counting down the days until Jameis Winston is off to become a headache for an NFL team. Can Weak Forest pull off the upset in Seminole land? Of course not. Don't be silly. FLORIDA ST. 45, WEAK FOREST 13
NO. 7 BAYLOR AT TEXAS
Can Bryce Petty and Baylor make a run at the playoff? That's still to be determined, because they manage to find ways to get beat in some game they should have won, a process called Gamecocking. The good news for the Bears is that Charlie Strong dismissed half of his team in an effort to gain the trust and love of the Longhorn fans (snicker, snicker) and to prove just how bad of a man he really is (snicker, snicker) and all it's gonna do is cost him ballgames. BAYLOR 35, TEXAS 20
NO. 3 ALABAMA AT NO. 11 OLE MISS
Go ahead, raise your hand if you're surprised that Ole Miss is under investigation. However, I have contacts close to the program at Ole Miss (they work in Human Resources at the hospital) and I've been told that Mama Nkemdiche is bringing all of her political prowess to keep this investigation under control. It won't matter this week because Bama is beginning to look like Bama again, just with a better offense under Lane Kiffin. The Tide Rolls…BAMA 28, MAMA NKEMDICHE 20
NEW MEXICO AT UTSA
WHO???????????? ON BOTH OF THEM..WHO??????????
NC STATE AT CLEMSON
The Pack thought they could take Florida's dregs and beat Florida St. last week, but they forget that their defense had to show up, too, and they wound up getting beat. Can they pull of the upset at Clemson this week? Clemson's defense might as well be called the LeBron James defense - they show up for three quarters and then leave. Which team's defense can make the most plays? Clemson's. CLEMSON 38, NC STATE 28
SOUTH CAROLINA AT KENTUCKY
We have to look at this one strategically. The key for South Carolina is this: Can they keep Steve Spurrier upright and keep opposing players from running him over??? I was scared for the poor old fella last week when Maty Mauk trucked him. Spurrier's moobs were jiggling, and there was a look of absolute panic on his face as he worried about whether his girdle had snapped. My upset special…..KENTUCKY 34, MOOBS 31